Charghat Upazila (rajshahi district) area 164.52 sq km, located in between 24°14' and 24°22' north latitudes and in between 88°46' and 88°52' east longitudes. It is bounded by puthia and paba upazilas on the north, bagha upazila on the south, bagatipara and Bagha upazilas on the east, Paba upazila and west bengal of India on the west.
Population Total 183921; male 94986, female 88935; Muslim 176096, Hindu 7745, Buddhist 36, Christian 12 and others 32. Indigenous community such as santal belongs to this upazila.
Water bodies Main rivers: padma, baral; Sheluar Beel is also notable.
Administration Charghat Thana was formed in 1919 and it was turned into an upazila in 1983.
Upazila
Municipality
Union
Mouza
Village
Population
Density (per sq km)
Literacy rate (%)
Urban
Rural
Urban
Rural

1

6

93

114

34812

149109

1118

58.40

42.64
Municipality

Area
(sq km)

Ward

Mahalla

Population

Density (per sq km)

Literacy rate (%)

18.73

9

20

3706

1732

55.00
Union
Name of union and GO code
Area (acre)
Population
Literacy rate (%)
Male
Female

Yusufpur 47

4593

15228

14522

47.67

Charghat 39

7163

9707

9218

38.23

Nimpara 71

9137

16064

15214

41.02

Bhaya Lakshmipur 31

6640

13373

12168

43.07

Salua 87

6380

13455

12712

40.99

Sardah 94

6737

8813

8635

43.65
Source Bangladesh Population Census 2001, Bangladesh Bureau of Statistics.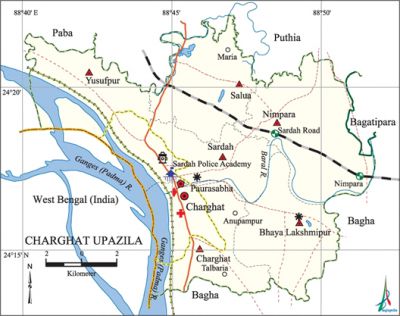 History of the War of Liberation The early resistance movement against the Pak army started from Sardah Police Academy and Rajshahi Cadet College. A number of freedom fighters including Professor AB Siddiqi of Cadet College were killed on 13 April in resistance encounter with the Pak army at a place near the Belpukur Bridge (Putia). On the same day, Mojer Ali (member of the Ansar Force) of Charghat upazila was killed in resistance encounter with the Pak army at Nagarbari. The Pak army, on their way to Charghar, killed Nader Chairman at Baneshwar; they also killed Rais Uddin (a member of Ansar Force) at Sardah Bazar. The Pak army advanced towards the bank of the river Padma and killed by brush fire a few hundred of innocent people who were waiting to cross over to India; the Pak army even burnt the Charghat Bazar. The Pak army used to torture women and freedom fighters at their temporary camps at different places such as Police Training Centre, Cadet College, Sardah Pilot School and Brick field of Roy Saheb.
Marks of the War of Liberation Mass grave 2 (Brick field of Roy Saheb and north west corner of C & B brick field on the north side of village Ladara); Mass killing site 1, Sculpture of the war of liberation 1 (Police Academy, Sardah).
Religious institutions Mosque 341, temple 30, church 1.
Literacy rate and educational institutions Average literacy 45.7%; male 50%, female 41%. Educational institutions: college 13, police training college 1, secondary school 62, primary school 68, community primary school 1, madrasa 12. Noted educational institutions: Sardah Police Academy' (1912), Rajshahi Cadet College (1965), Yusufpur Krishi High School (1905), Sardah Pilot High School (1916), Salua Govt. Primary School (1985), Halidagachhi Govt. Primary School (1985).
Cultural organisations Library 3, club 35, theatre group 1, cinema hall 1, women's organisation 1, playground 45.
Main sources of income Agriculture 55.05%, non-agricultural labourer 3.96%, industry 0.59%, commerce 18.0%, transport and communication 6.11%, service 6.80%, construction 1.92%, religious service' 0.11%, rent and remittance 0.29% and others 7.17%.
Ownership of agricultural land Landowner 52.56%, landless 47.44%; agricultural landowner: urban' 37.68% and rural 55.80%.
Main crops Paddy, wheat, sugarcane, potato, turmeric, jute, khayer (catechu).
Extinct or nearly extinct crops Kaun, linseed, china, arahar.
Main fruits Mango, jackfruit, litchi, banana, papaya, date, black berry.
Fisheries, dairies and poultries Poultry 10.
Communication facilities Pucca road 40 km, semi-pucca road 4 km, mud road 190 km; railway 13 km.
Extinct or nearly extinct traditional transport Palanquin.
Noted manufactories Flour mill, sugar mill, ice factory, bidi factory, welding factory.
Cottage industries Goldsmith, blacksmith, weaving, bamboo work.
Hats, bazars and fairs Hats and bazars are 25, fairs 3, most noted of which are Nandangachhi, Charghat, Dakra, Govindapur, Halidagachhi, Salua, Kakramari and Sardah bazars; chadak puja Mela and Kalu Pirer Mela.
Main exports Mango, litchi, sugarcane molasses, date molasses, khayer (catechu).
Access to electricity All the wards and unions of the upazila are under rural electrification net-work. However 33.12% of the dwelling households have access to electricity.
Sources of drinking water Tube-well 97.43%, pond 0.04%, tap 0.72% and others 2.11%. The presence of intolerable level of arsenic has been detected in shallow tube-well water of this upazila.
Sanitation 29.48% (rural 24.21% and urban 53.65%) of dwelling households of the upazila use sanitary latrines and 36.25% (rural 37.27% and urban 31.55%) of dwelling households use non-sanitary latrines; 34.27% of households do not have latrine facilities.
Health centres Upazila health complex 1, family planning centre 6, satellite clinic 5, Sardah Police Academy Hospital 1, clinic 2.
NGO activities Operationally important NGOs are brac, asa, care, thengamara mahila sabuj sangha, itcl. [Md Jaidul Alam]
References Bangladesh Population Census 2001, Bangladesh Bureau of Statistics; Cultural survey report of Charghat Upazila 2007.