Rajshahi District (rajshahi division) area 2407.01 sq km, located in between 24°07' and 24°43' north latitudes and in between 88°17' and 88°58' east longitudes. It is bounded by naogaon district on the north, west bengal state of India, kushtia district and Ganges river on the south, natore district on the east, nawabganj on the west. The region consists of barind tract, Diara and Char lands.
Population Total 2286874; male 1184448, female 1102426; Muslim 2136702, Hindu 112643, Buddhist 22765, Christian 599 and others 14165. Indigenous community such as santal belongs to this upazila.
Water bodies Main rivers: padma, mahananda, Shiba; Paltola Beel of Godagari and chalan beel are notable.
District
Area (sq km)
Upazila
Municipality
Union
Mouza
Village
Population
Density (per sq km)
Literacy rate (%)
Urban
Rural

2407.01

9

13

71

1678

1853

843625

1443249

950

47.54
City Corporation

City Corporation

Metropolitan Thana

Ward

Mahalla

1

4

35

170
Name

of Metropolitan Thana

Area (sq km)

Ward and Union

Mahalla and Mouza

Population

Density
(per sq km)

Literacy rate
(%)

Boalia

38.56

21

82

191711

4972

71.22

Matihar

20.56

5

20

51724

2516

63.55

Rajpara

25.19

10

46

121076

4807

69.70

Shah Makhdum

12.87

3

22

24300

1964

63.86
Others Information of District

Name of Upazila

Area
(sq km)

Municipality

Union

Mouza

Village

Population

Density
(per sq km)

Literacy rate
(%)

Godagari

472.13

2

9

389

398

279545

592

42.1

Charghat

164.52

1

6

93

114

183921

1118

45.7

Tanore

295.39

1

7

211

184

173495

587

45.4

Durgapur

195.03

1

7

114

123

167596

859

41.0

Paba

280.42

2

8

186

269

262251

935

43.62

Puthia

192.64

1

6

128

184

188864

980

45.30

Baghmara

363.30

2

16

292

332

319968

881

38.99

Bagha

184.25

2

6

98

93

169527

920

41.83

Mohanpur

162.65

1

6

167

155

152896

940

45.4
Source Bangladesh Population Census 2001, Bangladesh Bureau of Statistics.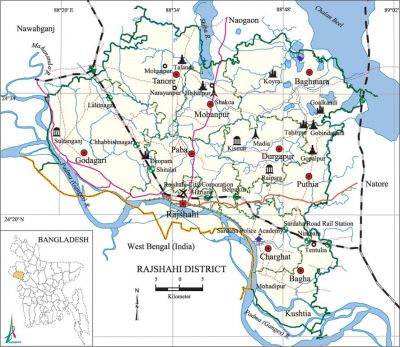 Administration Rajshahi district was established in 1772. Subsequently Maldaha, Bogra, Pabna, Natore, Naogaon and Nawabganj districts were formed, in phases, comprising parts of this district. Rajshahi Town was turned into a Municipality on 1 April 1876; the Municipality was again turned into Municipal Corporation on 13 August 1987 and it was further turned into a city corporation in 1991. Of the nine upazilas of the districts godagari is the largest (472.13 sq km) and mohanpur is the smallest (162.65 sq km).
History of the War of Liberation On 30 March 1971, an encounter was held between the freedom fighters and the Pak army in which Sepoy Abdul Malek, an EPR personnel, was killed. On 26 and 30 May the Pak army brutally killed 31 persons of Godagari upazila. A number of freedom fighters including Professor AB Siddiqi of Rajshahi Cadet College were killed on 13 April in an encounter with the Pak army at a place near the Belpukur Bridge of Puthia upazila. On 24 May, the Pak army conducted a surprise attack at Tahirpur Hat of Baghmara upazila and shot 25 persons dead. On 8 August the freedom fighters under Havilder Shafiq launched an attack on the patrol boat of the Pak army near Tahirpur and killed 18 Pak soldiers. In another encounter with the Pak army at Nagarbari of Charghat upazila one member of the Ansar Force was killed. During the war of liberation encounters between the freedom fighters and the Pak army were held at different places such as Sardah, Baneshwar and Aarani Bridge. The Pak army established camp in the Zoha Hall of Rajshahi University and killed hundreds of people and buried them in the nearby playground. The Pak army, on their way to Charghar, killed Nader Chairman at Baneshwar; they also killed Rais Uddin (a member of Ansar Force) at Sardah bazar. Having advanced towards the bank of the river Padma the Pak army killed by brush fire a few hundred innocent people who were waiting to cross over to India; the Pak army also burnt the Charghat Bazar. During the War of Liberation the Pak army established military camps at Sardah Police Academy, Rajshahi Cadet College, at Sardaha Pilot School and at the brickfield of Roy Saheb, and conducted tortures to freedom fighters and innocent people. The Pak army forced 27 youths of village Sonaikandi in Haripur union under Paba upazila to dig a mass grave and on completion of digging the youths were shot dead and burried in the ditch. The Pak army made a surprise attack on the police camp of Bolanpur and killed the police personnel and freedom fighters of the Camp and buried them at a brickfield. The freedom fighters destroyed a patrol vehicle of the Pak army by ambush on the Rajshahi-Nawabganj road near Kasba Sugarcane Purchase Centre and killed 12 Pak soldiers. An encounter between the freedom fighters and the Pak army was held at a place called Kabasmul on the border of Paba and Durgapur upazilas in which one Pak Major was killed. Inretaliation, the agitated Pak army killed 44 innocent persons of villages Gaganbari and Palsa.'
Marks of the War of Liberation Mass grave 6, mass killing site 2, sculpture 4.
Literacy rate and educational institutions Average literacy 30.61%; male 37.6%, female 23.2%. Educational institutions: university 2, university college 1, medical college 2, college 149, cadet college 1, teachers training college 1, physical training college 1, primary teachers training institute 1, institute of health technology 1, polytechnic institute 2, survey institute 1, nursing institute 1, vocational school 26, secondary school 160, primary school 1028, kindergarten and NGO school 47, madrasa 211. Noted educational institutions: university of rajshahi (1953), Rajshahi University of Engineering and Technology (2003), Rajshahi Medical College (1962), Rajshahi College (1873), Rajshahi Cadet College (1966), Rajshahi BB Hindu Academy (1898), Rajshahi Collegiate School (1828), Loknath High School (1847), Puthia PN Technical High School (1865), Talond Anand Mohan High School (1882), PN Girls' High School (1886), Diamond Jubilee Industrial School (1898), Sardaha Police Academy (1912), Birkudsha Abinash High School (Baghmara, 1917), Rajshahi Multilateral Girls' High School (1926), Godagari High School (1948), Mohanpur Pilot High School (1948), Government Laboratory High School (1969), Salua Government Primary School (Charghat, 1885), Halidagachhi Government Primary School (Charghat, 1895), Sreedhar Government Primary School (Durgapur 1857), Shitlai Kharkhari and Naohata Primary School (Paba, 1884), Rajshahi Government Madrasa (1874).'
Main sources of income Agriculture 59.35%, non-agricultural labourer 3.36%, industry 0.99%, commerce 14.25%, transport and communication 4.36%, service 8.97%, construction 1.45%, religious service 0.12%, rent and remittance 0.41% and others 6.74%.
Newspapers and periodicals Daily: Barta (1976), Sonar Desh (1984), Sunshine (1986), Upachar (1994), Lal Golap (1996), Aj (1997), Pratham Probhat (2000), Chena Jagat (2001), Natun Prabhat (2002), Sonali Sambad (1993); weekly: Duniya (1997), Rajshahi Barta (1961), Ganakhabar (1993), Subarna Sambad (2003), Dharani (1998), Uttar Janapod (1998); monthly: Naba Prabaha (1992), At Tahric (1997), Lokpatra (2001), Prajukti Prabaha (2003), Al Majhar (2003), Nirjhar (1996); quaterly: Lok Sangskriti (1997), Haque Ki Aoaj (2002); defunct newspapers: Hindu Ranjika (1865), Rajshahi Sambad (1870), Ganagkur and Pratibimba (1872), Rajshahi Samachar (1875), Udbodhon (1882), Chikitsa (1889), Utsaho (1897), Oitihasik Chitra (1898), Nur Al Iman (1900), Banga Mohila (1915), Palli Bahak (1925), Markab Al Islam (1933), Palli Sakti (1934), Sammilan (1934), Ektara (1943), Nayajaman (1946), Obhidhara (1940), Chatraleague (1947), Dipali (1949), Dishari (1950), Prabaha (1953), Jatri (1960), Purbamegh (1962), Papri (1962), Parichoy (1943), Antique Review (1933), Natun Bangla.
Important installations Main Building of Rajshahi College (1880), Old buildings of Sardaha Police Academy, Varendra Research Museum Building, Shahid Minar of Rajshahi University, noted sculpture 'Sabash Bangladesh', Memorial Monument at the slaughter place of Rajshahi University, 'Smriti Amlan' at Bhadra, Shahid Minar at Bhuban Mohan Part, BCSIR Laboratory, Sericulture Research and Training Institute, Sericulture Board, Agricultural Research Centre, Fruits Research Centre.
Folk culture Distinctive folk culture of the district include Gamvira song, Kavigan, Meyeli Geet (folk songs sung by women),' rhymes, puppet show, folk drama, folk tale, riddle, etc. [Md. Mahbubar Rahman]
See also The upazilas under this district.
References Bangladesh Population Census 2001, Bangladesh Bureau of Statistics; Cultural survey report of Rajshahi District 2007; Cultural survey report of different upazilas of Rajshahi District 2007.