Choudhurani, Nawab Faizunnesa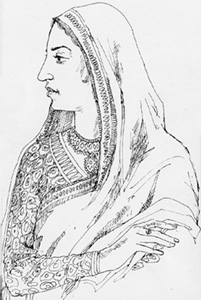 Choudhurani, Nawab Faizunnesa (1834-1903) zamindar, advocate and activist of female education, social worker and poet, was born in the village of Pashchimgaon under laksham in the district of comilla. Her father was Ahmed Ali Chowdhury, zamindar of Homnabad-Pashchimgaon estate. Despite being in strict purda, Faizunnesa became proficient in Bangla and Sanskrit as well as Arabic and Urdu.
In 1860, Faizunnesa was married to Muhammad Gazi, who was one of her distant cousins. He was a neighbouring zamindar, who married her as his second wife. However, the marriage did not work. After her mother's death in 1883, Faizunnesa inherited her property and became zamindar of Pashchimgaon. She became increasingly involved in social work after becoming zamindar. In 1873, Faizunnesa Choudhurani established a girls' high school in comilla which is said to be one of the earliest female schools privately established in Bengal. She also founded a madrasah at Pashchimgaon that was later upgraded to a college named Nawab Faizunnesa College.
In 1893, Faizunnesa established a charitable dispensary in her village for women in purdah, particularly disadvantaged women. She also built a hospital for women, Faizunnesa Zenana Hospital in Comilla. In addition, she built mosques and contributed towards the development of roads and ponds. 
Faizunnesa patronised different newspapers and periodicals, including Bandhab, dhaka prakash, Musalman Bandhu, sudhakar, and islam pracharak. In 1894, Faizunnesa performed hajj and is said to have founded a madrasah and an inn (musafirkhana) at makka. Before her death, she gave away a large portion of her landed property to provide scholarships for needy students. This waqf fund still continues to provide financial aid to students. In appreciation of her social work, government awarded Faizunnesa the title of 'Nawab' in 1889 making her the first woman in Bengal to receive this title.
Faizunnesa cultivated Bangla at a time when it was not normally practised by upper class Muslims. Rupjalal (1876), an autobiographical allegory which describes her troubled conjugal life, is written in prose and verse and has been acclaimed for its literary value. Rupjalal depicts the social condition of Muslim society in the nineteenth century. She also wrote a number of other books: Sangitsar and Sangitlahari.
In 1903, she died in her own village and was buried in the family graveyard. Faizunnesa was awarded the posthumous Ekushey Padak (posthumously) for 2004. [Gopika Ranjan Chakraborty]