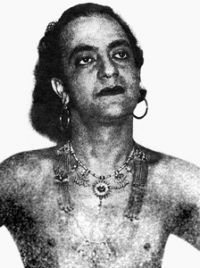 Chowdhury, Bulbul (1919-1954) dancer and writer, was born on 1 January 1919 in the village of Chunti under satkania upazila of chittagong. His real name was Rashid Ahmed Chowdhury. His father, Mohammed Azamullah, was an inspector in the Bengal Police Service. His maternal grandfather, Munshi Fazar Ali Dewan, was a lawyer who practised at Chittagong. When Bulbul was five years old, he started his education in arabic and Persian from his house tutor. He entered Howrah Primary School in 1924. In 1934, he passed the Matriculation examination from Manikgavj High School. He then went to study at Calcutta, passing IA from Presidency college (1936), BA from Scottish Church College (1938) and MA from calcutta university (1943).
From childhood, Bulbul had been keenly interested in dance, music, painting, poetry and writing. He won the first prize for painting in an art competition held at manikganj in 1934. But he became famous mainly as a dancer, his career starting with Chatak-Dance, a dance that he had choreographed himself, at a cultural function at Manikganj High School. He also performed in the cultural programmes at presidency college. During this period Bulbul came in contact with well-known artistes, such as the sarod player Santosh Chandra, the composer Timir Baran Bhattacharya, the dancers uday shankar and Sadhana Bose.
In 1936, Bulbul performed with Sadhana Bose in rabindranath tagore's dance drama Kach O Devayani. He helped to establish the Oriental Fine Arts Association (OFA) in 1937.
In January 1940, Bulbul came to dhaka with his troupe and performed a number of dance dramas. Back in Calcutta, he established Calcutta Culture Centre on 31 March 1941. During the Second World War, he moved to Chittagong and worked at different places from 1943 to 1947. From 1950-1952, Bulbul performed in several dance concerts in East and West Pakistan. In 1953, he visited Europe with his troupe, performing in Britain, Ireland, Holland, Belgium and France.
During his active life of about twenty years, he wrote and choreographed 70 dance dramas, among them Abhimanyu, Indrasabha, Sapude (Snake Charmer), Sudhanva, Kavi O Basanta (Spring and the Poet), Maru Sabgit (Song of the Desert), Fasal Utsab (The Harvest), Tin Bhabaghure (The Vagabond Trio), Jiban O Mrtyu (Life and Death), Shiv O Devadasi, Ajanta Jagaran, Arjun, Kalbaishakhi, The Rainbow Fairies, Hafizer Svapna (Dream of Hafiz), Iraner Panthashalay (In an Iranian Tavern), Sohrab O Rustam, Ksudhita Pasan (The Hungry Stone), Mahabubhuksa (The Great Hunger), Nispradip (Blackout), Yena Bhule Na Yai (Lest We Forget), Prerana (Inspiration), Biday Abhishap (The Farewell Curse), Crisis, Shrnkhaler Nipidane (In Bondage), Deshpremik (The Patriot), Bharat Chhada (Quit India), Anarkali, Nanichor (Little Butter Thief), Chand Sultana, Bitangsa (The Alluring Trap), Raslila, etc. He also wrote a novel, Prachi (1942), on the Second World War, as well as a number of short stories.
Bulbul Chowdhury used dance to express the ideas and aspirations of the new Pakistani nation. For this purpose he drew from common myths and legends, folk tales and history. Most importantly, by showing that dance was part of the Muslim-Mughal tradition, he helped break down Muslim conservative attitudes and make dance respectable and popular.
bulbul lalitakala academy was established in Dhaka on 17 May 1955 to carry on his work and in tribute to his contribution to dance and music. He died on 17 May 1954 at Kolkata. [Shahida Akhter]