Dakshin Sunamganj Upazila
Dakshin Sunamganj Upazila (sunamganj district) area 259.05 sq km, located in between 24°49' and 25°10' north latitudes and in between 91°14' and 91°27' east longitudes. It is bounded by sunamganj sadar and dowarabazar upazilas on the north, jagannathpur and derai upazilas on the south, Dowarabazar and chhatak upazilas on the east, jamalganj upazila on the west.
Population Total 147892; male 75434, female 72458; Muslim 131649, Hindu 16153, Buddhist 8 and others 82. Indigenous communities such as Hajang, manipuri and garo belong to this upazila.
Water bodies Noted beels: Baradal, Ufa, Karchabarar, Behala, Basadubi, Saladia.
Administration Dakshin Sunamganj Upazila was formed on 6 June 2006 comprising south part of Sunamganj Sadar.
Upazila
Municipality
Union
Mouza
Village
Population
Density (per sq km)
Literacy rate (%)
Urban
Rural
Urban
Rural

-

8

94




159




-




147892




571




-




31.16
Union
Name of union and GO code
Area (acre)
Population
Literacy rate (%)
Male
Female

Joykalas 33




9601




14959




14591




34.71




Durgapasha 11




11397




10234




9822




32.46




Paschim Pagla 90




3988




7695




7286




28.37




Paschim Birgaon 89




6236




6596




6332




36.68




Patharia 61




8874




9098




8742




31.28




Purba Pagla 94




7494




8662




8578




26.06




Purba Birgoan 92




7819




6536




6204




32.83




Shimulbak 78




9354




11654




10903




26.85
|}
Source  Bangladesh Population Census 2001, Bangladesh Bureau of Statistics.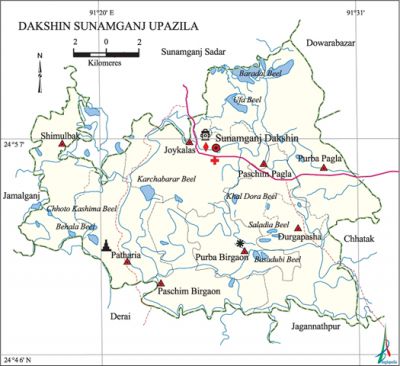 Religious institutions Mosque 150, temple 20.
Literacy rate and educational institutions Average literacy 31.16%; male 28.45%, female 27.51%. Educational institutions: college 1, secondary school 13, primary school 95, madrasa 5. Noted educational institutions: Pagla High School, Noakhali Saptagram High School, Ganinagar Shalagram High School, Dungria High School, Joykalas Ujanigaon Rashadia High School, Surma High School, Purba Pagla High School, Ujanigaon Govt. Primary School, Sadarpur Govt. Primary School, Dungria Govt. Primary School, Manikpur Govt. Primary School, Patharia Govt. Primary School, Ganiganj Govt. Primary School, Birgaon Govt. Primary School, Pagla Govt. Primary School, Ransi Govt. Primary School, Chikarkandi Govt. Primary School,' Jamya Ish. Haji Akram Ali Dakhil Madrasa, Amaria Islamia Alim Madrasa.
Cultural organisations Library 1, women's organisation 1, playground 38.
Main sources of income Agriculture 70.39%, non-agricultural labourer 3.69%, industry 0.49%, commerce 7.15%, transport and communication 0.52%, service 2.75%, construction 0.42%, religious service 0.37%, rent and remittance 3.54% and others 10.68%.
Ownership of agricultural land Landowner 43.72%, landless 56.28%.
Main crops Paddy, wheat, mustard, vegetables.
Extinct or nearly extinct crops Sesame, kaun, arahar, tobacco, etc.
Main fruits Mango, jackfruit, litchi, banana, guava, pineapple.
Fisheries, dairies and poultries Fishery 175, poultry 60, dairy 7.
Communication facilities Pucca road 40.33 km, semi-pucca road 10 km, mud road 255 km; waterways 15 nautical miles.
Extinct or nearly extinct traditional transport Palanquin and bullock cart.
Noted Manufactories Flour mill, ice factory, cold storage, fish processing centre and welding factory.
Cottage industries Blacksmith, pottery, bamboo and cane work.
Hats, bazars and fairs Hats and bazars are 20, most noted of which are Takur Bazar, Birgaon Bazar, Bangla Bazar, Patharia Bazar, Mina Bazar, Joykalas Bazar, Noakhali Bazar, Ganiganj Bazar.
Main exports Paddy, vegetables.
Access to electricity All the unions of the upazila are under rural electrification net-work. However 8.17% of the dwelling households have access to electricity.
Sources of drinking water Tube-well 72.48%, pond 13.64%, tap 0.92% and others 12.96%.
Sanitation 14.53% of dwelling households of the upazila use sanitary latrines and 73.64% of dwelling householss use non-sanitary latrines; 11.83% of households do not have latrine facilities.
Health centres Family welfare centre 5, health centre 2, clinic 17.
NGO activities Operationally important NGOs are brac, asa, proshika. [Rajib Mondal]
References Bangladesh Population Census 2001, Bangladesh Bureau of Statistics.