Dhunat Upazila (bogra district) area 247.73 sq km, located in between 24°32' and 24°48' north latitudes and in between 89°28' and 89°40' east longitudes. It is bounded by gabtali and sariakandi upazilas on the north, raiganj upazila on the south, kazipur and sirajganj sadar upazilas on the east, shajahanpur and sherpur upazilas on the west.
Population Total 270810; male 136501, female 134309; Muslim 258622, Hindu 12149, Buddhist 10, Christian 16 and others 13.
Water bodies Main rivers: jamuna, bangali and ichamati.
Administration Dhunat Thana was formed in 1962 and it was turned into an upazila in 1983.
Upazila
Municipality
Union
Mouza
Village
Population
Density (per sq km)
Literacy rate (%)
Urban
Rural
Urban
Rural

1

10

91

210

18058

252752

1093

38.8

30.6
Upazila Town

Area
(sq km)

Mouza

Population

Density
(per sq km)

Literacy rate
(%)

10.87

1

18058

1661

38.8
Union
Name of union and GO code
Area (acre)
Population
Literacy rate (%)
Male
Female

Elangi 47

5095

10627

10341

30.39

Kalerpara 76

5628

12527

12711

25.84

Gopalnagar 57

6124

13556

12795

28.68

Gosainbari 66

5191

13972

14306

27.83

Chikashi 28

6343

13613

13357

33.52

Chaukibari 19

7293

14334

14196

30.47

Dhunat 38

6641

18710

17905

33.72

Nimgachhi 95

6438

14756

14513

33.10

Bhandarbari 9

5671

8548

9203

31.86

Mathurapur 85

6792

15858

14982

34.22
Source Bangladesh Population Census 2001,Bangladesh Bureau of Statistics.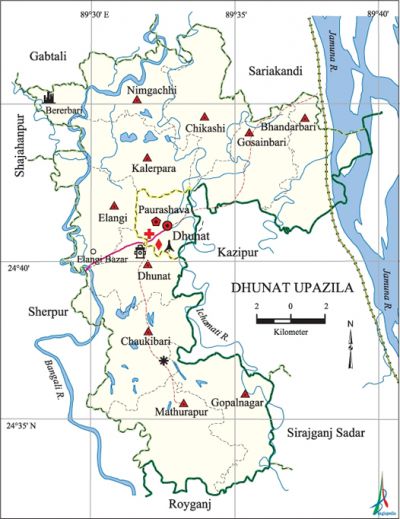 Archaeological heritage and relics Durgabhaban at Elangi Bandar, Neelkuthi, Joarkhali Madrasa, house of Badsha Sekander at village Berer Bari.
History of the War of Liberation The Pak army attacked the Dhunat Police Station on 19 April 1971 in which a police sepoy was shot dead. The Pak army killed 33 innocent persons at Elangi Bandar on 26 April; besides, heavy damages were done to the properties of the Bandar. On 27 April, the Pak army attacked the Police Station again and killed 5 sepoys. They killed three persons of Kalerpara union on 4 May 1971. A direct encounter between the freedom fighters and the Pak army was held on 6 December in which 3 Pak soldiers and 2 rajakars were killed. On 7 September, the Pak army killed 17 innocent persons and buried them in a mass grave near the Police Station. Dhunat upazila was liberated on 11 December.
Marks of the War of Liberation Mass grave 1 (Dhunat), Shaheed memorial monument 1.
Religious institutions Mosque 305, temple 15, sacred place 3.
Literacy rate and educational institutions Average literacy 31.1%; male 35.5%, female 26.8%. Noted educational institutions: Dhunat Degree College (1972), Dhunat Mahila College (1996), Gosainbari A.A High School (1918), Dhunat Pilot High School (1941), Dhunat Pilot Girls' High School (1977), Jorkhali Senior Madrasa (1911).
Newspapers and periodicals Weekly: Natunbarta; Literary Periodical: Pidim.
Cultural organisations Library 3, club 48, cinema hall 3, playground 10.
Main sources of income Agriculture 72.20%, non-agricultural labourer 2.55%, industry 0.87%, commerce 9.52%, transport and communication 2.10%, service 3.56%, construction 0.86%, religious service 0.12%, rent and remittance 0.79% and others 7.43%.
Main crops Paddy, wheat, jute, mustard, vegetables.
Extinct or nearly extinct crops Aush paddy, kaun, china, tobacco, arhar, khesari, gram, linseed, shan pat.
Main fruits Mango, litchi, black berry, banana.
Communication facilities Pucca road 78.75 km, mud road 483.15 km.
Extinct or nearly extinct traditional transport Palanquin, horse carriage.
Noted manufactories Ice factory, rice mill, flour mill, welding factory.
Cottage industries Goldsmith, blacksmith, weaving, potteries, embroidery, bamboo and wood work.
Hats, bazars and fairs Hats and bazars are 33, fairs 23, most noted of which are Dhunat, Mathurapur, Gosainbari, Ajoypur and Elangi bazars; Sonahata Hat and Chaitali, Baishakhi, Khatiamari, Dhunat Baishakhi, Charak and Belkuchi melas.
Main exports Paddy, jute, vegetables.
Access to electricity All the wards and unions of the upazila are under rural electrification net-work. However 5.77% of the dwelling households have access to electricity.
Sources of drinking water Tube-well 92.68%, tap 0.22%, pond 0.29% and others 6.82%. The presence of arsenic has been detected in shallow tube-well water of the upazila.
Sanitation 33.89% (rural 32.42% and urban 55.68%) of dwelling households of the upazila use sanitary latrines and 39.67% (rural 40.32% and urban 29.91%) of dwelling households use non-sanitary latrines; 26.45% of households do not have latrine facilities.
Health centres Upazila health centre 1, union health and family welfare centre 10, family planning centre 4, clinic 28.
Natural disasters In a cyclone on 22 March 1962, about 28 persons were killed and more than 200 persons were wounded. The floods of 1984, 1988 and 2001 caused heavy damages to settlements and crops of the upazila. The cyclone of 21 May 2003 caused damages to 8 villages of the upazila and wounded more than 150 persons.
NGO activities Operationally important NGOs are' brac, proshika, asa, thengamara mahila sabuj sangha, DIPP. [Md Sirajul Islam]
References Bangladesh Population Census 2001, Bangladesh Bureau of Statistics; Cultural survey report of Dhunat Upazila 2007.