Sirajganj Sadar Upazila (sirajganj district) area 325.77 sq km, located in between 24°22' and 24°37' north latitudes and in between 89°36' and 89°47' east longitudes. It is bounded by kazipur upazila on the north, kamarkhanda and belkuchi upazilas on the south, sarishabari, kalihati and bhuapur upazilas on the east, Kamarkhanda, raiganj and dhunat upazilas on the west.
Population Total 484170; male 484170, female 231120; Muslim 464623, Hindu 19424, Buddhist 25, Christian 28 and others 70.
Water bodies Main rivers: jamuna, ichamati.
Administration Sirajganj Sadar Thana was formed under mymensingh district in 1772 and it was turned into an upazila in 1984.
Upazila
Municipality
Union
Mouza
Village
Population
Density (per sq km)
Literacy rate (%)
Urban
Rural
Urban
Rural

1

10

217

299

135151

356026

1504

60.4

42.2
Municipality

Area (sq km)

Ward

Mahalla

Population

Density
(per sq km)

Literacy rate (%)

28.49

15

52

128144

4498

61.20
Upazila Town

Area (sq km)

Mouza

Population

Density
(per sq km)

Literacy rate (%)

2.78

1

7007

2521

45.67
Union
Name of union and GO code
Area (acre)
Population
Literacy rate (%)
Male
Female

Kaoakola 34

8690

10898

9398

37.70

Kalia Haripur 25

6736

23096

20876

54.46

Khoksabari 43

4838

16863

15592

41.29

Chhangachha 94

6693

17571

16696

38.92

Bahuli 17

6067

18556

16610

38.03

Baghbati 16

6575

23532

20973

38.88

Mechhra 51

11109

10878

10251

30.11

Ratankandi 60

8230

24491

22851

39.04

Shialkul 77

5852

20181

17963

41.68

Saidabad 69

6902

20311

18439

53.37
Source Bangladesh Population Census 2001, Bangladesh Bureau of Statistics.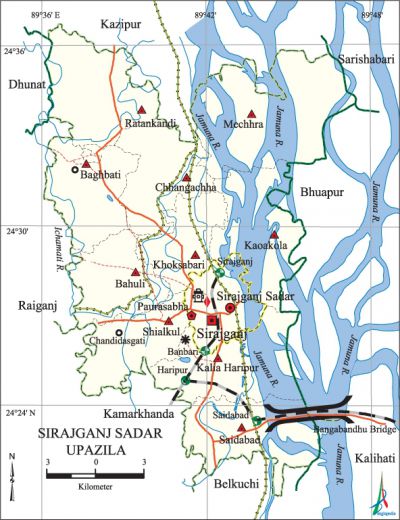 Archaeological heritage and relics Elliot Bridge (Iron bridge, 1893) on the Katakhali river.
Historical events The Hindu-Muslim Pact of the Swaraj Party headed by Deshbandhu Chittaranjan Das was adopted in the Conference of the All India National Congress held in 1924 at Sirajganj. Mahatma Gandhi and subhas chandra bose came to Sirajganj to attend the convention of the Brahma Samaj in 1928. National Poet kazi nazrul islam came to Sirajganj in 1932 to preside over the conference of the Tarun Muslim. ak fazlul huq laid the foundation stone of Sirajganj Degree College in 1940. The three-day conference of the Nikhil Bharat Muslim League was held in Sirajganj in February 1942 with mohammed ali jinnah in the chair. Encounters between the freedom fighters and the Pak army were held at different places of the upazila including at Sailabari, Degree College and on the bank of the river Jamuna.
Marks of the War of Liberation Sculpture 1: 'Durjay Bangla' (at the premises of the Chandidasgati Ganasasthya Kendra).
Religious institutions Mosque 660, temple 24, tomb 4. Noted religious institutions: Sirajganj Jami Mosque, Hossainpur Lal Mosque, Yogol Kishore Mandir, Kalibari Mandir.
Literacy rate and educational institutions Average literacy 47.44%; male 50.96%, female 43.6%. Educational institutions: medical college 1, university college 1, college 17, medical assistant training centre 1, B.Ed college 1, polytechnic' institute 1, vocational institute 1, secondary school 26, primary school 236, kindergarten 39, madrasa 14. Noted educational institutions: Sirajganj Government University College (1940), North Bengal Medical College, Islamia College (1887), Government Rasidajjoha Mohila College, Sirajganj Polytechnic Institute, Youth Training Institute, Harina Baghbati High School (1866), BL Government High School (1869), Gyandayini High School (1884), Victoria High School (1898), Saleha Ishaq Government Girls' High School.
Newspapers and periodicals Daily: Kalam Saynik, Jamuna, Probaha, Jamuna Setu; weekly: Jamuna Barta, Sahasi Janata, Jaha Baliba Satya Balibo, Sundar Barta, Ananda Bhor, Sirajganj Barta, Sirajganj Kantha, Dolanchapa; defunct weekly: Samakal, Samajug, Sirajganj Samachar, Jehad, Krishan, Janapad, Ittefaq, Naya jamana, Yuger Dabi; defunct fortnightly: Mukul, Jamuna(1963); defunct monthly; Jamuna, Asalatai, Nur, Pratinidhi, Tajkir, Palli Pradip (1935), Sebak, Naya jamana, Desher Das, Pratibha; literary periodical: quarterly Biggan Bichitra.
Cultural organisations Library 69, club 123, women's organisation 33, theatre group 10, cinema hall 6.
Amusement centres bangabandhu jamuna multipurpose bridge, Lohar Poll (Elliot Bridge).
Main sources of income Agriculture 34.30%, non-agricultural labourer 4.50%, industry 9.09%, commerce 18.77%, transport and communication 6.05%, service 11.83%, construction 2.71%, religious service 0.24%, rent and remittance 0.65% and others 11.86%.
Ownership of agricultural land Landowner 47.61%, landless 52.39%; agricultural landowner: urban 31.34% and rural 53.76%.'
Main crops Paddy, jute, wheat, sugarcane, potato, sweet potato, mustard, ground nut, vegetables.
Extinct or nearly extinct crops Tobacco, china, gram, 'mug, aus paddy, arahar, kalai.
Main fruits Mango, jackfruit, blackberry, coconut, palm, date, guava, olive, plum, wood apple, tamarind.
Fisheries, dairies and poultries Fishery 10, dairy 413, poultry 74, hatchery 4.
Communication facilities Pucca road 90 km, mud road 280 km; waterway 15 nautical miles, railway 23 nautical miles.
Extinct or nearly extinct traditional transport Palanquin, horse carriage, bullock cart.
Noted manufactories Rice mill 1, flour mill 1, jute mill 1, spinning and cotton mill 1, textile mill 1, steel mill 1, cement factory 2, plastic factory 1, pharmaceuticals industry 1.
Cottage industries Goldsmith, blacksmith, weaving, potteries, wood work, jute and jute mad goods, food and allied industry, pati and mat work, handicrafts, bamboo and cane work.
Hats, bazars and fairs Hats and bazars are 24, most noted of which are Kalia Kandhapara Hat, Shialkul Hat,' Ratankandi Bazar, Baghbati Bazar and Harina Bazar.
Main exports Jute, molasses, flour, cotton sari, lungi, grameen check.
Access to electricity All the wards and unions of the upazila are under rural electrification net-work. However 28.82% of the dwelling households have access to electricity.
Natural resources Sand, fish.
Sources of drinking water Tube-well 91.45%, tap 1.82%, pond 0.27% and others 6.46%.
Sanitation 34.85% (rural 28.47% and urban 51.52%) of dwelling households of the upazila use sanitary latrines and 48.69% (rural 51.73% and urban 40.76%) of dwelling households use non-sanitary latrines; 16.46% of households do not have latrine facilities.
Health centres Hospital 1, upazila health complex 1, police hospital 1, chest disease clinic 1, rural health centre 1, satellite clinic 6, family planning centre 9, mother and child welfare centre 1, child hospital 1, eye hospital 1, diabetic clinic 1, clinic 15, Sandhani donor club 1, railway dispensary 1.
Natural disasters Many people were victims of the famines of 1897, 1943 and 1974. Besides, the earthquakes of 1885 and 1897' caused heavy damages to settlements and other properties of the upazila.
NGO activities Operationally important NGOs are brac, asa, proshika, CARE, thengamara mahila sabuj sangha. [Kamrul Islam]
References Bangladesh Population Census 2001, Bangladesh Bureau of Statistics; Cultural survey report of Sirajganj Sadar Upazila 2007.