Dhupchanchia Upazila (bogra district) area 162.45 sq km, located in between 24°48' and 24°58' north latitudes and in between 89°05' and 89°13' east longitudes. It is bounded by khetlal upazila on the north, adamdighi and kahaloo upazilas on the south, shibganj and Kahaloo upazilas on the east, Adamdighi and akkelpur upazilas on the west.
Population Total 160894; male 81604, female 79290; Muslim 147405, Hindu 13387 and others 102.
Water bodies Main rivers: ichamati, nagar.
Administration Dhupchanchia Thana was formed in 1880 and it was turned into an' upazila in 1983. Dhupchanchia Municipality was established in 2000.
Upazila
Municipality
Union
Mouza
Village
Population
Density (per sq km)
Literacy rate (%)
Urban
Rural
Urban
Rural

1

6

115

212

21761

139133

990

52.6

44.3
Municipality

Area (sq km)

Ward

Mahalla

Population

Density
(per sq km)

Literacy rate (%)

10.21

9

37

17609

1725

51.1
Upazila Town

Area (sq km)

Mouza

Population

Density
(per sq km)

Literacy rate (%)

1.28

1

4152

3244

58.7
Union
Name of union and GO code
Area (acre)
Population
Literacy rate (%)
Male
Female

Gunahar 54

7210

13043

12799

44.90

Gobindapur 40

7205

14406

14243

47.87

Chamrul 13

7948

13297

13090

40.05

Zianagar 81

5462

9974

9594

42.59

Talora 67

5664

13105

12586

49.10

Dhupchanchia 27

6650

8663

8485

42.18
Source  Bangladesh Population Census 2001, Bangladesh Bureau of Statistics.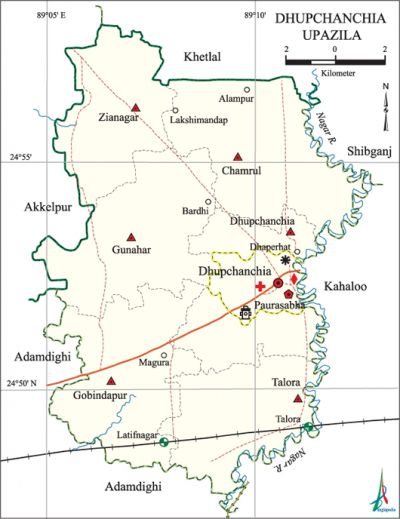 Archaeological heritage and relics Goyabandh Mazar, Mazar of Pir Ziauddin, Gobindapur Temple (Gobindapur union).
History of the War of Liberation The Pak army entered into this upazila on 10 April 1971 for the first time. On 11 April they killed one person in front of the Union Parishad office; they also killed 9 persons at the house of Zamindar Khitish Chandra Chowdhury. In early August the freedom fighters of this upazila destroyed the Bara Chapra Railway bridge, and in the last' part of August they destroyed the Kahalu bridge on the Akkelpur Roykali Road of Zianagar. Besides, the freedom fighters killed two EPR personnel in front of the Union Parishad office.
Marks of the War of Liberation Mass grave 1 (at a place called Padmapukur by the side of the Talora Dhupchanchia Road.
Religious institutions Mosque 346, temple 52, tomb 4.
Literacy rate and educational institutions Average literacy 45.4%; male 51.6% female 39.1%. Educational institutions: College 5, technical college 3, secondary school 20, primary school 11, madrasa 22. Noted educational institutions: Talora Altaf Ali High School (1918), Dhupchanchia Pilot High School (1923), Dhupchanchia Pilot Girls' High School (1944).
Newspapers and Periodicals Kalomer Chhoa.
Cultural organisations Club 59, public library 1, shilpakala academy 1, press club 1, cinema hall 4, auditorium 1, community centre 4.
Main sources of income Agriculture 66.44%, non-agricultural labourer 2.77%, industry 0.74%,' commerce 13.84%, transport and communication 3.97%, service 4.43%, construction 0.65%, religious service 0.12%, rent and remittance 0.65% and others 6.39%.
Main crops Paddy, jute, potato, mustard and wheat.
Extinct and nearly extinct crops Sesame, linseed seed, arahar.
Main fruits Mango, jackfruit, banana, palm.
Fisheries, dairies and poultries This upazila has a number of fisheries, dairies and poultries.
Communication facilities Pucca road 75 km, semi pacca road 15 km, mud road 140 km; railways 10 km.
Extinct or nearly extinct traditional transport Palanquin, bullock cart, horse carriage.
Noted manufactories Rice mill, oil mill, saw mill, toy industry, aluminum factory, mixed fertilizer factory, biscuit factory, ice cream factory.
Cottage industries Goldsmith, blacksmith, weaving, potteries, wood work, embroidery.
Hats, bazars and fairs Hats and bazars are 15, fairs 13, most noted of which are Dhaperhat, Zianagar Hat, Talora Hat, Saharpukur Hat and Dhap Mela, Goyamenda Mela, Navanna Mela and Bijoy Mela.
Main exports Paddy, rice, biscuit, fish, milk.
Access to electricity All the wards and unions of the upazila are under rural electrification net-work. However, 32.02% dwelling households have access to electricity.
Sources of drinking water Tube-well 96%, tap 0.49%, pond 0.08% and others 3.44%. The presence of arsenic has been detected in shallow tube-well of this upazila.
Sanitation 28.59% (urban 54.90% and rural 24.80%) of dwelling households of the upazila use sanitary latrines and 24.64% (urban 19.70% and rural 25.35%) of dwelling households use non-sanitary latrines; 46.78% of households do not have latrine facilities.
Health centres Upazila health centre 1, rural health centre 1, satellite clinic 3, family welfare centre 5, child and maternity welfare centre 1, clinic 4, diagnostic centre 1.
Natural disasters The cyclone of April of 2004 caused heavy damages to nearly 200 houses and crops of villages Dhap Sultanganj, Kholash, Mostafapur and Nemaikola of the upazila.
NGO activities asa, brac, thengamara mahila sabuj sangha, SDO, Seba. [Md Khairul Alam Pulak]
References Bangladesh Population Census 2001, Bangladesh Bureau of Statistics; Cultural survey report of Dhupchanchia Upazila 2007.