Khetlal Upazila (joypurhat district) area 142.60 sq km, located in between 24°56' and 25°08' north latitudes and in between 89°02' and 89°12' east longitudes. It is bounded by joypurhat sadar upazila on the north, akkelpur and dhupchanchia upazilas on the south, kalai and shibganj upazilas on the east, Joypurhat Sadar and Akkelpur upazilas on the west.
Population Total 115918; male 59274, female 56644; Muslim 105728, Hindu 9981, Buddhist 65, Christian 18 and others 126. Indigenous communities such as santal and oraon belong to this upazila.
Water bodies Main rivers: Tulsiganga, Harabati.
Administration Khetlal Thana was formed in 1847 and it was turned into an upazila on 3 July 1983. Khetlal Municipality was declared on 9 December 2010.
Upazila
Municipality
Union
Mouza
Village
Population
Density (per sq km)
Literacy rate (%)
Urban
Rural
Urban
Rural

1 (Proposed)

5

88

155

11907

104011

813

45.8

45.0
Upazila Town

Area (sq km)

Mouza

Population

Density
(per sq km)

Literacy rate
(%)

9.43

1

11907

1263

45.81
Union
Name of union and GO code
Area (acre)
Population
Literacy rate (%)
Male
Female

Alampur 09

7336

11730

11463

42.86

Khetlal Sadar 47

5836

11869

11146

47.82

Baratara 19

8696

14116

13310

45.40

Barail 28

5664

9808

9762

44.88

Mamudpur 57

7709

11751

10963

44.49
Source Bangladesh Population Census 2001, Bangladesh Bureau of Statistics.
History of the War of Liberation In the month of November 1971 a battle was fought between the freedom fighters and the Pak army at village Baruil in which a number of Pak soldiers were killed and wounded. Another encounter was held between the freedom fighters and the Pak army at a place on the backyard of Hinda Kasba Shahi Jami Mosque in which a number of Pak soldiers were killed and wounded. Besides, the Pak army brutally killed three innocent persons of the upazila.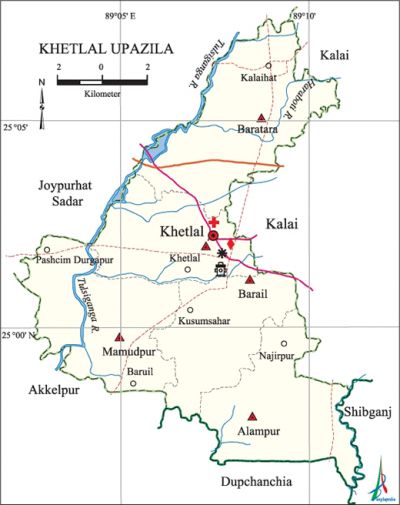 Religious institutions Mosque 276, temple 6, sacred place 1. Noted religious institutions: Hinda Kasba Shahi Jami Mosque (Barail).
Literacy rate and educational institutions Average literacy 45.1%; male 51.4%, female 38.6%. Educational institutions: college 2, secondary school 20, technical institute 2, primary school 41, kindergarten 2, madrasa 14. Noted Educational institutions: Khetlal Pilot High School (1942).
Cultural organisations Library 2, club 21, cinema hall 1.
Tourists spot Achhranga Beel (Khetlal).
Main sources of income Agriculture 77.60%, non-agricultural labourer 1.31%, commerce 8.28%, transport and communication 4.68%, service 3.07%, construction 0.79%, religious service 0.16%, rent and remittance 0.21% and others 3.90%.
Ownership of agricultural land Landowner 64.85%, landless 35.15%; agricultural landowner: urban 57.69% and rural 65.67%.'
Main crops Paddy, jute, wheat, potato, mustard.
Main fruits Mango, jackfruit, litchi, banana, papaya.
Fisheries, dairies and poultries Dairy 75, poultry 79.
Communication facilities Pucca road 77 km, semi-pucca road 19 km, mud road 900.15 km; waterway 12 nautical miles.
Extinct or nearly extinct traditional transport Palanquin, horse carriage, bullock cart.
Noted manufactories Ice factory, cold storage.
Cottage industries Goldsmith, blacksmith, wood work.
Hats, bazars and fairs Hats and bazars are 11, fairs 2, most noted of which are Itakhola Hat, Hop Hat, Khetlal Hat, Battali Hat, Poamari, Fuldighi Hat, Madhupukur Hat and Pathanpara Hat and Sannayastali Mela.
Main exports Potato, paddy.
Access to electricity All the unions of the upazila are under rural electrification net-work. However 29.15%' of the dwelling households have access to electricity.
Sources of drinking water Tube-well 96.42%, tap 0.48%, pond 0.10% and others 3%.
Sanitation 22.67% (rural 22.33% and urban 25.61%) of dwelling households of the upazila use sanitary latrines and 15.12% (rural 14.13% and urban 23.81%) of dwelling households use non-sanitary latrines; 62.21% of households do not have latrine facilities.
Health centres Upazila health complex 1, union health and family welfare centre 3, growth centre 4, community clinic 18.
NGO activities Operationally important NGOs are brac, asa, CARE. [Shahnaz Parveen]
References Bangladesh Population Census 2001, Bangladesh Bureau of Statistics; Cultural survey report of Khetlal Upazila 2007.