Faridpur Upazila (pabna district) area 138.36 sq km, located in between 24°05' and 24°14' north latitudes and in between 89°22' and 89°32' east longitudes. It is bounded by ullahpara and bhangura upazilas on the north, atgharia and santhia upazilas on the south, shahjadpur upazila on the east, Bhangura and chatmohar upazilas on the west.
Population Total 123919; male 63618, female 60301; Muslim 118935, Hindu 4978 and others 6.
Water bodies Main rivers: baral, Gohala, Gumani, Chicknai; Kenai Pathar Beel is notabale.
Administration Faridpur Thana, now an upazila, was formed in 1869.
Upazila
Municipality
Union
Mouza
Village
Population
Density (per sq km)
Literacy rate (%)
Urban
Rural
Urban
Rural

1

6

59

84

23071

100848

896

47.9

46.9
Municipality

Area
(sq km)

Ward

Mahalla

Population

Density
(per sq km)

Literacy rate (%)

9.63

9

15

12651

1314

56.7
Upazila Town

Area
(sq km)

Mouza

Population

Density
(per sq km)

Literacy rate
(%)

9.51

2

10420

1069

37.0
Union
Name of union and GO code
Area (acre)
Population
Literacy rate (%)
Male
Female

Demra 42

3912

8984

8488

48.61

Pungali 84

7926

12873

12395

43.86

Faridpur 52

6521

10251

10044

47.99

Banwarinagar 10

3061

6118

5781

38.05

Bri-lahiribari 31

6252

8194

7588

56.76

Hadal 63

8274

10695

9857

40.37
Source Bangladesh Population Census 2001,Bangladesh Bureau of Statistics.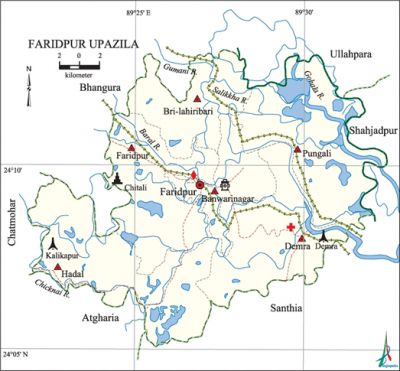 Archaeological heritage and relics Faridpur Zamindar Bari, Mandir of Thakur Shambhu Chand Malla at Chithulia, Faridpur Thanapara Jami Mosque, Nesrapara Math, Thakurbaria Mandir.
Historical events The saint Shambhu Chand Malla (1789-1872) preached 'Guru Satya' doctrine in the upazila. In 1872, Baju Sarkar and Chhalu Sarkar (two brothers) of village Nagdemra of this upazila led and organized the peasant uprising. On 22 May 1971, the Pak army killed 156 innocent persons at village Hadal of the upazila. They also conducted heavy plundering, set 70 houses on fire and violated women. The Pak army indiscriminately fired on innocent people and killed about 800 of them atvillage Demra on 30 Baishak (Bengali month); they in collaboration with the razakars, also conducted plundering, violation of women and also set mosques, temples, schools, madrasas and settlements on fire. On 4 Bhadra (Bengali month), the Pak army arrested 700 persons of village Gopalpur and killed 26 of them; they also conducted heavy plundering and violation of women. On 27 Ramadan (Hijri month), the Pak army killed 8 innocent persons at village Majat and 3 persons at village Ratanpur of the upazila.
Marks of War of Liberation Mass killing site 2 (Kalikapur and Demra).
Religious institutions Mosque 150, temple 25, church 1, tomb 1, sacred place 1. Noted religious institutions: Par Faridpur Mosque, Tomb of Hazrat Shah Farid (R) at Chithulia, Ashram of Thakur Shambhu Chand at Chithulia.
Literacy rate and educational institutions Average literacy 47.1%; male 50.5%, female 43.5%. Educational institutions: college 6, secondary school 13, primary school 114, community school 1, kindergarten 4, madrasa 66. Noted educational institutions: Muhammad Yasin Degree College (1972), Banwarinagar CB Pilot High School (1912), Demra HZ High School (1947), Banwarinagar Pilot Girls' High School (1972), Banwarinagar Alim Madrasa (1906), Hadal Fazil' Madrasa (1909).
Newspapers and periodicals Weekly: Faridpur Barta.
Cultural organisations Library 18, club 42, cinema hall 3, theatre group 1, theatre stage 1.
Main sources of income Agriculture 69.30%, non-agricultural labourer 2.49%, industry 4.91%, commerce 11.23%, transport and communication 2.33%, service 5.14%, construction 0.67%, religious service 0.08%, rent and remittance 0.31% and others 3.54%.
Ownership of agricultural land Landowner 62.49%, landless 37.51%; agricultural landowner: urban 37.12% and rural 68.43%.
Main crops Paddy, jute, wheat, pulse, vegetables.
Extinct or nearly extinct crops Kaun, mesta jute.
Main fruits Mango, blackberry, papaya.
Fisheries, dairies and poultries Fishery 15, dairy 4621, poultry 251, hatchery 1.
Communication facilities Pucca road 30.58 km, semi-pucca road 3.43' km, mud road 178.89 km; waterway 19 nautical miles.
Extinct or nearly extinct traditional transport Palanquin, dhuli.
Noted manufactories Rice mill, flour mill, oil mill, ice factory.
Cottage industries Blacksmith, weaving, bamboo work, cane work.
Hats, bazars and fairs Hats and bazars are 15, fairs 3, most noted of which are Banwarinagar Hat and Doljatra Mela of Thakur Shambhu Chand Ashram at Chithulia.
Main exports Dried fish, milk.
Access to electricity All the wards and unions of the upazila are under rural electrification net-work. However 31.31% of the dwelling households have access to electricity.
Sources of drinking water Tube-well 96.29%, pond 0.09%, tap 0.50% and others 3.12%.
Sanitation 18.86% (rural 12.44% and urban 46.30%) of dwelling households of the upazila use sanitary latrines and 79.26% (rural 85.81% and urban 51.33%) of dwelling households use non-sanitary latrines; 1.88% of households do not have latrine facilities.
Health centres Upazila health complex 1, family planning centre 6, child and maternity centre 6, diagnostic centre 4.
Natural disasters A lot of people lost their life due to the famine of 1770 (1176 BS). The earthquake of 1980 caused cracks on the surface of the earth and silted many a waterfronts. The floods of 1988 and 1998 caused damage to settlements and crops of the upazila.
NGO activities brac, asa, proshika, CARE, Urban. [Md. Habibullah]
References Bangladesh Population Census 2001, Bangladesh Bureau of Statistics; Cultural survey report of Faridpur Upazila 2007.