Santhia Upazila (pabna district) area 331.55 sq km, located in between 23°57' and 24°08' north latitudes and in between 89°25' and 89°37' east longitudes. It is bounded by faridpur (pabna) and shahjadpur upazilas on the north, sujanagar upazila on the south, bera upazila on the east, atgharia and pabna sadar upazilas on the west.
Population Total 380301; male 191225, female 189076; Muslim 370181, Hindu 9967, Christian 136 and others 17.
Water bodies Main rivers: ichamati, baral, atrai; Ghugudaha Beel is notable.
Administration Santhia Thana was formed in 1905 and it was turned into an upazila in 1986.
Upazila
Municipality
Union
Mouza
Village
Population
Density (per sq km)
Literacy rate (%)
Urban
Rural
Urban
Rural
1
10
156
234
38704
341597
1147
47.9
43.4
Municipality
Area (sq km)
Ward
Mahalla
Population
Density (per sq km)
Literacy rate (%)
26.29
9
27
38704
1472
47.9
Union
Name of union and GO code
Area (acre)
Population
Literacy rate (%)
Male
Female
Ataikola 15
8680
19004
19035
51.7
Karanja 51
7985
21286
20539
44.2
Kashinathpur 60
8914
23460
22846
49.5
Khatu Para 69
7759
17620
18418
38.7
Gaurigram 43
7164
11805
11735
39.3
Dhopadaha 25
6267
13586
13699
42.9
Dhulauri 34
7211
16409
16204
41.6
Nandanpur 86
7310
15130
14738
44.6
Nagdemra 77
6600
18239
18032
40.3
Bhulbaria 17
7647
15059
14753
36.1
Source Bangladesh Population Census 2011, Bangladesh Bureau of Statistics.
Archaeological heritage and relics Ganesh Mandir (19th century)
War of Liberation On 27 November 1971 the Pak army, in collaboration with the local razakars, violated women at Fakir Para under Dhulauri union of Santhia upazila; they also captured 22 freedom fighters and killed 21 of them on the bank of the river Ichamati by bayonet charges. Freedom fighters had encounters with the Pak army at Dabbagan and Santhia Pilot High School ground of the upazila. The upazila was liberated on 15 December. There is a mass grave at Nagdemra; memorial monuments were built at Shahidnagar and at Santhia upazila compound.
For details: see সাঁথিয়া উপজেলা, বাংলাদেশ মুক্তিযুদ্ধ জ্ঞানকোষ (Encyclopedia of Bangladesh War of Liberation), বাংলাদেশ এশিয়াটিক সোসাইটি, ঢাকা ২০২০, খণ্ড ১০।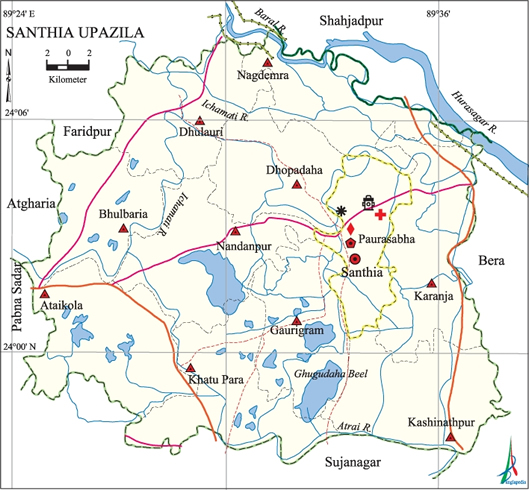 Religious institutions Mosque 360, temple 48, church 2. Noted religious institutions: Upazila Jami Mosque, Nagdemra Jami Mosque, Shahidnagar Jami Mosque, Santhia Kali Mandir, Ataikola Christan Missionaries Church.
Literacy rate and educational institutions Average literacy 43.9%; male 45.3%, female 42.5%. Educational institutions: college 9, secondary school 43, primary school 171, kindergarten 5, madrasa 52. Noted educational institutions: Miapur Haji Jasimuddin School and College (1965), Santhia Pilot High School (1943), Ataikola High School (1939), Santhia Government Primary School (1901), Nagdemra Government Primary School, Raghunathpur Government Primary School, Dhulauri Kawsaria Kamil Madrasa (1907), Boalmari Kamil Madrasa (1940).
Cultural organizations Library 4, club 16, theatre group 1, cinema hall 3, jatra party 1, playground 11, women society 6.
Main sources of income Agriculture 65.44%, non-agricultural labourer 4.72%, industry 5.52%, commerce 10.65%, transport and communication 2.87%, service 4.17%, construction 0.88%, religious service 0.10%, rent and remittance 0.20% and others 5.45%.
Ownership of agricultural land Landowner 59.08%, landless 40.92%; agricultural landowner: urban 50.25% and rural 60.39%.
Main crops Paddy, wheat, potato, onion, vegetables, mustard.
Extinct or nearly extinct crops Barley, sesame, kaun, tobacco.
Main fruits Mango, papaya, banana.
Fisheries, dairies and poultries Fishery 35, dairy 997, poultry 120, nursery (fish) 1.
Communication facilities Pucca road 184 km, semi-pucca road 40 km, mud road 648 km.
Extinct or nearly extinct traditional transport Palanquin, horse carriage.
Noted manufactories Rice mill, flour mill, ice factory, hosiery factory, welding factory.
Cottage industries Goldsmith, blacksmith, weaving, wood work, bamboo work, cane work.
Hats, bazars and fairs Hats and bazars are 30, fairs 3, most noted of which are Ataikola Hat, Banagram Hat, Kashinathpur Hat, Karanja Hat, Chatur Hat, Boalmari Hat, Shahidnagar Hat and Krishi Mela at Sadar Upazila.
Main exports Paddy, onion, vegetables, leather.
Access to electricity All the wards and unions of the upazila are under rural electrification net-work. However 53.6% of the dwelling households have access to electricity.
Natural resources Lime stone, sand stone, lime, coal, sand.
Sources of drinking water Tube-well 94.1%, tap 0.6% and others 5.3%.
Sanitation 72.0% of dwelling households of the upazila use sanitary latrines and 24.7% of dwelling households use non-sanitary latrines; 3.3% of households do not have latrine facilities.
Health centres Upazila health complex 1, health and family welfare centre 8, satellite clinic 3, clinic 1.
Natural disasters The floods of 1988 and 1998 caused heavy damage to settlements, crops and other properties of the upazila.
NGO activities Operationally important NGOs are brac, ASA. [Prabir Goswami Babu]
References Bangladesh Population Census 2001 and 2011, Bangladesh Bureau of Statistics; Cultural survey report of Santhia Upazila 2007.