Gazipur Sadar Upazila (gazipur district) area 446.38 sq km, located in between 23°53' and 24°11' north latitudes and in between 90°20' and 92°30' east longitudes. It is bounded by sreepur (gazipur) upazila on the north, savar and rupganj upazilas and uttara thana on the south, kaliganj (Gazipur) and Rupganj upazilas on the east, kaliakair and Savar upazilas on the west.
Population Total 866540; male 471768, female 394772; Muslim 817926, Hindu 45068, Buddhist 3185, Christian 188 and others 173. Indigenous communities such as Koach and rajbangshi belong to this upazila.
Water bodies Main rivers: turag, balu, Labandaha and Salda; Tongi Canal is notable.
Administration Gazipur upazila was established in 1983 consisting of Joydebpur and Tongi police stations.'
Upazila
Municipality
Union
Mouza
Village
Population
Density (per sq km)
Literacy rate (%)
Urban
Rural
Urban
Rural

2

8

183

261

186856

-

1941

62.6

-

Gazipur Municipality

Area (sq km)

Ward

Mahalla

Population

Density
(per sq km)

Literacy rate (%)

48.75

9

31

122801

2519

66.52

Tongi Municipality

29.71

12

37

256897

8647

61.79
Upazila Town

Area
(sq km)

Mouza

Population

Density
(per sq km)

Literacy rate (%)

367.00

-

460640

1255

60.16
Union
Name of union and GO code
Area (acre)
Population
Literacy rate (%)
Male
Female

Kayaltia 54

17231

33168

29817

52.02

Kashimpur 47

10454

26574

21701

58.57

Konabari 60

5462

38210

24562

57.18

Gachha 31

7072

36163

31528

69.56

Pubail 81

11899

27910

26541

64.25

Baria 25

10021

18430

16284

65.20

Basan 23

7068

30945

26342

59.38

Mirzapur 67

21484

38511

33954

57.22
Source  Bangladesh Population Census 2001, Bangladesh Bureau of Statistics.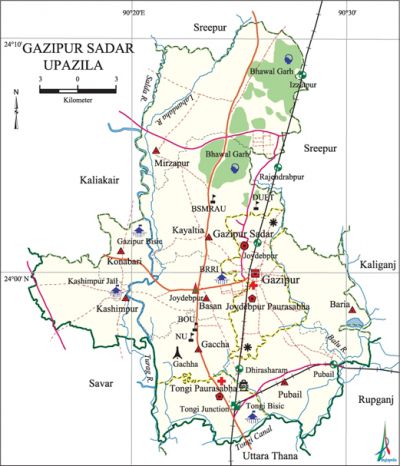 Archaeological heritage and relics Bhawal Palace, Bhawal Copper Plate, Bhawal Raj Shashan Mandir, Tongi Meer Jumla Bridge, Kripamayi Mandir, Palasona Zamindar Bari (Gachha), Tongi Sonabhan Mosque, Kashimpur Zamindar Bari, Lalshah Tomb (Bhadun), Bharan Rajbari.
History of the War of Liberation Joydev Narayan Roy Chowdhury, the zamindar of Bhawal built his residence at Pirabari on the southern side of the river Chilai and named it Joydebpur. Kalinarayan Roy Chowdhury got the title of 'Raja' in 1878 and the residence of the zamindars of Joydebpur came to be known as the 'Rajbari' (Royal Palace). Three persons including Abdul Motaleb were killed in a resistance movement at Tongi on 4 March 1971. The Pak army killed Hurmat, Manu Khalifa (tailor), Niamat and Kanu Mia at Joydebpur and Chandana cross-road on 19 March 1971. During the war of liberation the Pak army conducted mass killing at Tongi BCSIC industrial area on 27 March, Joydebpur on 7 April, Achirpur on 17 April, Baria, Ichharkandi and Tongi High School compound on 14 May.
Marks of the War of Liberation Mass grave and mass killing site: pond area near the Joydebpur Palace, Gachha School compound and Tongi Shahid Memorial School compound; memorials' 'Jagrata Chourangi', (the first sculpture commemorating the War of Liberation at the turn of the Chandana Chowrasta), in front of the Deputy Commissioner's Office (Joydebpur Rajbari) and War of Liberation Corner (Bangladeh Open University compound).'
Religious institutions Mosque 613, temple 122, church 3.
Literacy rate and educational institutions Average literacy 62.6%; male 67.3%, female 56.8%. Educational institutions: university 5, medical college 1, college 10, cadet college 1, technical college 17, technical school 10, secondary school 72, primary school 168, madrasa 36. Noted educational institutions: Bangabandhu Sheikh Mujibur Rahman Agricultural University (1993), Islamic University of Technology (1979), Dhaka University of Engineering and Technology (1980), National University (1992), Bangladesh Open University (1993), Rani Bilasmoni Government Boys' High School (1905).
Newspapers and periodicals Daily: Ganamukh; weekly: Gazipur Barta, Ajker Janata, Gazir Desh, Bhawal, Gazipur Sangbad, Sakaler Kantha; monthly: Kishore Manas; quarterly: Dhan Gobeshana Somachar; yearly: Anirban.
Cultural organisations Library 170, club 6, museum 3, theatre stage 1, theatre group 5, literary society 1, women's organisation 3, women's co-operative society 89, cinema hall 10, community centre 10, shilpakala academy 1, shishu academy 1, dakbunglow 2, circuit house 1.
Tourist spots Bhawal National Park, Khatibbari Shooting Complex, Christian Tourist Centre, Nil Para Khamar Bari, Anantadhara Tourist and Amusement Centre, Pushpadham Amusement and Shooting Centre, Bhawal Palace, Kashimpur Zamindar Bari, Nuhash Film Palli, Palasona Zamindar Bari, Tongi Mir Jumla Bridge, memorials' 'Jagrata Chourangi', (the first sculpture commemorating the war of liberation at the turn of the Chandana cross-road).
Main sources of income Agriculture 17.86%, non-agricultural labourer 2.58%, commerce 19.76%, transport and communication 7.03%, service 32.22%, construction 3.97% and others 16.58%.
Ownership of agricultural land Landowner 58.48%, landless 51.52%.
Main crops Paddy, jute, mustard, turmeric, vegetables.
Extinct or nearly extinct crops Indigo, aus paddy.
Main fruits Mango, jackfruit, pineapple, litchi, black berry, guava, papaya, plum, palm, shaddock, wood apple, tamarind.
Fisheries, dairies and poultries Fishery 111, dairy 647, poultry 8052, hatchery 10, apiculture project 80, others 3.'
Communication facilities Pucca road 368 km, semi-pucca road 187 km, mud road 324 km; waterway 22.67 nautical miles; railway 56 km.
Extinct or nearly extinct traditional transport Konda (a kind of boat made of palm tree), bajra boat, tomtom, bullock cart, buffalo cart.
Noted manufactories BSIC industrial area 2 (Tongi and Konabari), various kind of large and medium size industries in the Tongi Industrial Area, Aluminium factory, hardboard, cosmetics industry, textile, ceramics industry, packaging industry, garments industry, pharmaceutical industry, machine tools factory, diesel plant, printing press, ordnance factory, bidi and cigarette factory.
Cottage industries Goldsmith, blacksmith, potteries, jute made products, bamboo work, cane work, wood work.
Hats, bazars and fairs Hats and bazars are 26, fairs 14, most noted of which are Tongi Bazar, Pubail Bazar, Mirzapur Bazar, Kashimpur Bazar, Board Bazar, Salna Bazar, Joydebpur Bazar; Pubail Lakshmi Dashamir Mela, Tongi Shashan Ghat Mela, Dhirashram Shitala Debi Mela, Domer Para Chaitra Samkranti Mela, Koddar Baruni Mela and Joydebpur Rath Mela are notable.
Main exports Jackfruit, pineapple, vegetables, cosmetics, shoe, electric equipments, electronics, medicine, readymade garments, bidi, cigarette, mosquito coil.
Access to electricity All the wards and unions of the upazila are under electrification net-work. However 78.48% of the dwellings have access to electricity.
Natural resources The upazila has 3140 hectors (about 7.24%) of forest land out of total 43363 hectors.
Sources of drinking water Tube-well 85.62%, tap 11.12%, pond 0.16% and others 3.10%.
Sanitation 74.11% of dwelling households of the upazila use sanitary latrines and 20.20% of dwelling households use non-sanitary latrines; 5.70% of households do not have latrine facilities.
Health centres District sadar hospital 1, upazila health centre 1, family planning centre 10, satellite clinic 5, missionary hospital 1, cancer hospital 1, eye hospital 2, hospital 25, private medical college 1, cardiology hospital 1.
Natural Disasters The cyclone of 1969 caused loss of life of 20 persons at Mirzapur area. Besides, the tornado of 1991 caused death of 15 persons at three villages of the upazila.
NGO activities brac, asa, CARE, Hunger Free World, proshika, World Vision, ABC, Dialogue, Swanirvar Bangladesh, Pidim. [Md Farid Uddin Ahmed]
References Bangladesh Population Census 2001, Bangladesh Bureau of Statistics; Cultural survey report of Gazipur Sadar Upazila 2007.