Gopalpur Upazila (tangail district) area 191.48 sq km, located in between 24°29' and 24°41' north latitudes and in between 89°45' and 90°00' east longitudes. It is bounded by madhupur upazila on the north, ghatail and bhuapur upazilas on the south, Ghatail and Madhupur upazilas on the east, sarishabari and Bhuapur upazilas on the west.
Population Total 274273; male 138884, female 135389; Muslim 263282, Hindu 10938, Buddhist 27 and others 26.
Water bodies Main rivers: atrai, Jhinai, Bairan; Saratal Beel, Digda Beel, Nagilla Beel, Doga Beel, Shakhal Beel are notable.
Administration Gopalpur Thana was formed in 1920 and it was turned into an upazila in 1983. Municipality was formed in 1974.
Upazila
Municipality
Union
Mouza
Village
Population
Density (per sq km)
Literacy rate (%)
Urban
Rural
Urban
Rural

1

7

129

155

50966

223307

1432

42.6

41.1
Municipality

Area
(sq km)

Ward

Mahalla

Population

Density
(per sq km)

Literacy rate
(%)

23.12

9

35

50966

2204

42.6
Union
Name of union and GO code
Area (acre)
Population
Literacy rate (%)
Male
Female

Alamnagar 17

4776

11671

11668

39.48

Jhawail 73

6863

18308

18204

40.88

Dhopakandi 21

5408

14727

13818

40.13

Nagda Simla 94

6531

17088

16430

43.02

Mirzapur 80

5671

15210

15022

39.27

Hadira 58

6297

17477

17167

42.72

Hemnagar 65

6142

18459

18058

41.38
Source Bangladesh Population Census 2001, Bangladesh Bureau of Statistics.
Archaeological heritage and relics Khamarbari Mosque and Anandamoyi Kali Mandir.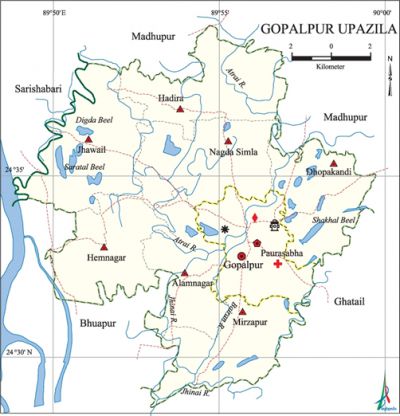 History of the War of Liberation In the first week of April 1971 the freedom fighters under Banga Bir Kader Siddiqui raided the Gopalpur Police Station and captured all arms and ammunitions; they also set the thana building' on fire.
Marks of the War of Liberation Mass grave 1; mass killing site 1; memorial monument 1.
Religious institutions Mosque 394, temple 39.
Literacy rate and educational institutions Average literacy 41.4%; male 44.4%, female 38.4%. Educational institutions: college 5, secondary school 44, primary school 135, madrasa 46. Noted educational institutions: Gopalpur Degree College (1968), Meherunnesa Mohila College (1995), Hemnagar Shashimukhi High School (1900), Radharani Pilot Girls' High School (1902), Suti VM High School (1920), Rani Hemantakumari High School.
Newspapers and periodicals Gopalpur Barta (1988), Bairan (literary magazine), Aachar (literary magazine).
Cultural organisations Library 2, club 3, cultural organisation 1.'
Main sources of income Agriculture 66.93%, non-agricultural labourer 2.06%, industry 0.82%, commerce 10.57%, transport and communication 4.67%, service 6.09%, construction 1.12%, religious service 0.17%, rent and remittance 0.61% and others 6.96%.
Ownership of agricultural land Landowner 63.92%, landless 36.08%; agricultural landowner: urban 54.67% and rural 65.96%.
Main crops Paddy, jute, pulse, mustard, wheat, onion, vegetables.'
Extinct or nearly extinct crops China, kaun, linseed, barley, local varieties of paddy.
Main fruits Mango, jackfruit, banana, litchi.
Fisheries, dairies and poultries This upazila has a number of fisheries, dairies and poultries.
Communication facilities Pucca road 86.38 km, mud road 363 km.
Extinct or nearly extinct traditional transport Duli, horse carriage, Palanquin.
Noted manufactories Textile mill, rice mill, brick-field, welding factory, oil mill, saw mill, steel and wooden furniture factory.
Cottage industries Goldsmith, blacksmith, potteries, weaving, bamboo and cane work.
Hats, bazars and fairs Hats and Bazars are 11, fairs 6, most noted of which are Konabari Hat, Nalin Hat, Bhengula Hat, Mohanpur Hat, Mehnagar Hat, Banawayal Hat; Gopalpur Mela (on the occasion of boat race), Baishakhi Mela, Rath Mela (Dastala of Sutikangal), Aumbubachi Mela and Horse race Mela at Dubail.
Main exports Jute, leather, mustard, pulse, paddy, onion.
Access to electricity All the wards and unions of the upazila are under rural electrification net-work. However 22.31% of the dwelling households have access to electricity.
Sources of drinking water Tube-well 92.62%, tap 0.28%, pond 0.09% and others 7.01%.
Sanitation 39.75% (rural 37.81% and urban 48.55%) of dwelling households of the upazila use sanitary latrines and 37.49% (rural 39.62% and urban 27.82%) of dwelling households use non-sanitary latrines; 22.76% of households do not have latrine facilities.
Health centres Upazila health complex 1, family planning centre 7, satellite clinic 4, clinic 3.
Natural disasters The flood of 1988 caused huge loss of life and heavy damages to settlements, crops and other properties of the upazila.
NGO activities Operationally important NGOs are brac, asa. [Samaresh Devnath]
References Bangladesh Population Census 2001, Bangladesh Bureau of Statistics; Cultural survey report of Gopalpur Upazila 2007.