Gurudaspur Upazila (natore district) area 199.40 sq km, located in between 24°18' and 24°27' north latitudes and in between 88°04' and 89°19' east longitudes. It is bounded by singra and tarash upazilas on the north, baraigram upazila on the south, Tarash and chatmohar upazilas on the east, natore sadar upazila on the west.
Population Total 194228; male 99086, female 95142; Muslim 186069, Hindu 7873, Buddhist 34 and others 252. Indigenous communities such as Kaibarta, santal, oraon, Pahan, Turi and Banshphod belong to this upazila.
Water bodies Main rivers: atrai, Gur, Nandakuja.
Administration Gurudaspur Thana was formed in 1917 and it was turned into an upazila in 1984.
Upazila
Municipality
Union
Mouza
Village
Population
Density (per sq km)
Literacy rate (%)
Urban
Rural
Urban
Rural

1

6

104

108

165118

29110

974

46.0

32.9
Municipality

Area (sq km)

Ward

Mahalla

Population

Density
(per sq km)

Literacy rate (%)

13.60

9

18

29110

2142

46.0
Union
Name of union and GO code
Area (acre)
Population
Literacy rate (%)
Male
Female

Khubjipur 60

5199

8423

8180

37.77

Chapila 27

8768

16339

15567

34.77

Dharabarisha 40

7894

14811

14583

32.11

Nazirpur 81

10678

18945

18072

33.83

Biaghat 13

10984

10649

10416

28.89

Moshinda 67

5769

14826

14307

30.71
Source Bangladesh Population Census 2001, Bangladesh Bureau of Statistics.
'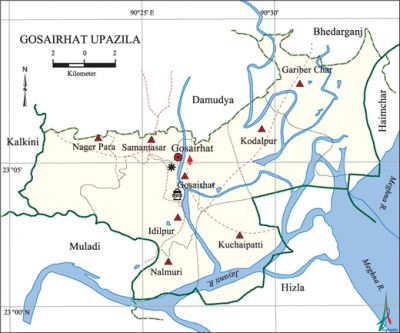 Archaeological heritage and relics Museum at village Khubjipur (1978), Chalan Beel Museum, Mosque at village Palshura Patpara, Mughal Mosque at village Piplar, Kusumhati Mosque (Sultanate period), Chapila Shahi Mosque, Gopinathpur Jami Mosque.
History of the War of Liberation The Pak army conducted mass killing in the upazila on 19 April 1971 in which more than one hundred persons including Dilip Kumar Sarkar, Dr. Manindranath Sarkar and Nabaram Mazumder were killed.
Religious institutions Mosque 255, temple 28. Noted religious institutions: Chapila Shahi Mosque, Mazar of Rahim Sadhu at Sahapar.
Literacy rate and educational institutions Average literacy 34.91%; male 39.65%, female 30.01%. Educational institutions: college 8, secondary school 31, primary school 81, NGO school 95, nursery school 3, madrasa 77. Noted educational institutions: Nazimuddin High School (1956), Beelchalan Shaheed Samsuzzoha College (1969), Shikarpur Alia Madrasa.
Newspapers and periodicals Chalan Beel (weekly), Raktim (1984), Bijoy Binodan (1994), Bijoy Darpan (2001).
Cultural organisations Library 4, club 40, cinema hall 2, museum 1, theatre stage 1.
Main sources of income Agriculture 70.95%, non-agricultural labourer 4.28%, industry 1.32%, commerce 10.23%, transport and communication 2.51%, service 3.94%, construction 0.87%, religious service 0.15%, rent and remittance 0.39% and others 5.36%.
Ownership of agricultural land Landowner 54.80%, landless 45.20%; agricultural landowner: urban 35.82% and rural 57.99%.
Main crops Paddy, wheat, mustard, onion, garlic, khesari, sugarcane.
Extinct or nearly extinct crops Tobacco, sesame, jute.
Main fruits Mango, jackfruit, guava, watermelon, papaya, litchi, wood apple, shaddock, date.
Fisheries, dairies and poultries This upazila has a number of fisheries, dairies and poultries.
Communication facilities Pucca road 78 km, semi-pucca road 5 km, mud road 236 km; waterway 20 nautical miles.
Extinct or nearly extinct traditional transport Palanquin, bullock cart, horse carriage, buffalo cart.
Noted manufactories Rice mill, brick field, paper mill.
Cottage industries Goldsmith, blacksmith, potteries, weaving, cane work, wood work, chatai.
Hats, bazars and fairs Hats and bazars are 15, fairs 2, most noted of which are Chachkoir Bazar, Charak Mela and Rather Mela.
Main exports Paddy, rice, fish, date molasses, mango.
Access to electricity All the wards and unions of the upazila are under rural electrification net-work. However 21.71% of the dwellings have access to electricity.
Sources of drinking water Tube-well 93.06%, tap 0.35%, pond 0.27% and others 6.32%.
Sanitation 30.99% (urban 49.35% and rural 27.91%) of dwelling households of the upazila use sanitary latrines and 58.09% (urban 47.67% and rural 59.84%) of dwelling households use non-sanitary latrines; 10.92% of households do not have latrine facilities.
Health centres Upazila health complex 1, eye hospital 1, family planning clinic 4, satellite clinic 3, clinic 5.
NGO activities brac, asa, proshika, PKSF. [Md Entaj Uddin]
References Bangladesh Population Census 2001, Bangladesh Bureau of Statistics; Cultural survey report of Gurudaspur Upazila 2007.