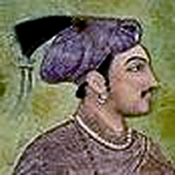 Jahangir (1605-1627) Emperor (4th) of Mughal empire. Born (1559) of a Rajput princess of Jaipur, he was the eldest son of akbar and was named Selim. He succeeded his father and ascended the throne at Agra in 1605 with the title of Nuruddin Muhammad Jahangir. On accession he promulgated twelve ordinances for the benefit of the people and set up the famous Chain of Justice. He ordered general amnesty to all who opposed him when he revolted against his father.
Jahangir's marriage with Nur Jahan was of great significance. Daughter of a Persian noble her former name was Meherunnisa was married to Sher Afghan who was given the jagir of Burdwan by Akbar. He met his death in 1607 while resisting arrest at the hands of Qutbuddin Khan Koka, the viceroy of Bengal. Taken to the court Meherunnisa was married to Jahangir in 1611 and was given the title of Nur Jahan. A gifted lady, she acquired such authority over her husband that she became the joint ruler of the empire. Her name was struck on coins jointly with that of the emperor and her relatives occupied high posts in the realm.
Under Jahangir, the empire got appreciable expansion in the northeast. Kuch Bihar, Tipperah and Kamrup were brought under the control of the Mughals. His main military achievement was the subjugation of the bara-bhuiyans and the Afghans of eastern Bengal. The imposition of the Mughal authority and the crushing of the local resistance were the achievements of the emperor's foster brother Shaikh Alauddin entitled islam khan, the viceroy of Bengal from 1608-1613. Mirza Nathan's baharistan-i-ghaibi gives the full account of his military campaigns against the local chieftains and refractory Afghans. The rebel Afghan chief usman khan afghan was finally defeated and killed in 1612.
Islam Khan shifted the capital of Bengal from rajmahal to Dhaka and named it Jahangirnagar after the emperor. It was an appropriate choice in view of the menace of the border incursions of the Maghs. Islam Khan died in 1613 and was succeeded by qasim khan, his incompetent brother under whom the Magh and Portuguese depredations of the frontier region began. Some zamindars proved to be recalcitrant to the Mughal rule as well. ibrahim khan fath-i-jang (1617-24) who succeeded Qasim Khan and was a capable viceroy consolidated the territorial gains made earlier. He died fighting the rebel prince Khurram (shahjahan). The prince seized the government of Bengal for a short time but was ultimately defeated and compelled to retire to the Deccan.
After the suppression of the rebellion of Prince Khurram, Jahangir successively appointed mahabbat khan (1625), Mukarram Khan (1626) and fidai khan (1627-28) as subahdars of Bengal. Their suzerainty was short as well as uneventful. Jahangir died in 1627 on his way back from Kashmir and was buried at Shahdar near Lahore. [KM Karim]