Jamalganj Upazila (sunamganj district) area 338.74 sq km, located in between 24°50' and 25°04' north latitudes and in between 91°05' and 91°19' east longitudes. It is bounded by tahirpur and bishwambarpur upazilas on the north, khaliajuri and derai upazilas on the south, sunamganj sadar upazila on the east, mohanganj and dharmapasha upazilas on the west.
Population Total 138985; male 71701, female 67284; Muslim 110950, Hindu 27929, Buddhist 42 and others 64.
Water bodies Main rivers: Nawa Gang, Baulai and Dhanu; Chhatidhara Beel, Aila Beel, Pangna Beel, Khankiajuri Beel are notable.
Administration Jamalganj Thana was formed in 1940 and it was turned into an upazila in 1984.
Upazila
Municipality
Union
Mouza
Village
Population
Density (per sq km)
Literacy rate (%)
Urban
Rural
Urban
Rural

-

5

102

175

20453

118532

410

34.6

28.8
Upazila Town

Area
(sq km)

Mouza

Population

Density
(per sq km)

Literacy rate (%)

11.59

3

20453

1765

34.58
Union
Name of union and GO code
Area (acre)
Population
Literacy rate (%)
Male
Female

Jamalganj 67




14248




21457




19947




26.81




Fenarbak 54




30303




16101




14879




29.00




Beheli 13




19527




10009




9196




30.08




Vimkhali 27




9893




13792




13558




31.59




Sachna Bazar 81




7616




10342




9704




33.29
|} Source Bangladesh Population Census 2001,Bangladesh Bureau of Statistics.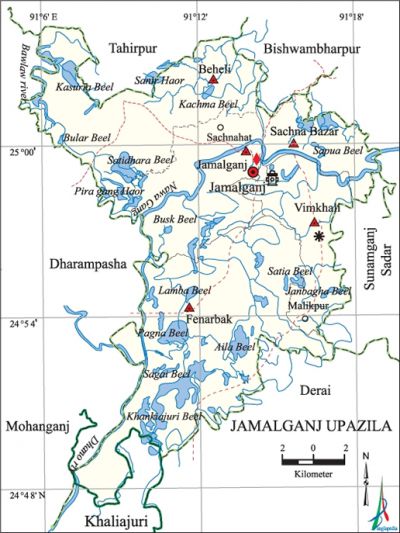 Historical events Peasant conference was held in this upazila under the leadership of Karunasindhu Roy in 1937. On 29 July 1971 Sirajul Islam' was killed in an encounter between the fredom fighters and the Pak army at Sachna Bazar. The Pak army killed 8 persons at village Telia on 12 August. Jamalganj was liberated on 7 December.
Religious institutions Mosque 233, temple 17.
Literacy rate and educational institutions Average literacy 29.6%; male 33.9%, female 25.2%. Noted educational institutions: Jamalganj Degree College (1985), Jamalganj High School (1948), Vimkhali High School (1958), Alauddin Memorial High School (1967), Nabinchandra High School (1969), Jamalganj Girls' High School (1982), Naogram Austagram Islamia Madrasa (1975).
Newspapers and periodicals Weekly: Vati Bangla, Jamalganjer Dak, Jamalganj Parikrama; periodical: Surma; quarterly: Sphulingo;' literary periodical: Kaler Korotal (1977), Jamalganj Samachar (1985), Bhalobasi Swadesh (1987), Nobojatak (1987), Provat (1990), Oparajito Tarunno (1991), Uttar Projanmo (1992), Dishari (1993), Protidhi (1993), Unmachan (1994), Shahose Jege Otha (1997), Khudrapat Rudrapran (1998), Sreetir Olinde (1998), Purbasha (1998), Roktojhora Fagune (1998), Prerona (1999), Ovipray (2001), Nibedan (2006).
Cultural organisations Library 3, theatre group 1, theatre stage 1, women's organisation 9, samgit parishad 1.
Main sources of income Agriculture 73.92%, non-agricultural labourer 5.12%, industry 0.31%, commerce 8.13%, transport and communication 0.45%, service 2.81%, construction 0.44%, religious service 0.24%, rent and remittance 0.84% and others 7.74%.
Ownership of agricultural land Landowner 54.21%, landless 45.79%; agricultural landowner: urban 55.41% and rural 54%.
Main crops Paddy, wheat, potato, maize, onion, garlic, chilli, vegetables.
Extinct or nearly extinct crops Tobacco, mustard, jute.
Main fruits Jackfruit, mango, blackberry, banana, papaya.
Fisheries, dairies and poultries This upazila has a number of fisheries, dairies and poultries.
Communication facilities Pucca road 24.85 km, mud road 115.84 km.
Extinct or nearly extinct traditional transport Palanquin, bullock cart.
Noted manufactories Flour mill, ice factory.
Cottage industries Bamboo and cane work.
Hats, bazars and fairs Hats and bazars are 13, most noted of which are Sachna, Vimkhali, Naogaon, Selimganj and Beheli bazars.
Main exports Fish.
Access to electricity All the unions of the upazila are under rural electrification net-work. However 4.93% of the dwelling households have access to electricity.
Natural resources' Sand stone,' coal.
Sources of drinking water Tube-well 91.11%, tap 0.44%, pond 5.07% and others 3.38%.
Sanitation 12.43% (rural 10.47% and urban 23.99%) of dwelling households of the upazila use sanitary latrines and 76.55% (rural 77.50% and urban 70.95%) of dwelling households use non-sanitary latrines; 11.02% of households do not have latrine facilities.
Health centres Upazila health centre 1, family planning centre 2, union health centre 1, regional health training centre 1, maternity health care centre 1, satellite clinic 1.
Natural disasters One person died and 30 were wounded in a' tornado in 1987. It also caused heavy damages to settlements and properties of Jamalganj Bazar.
NGO activities Operationally important NGOs are CARE, BAOPA, Vision 2000. [Golam Mortuza]
References Bangladesh Population Census 2001, Bangladesh Bureau of Statistics; Cultural survey report of Jamalganj Upazila 2007.