Kalapara Upazila (patuakhali district) area 483.08 sq km, located in between 21°48' and 22°05' north latitudes and in between 90°05' and 90°20' east longitudes. It is bounded by amtali upazila on the north, bay of bengal on the south, Rabnabad Channel and galachipa upazila on the east, Amtali upazila on the west.
Population Total' 202078; male 104399, female 97679; Muslim 190688, Hindu 10039, Buddhist 110, Christian 1211 and others 30. Indigenous community such as rakhain (104 families, 474 population) belongs to this upazila.
Water bodies Main rivers: Andharmanik, Nilganj, Dhankhali.
Administration Kalapara Thana was formed in 1921 and it was turned into an upazila in 1983.
Upazila
Municipality
Union
Mouza
Village
Population
Density (per sq km)
Literacy rate (%)
Urban
Rural
Urban
Rural

1

9

58

217

23565

178513

418

65.3

55.7
Municipality

Area
(sq km)

Ward

Mahalla

Population

Density
(per sq km)

Literacy rate
(%)

3.75

9

24

16256

4335

71.20
Upazila Town

Area
(sq km)

Mouza

Population

Density
(per sq km)

Literacy rate
(%)

15.74

3

7309

464

51.50
Union
Name of union and GO code
Area (acre)
Population
Literacy rate (%)
Male
Female

Khaprabhanga 23

13029

13675

12620

58.34

Chakamaiya 11

8496

7583

7276

57.67

Tiakhali 83

8126

6236

5657

53.90

Dhankhali 55

14652

11508

11208

50.11

Dhulasar 29

11139

7911

7288

49.77

Nilganj 71

15648

12908

12645

64.22

Mithaganj 59

18496

12283

11681

56.71

Latachapli 47

14134

14171

12833

54.63

Lalua 35

12897

9358

8981

50.13
Source Bangladesh Population Census 2001, Bangladesh Bureau of Statistics.
Archaeological heritage and relics Statue of Gautam Buddha installed at Keranipara Old Buddhist Bihara (believed to be the largest Buddha statue in Asia), Kuakata Buddhist Vihara.
History of the War of Liberation Kalapara was liberated on 7 December 1971.'
Religious institutions Mosque 290, temple 45, pagoda 4, church 2, Buddhist Vihara 8, tomb 1. Noted religious institutions: Kalapara Jami Masjid, Kuakata Buddhist Vihara, mazar of Pir Bashiruddin at Kalapara.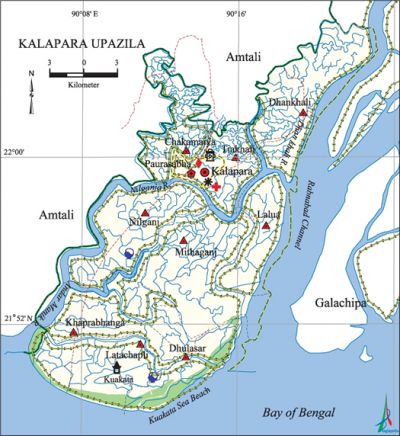 Literacy rate and educational institutions Average literacy 56.9%; male 59%, female 54.7%. Educational institutions: college 7, secondary school 39, primary school 150, madrasa 26. Noted educational institutions: Mozaharuddin Bishwas College (1977), Dhankhali College (1994), Kuakata College (2001), Khepupara Secondary School (1928), Dhankhali MU Secondary School (1952), Khepupara Girls' Secondary School (1963), Mahipur Co-operative Secondary School (1967), Kalapara Nechharuddin Senior Madrasa (1965).
Cultural organisations Library 1, women society 1, theatre stage 1, cinema hall 4, community centre 14, playground 22.
Important installations and tourist spots kuakata, the second largest tourist centre of the country, is located on the southern extremity of the upazila. Both sun rise and sun set can be viewed from the 18 Km long Kuakata sea beach. The average breadth of the beach is about 3 to 3.5 km. The Shutki (dried fish) Palli is located 7 km on the west of Kuakata. During the winter season verities of sea fishes are collected at Shutki Palli and are processed there. Dry fish is exported in different parts of the country from this Palli. Besides, to attract the tourists there are Sea Fish Museum, Bura Gauranga Sea Chanel, Kuakata Sima Buddhist Bihara, statue of Buddha, Rakhain Palli, Narikel Bithi (series of coconut trees), Jhouban (tamarisk trees), Fatrar Char (mangrove), Gangamatir Char, Rash Mela, Lembur Char, etc.
Main sources of income Agriculture 57.23%, non-agricultural labourer 4.80%, industry 0.43%, commerce 13.50%, transport and communication 2.14%, service 4.56%, construction 1.36%, religious service 0.21%, rent and remittance 0.20% and others 15.57%.
Main crops Paddy, pulse, potato, vegetables.
Main fruits Banana, papaya, coconut, guava, plum, nut, water-melon.
Fisheries, dairies and poultries This upazila has a number of shrimps, dairies, poultries and hatcheries.
Communication facilities Pucca road 45 km, semi-pucca road 58 km, mud road 840 km.
Extinct or nearly extinct traditional transport Palanquin, bullock cart.
Noted manufactories Flour mill, rice mill, ice factory, saw mill, match factory.
Cottage industries Weaving, bamboo and cane work.
Hats, bazars and fairs Hats and bazars are about 50, fair 1, most noted of which are Kalapara Hat, Mahipur Hat and Rash-purnima Mela at Kuakata.
Main exports Paddy, Hilsa fish, dried sea fish.
Access to electricity All the wards and unions of the upazila are under electrification net-work. However 6.24% (urban 33.71% and rural 2.70%) of the dwelling households have access to electricity.'
Natural resources Fishery and forestry.
Sources of drinking water Tube-well 97.27%, pond 1.69%, tap 0.27% and others 0.77%.
Sanitation 34.60% (rural 30.01% and urban 70.17%) of dwelling households of the upazila use sanitary latrines and 60.01% (rural 65.45% and urban 26.58%) of dwelling households use non-sanitary latrines; 5.39% of households do not have latrine facilities.
Health centres Upazila health complex 1, satellite clinic 1, family planning centre 9, clinic 1.
Natural disasters Many people were victims of the devastating cyclones of 1822, 1960 and 1979, and the flood of 1876. They also caused heavy damages to settlements, livestock and other properties of the upazila.
NGO activities Operationally important NGOs are brac, caritas, asa, CODEC. [Ekramul Kabir]
References Bangladesh Population Census 2001, Bangladesh Bureau of Statistics; Cultural survey report of Kalapara Upazila 2007.