Kalmakanda Upazila (netrokona district) area 377.41 sq km, located in between 24°56' and 25°11' north latitudes and in between 90°44' and 90'58' east longitudes. It is bounded by Meghalaya state of India on the north, barhatta and netrokona SADAR upazilas on the south, dharmapasha upazila on the east, durgapur (netrokona) upazila on the west.
Population Total 234398; male 120255, female 114143; Muslim 195997, Hindu 29454, Buddhist 8677 and others 270. Indigenous communities such as garo, hajong, Hodi and Banai belong to this upazila.
Water bodies Main rivers: Someshwari, Gunai; Pakata Beel and Bahar Beel are notable.
Administration Kalmakanda Thana was formed in 1941 and it was turned into an upazila in 1983.
Upazila
Municipality
Union
Mouza
Village
Population
Density (per sq km)
Literacy rate (%)
Urban
Rural
Urban
Rural

-

8

179

343

10936

223462

621

46.2

29.63
Upazila Town

Area (sq km)

Mouza

Population

Density (per sq km)

Literacy rate (%)

8.37

2

10936

1307

46.2
Union
Name of union and GO code
Area (acre)
Population
Literacy rate (%)
Male
Female

Kalmakanda 35

15532

20370

19339

34.94

Kailati 23

13199

18259

17112

29.11

Kharnai 47

10343

12508

11934

27.86

Nazirpur 71

11293

17632

16392

30.46

Pogla 83

10918

14035

13100

33.44

Bara Kharpan 11

9131

8569

7943

34.11

Rangchhati 95

14025

18376

18127

21.81

Lengura 59

8526

10506

10196

31.56
Source Bangladesh Population Census 2001,Bangladesh Bureau of Statistics.
Archaeological heritage and relics Tomb of Monai Shah at village Battala.
History of the War of Liberation On 26 July 1971, a direct encounter was held between the freedom fighters and the Pak army at the junction of three roads in Nazirpur union in which 7 freedom fighters were killed.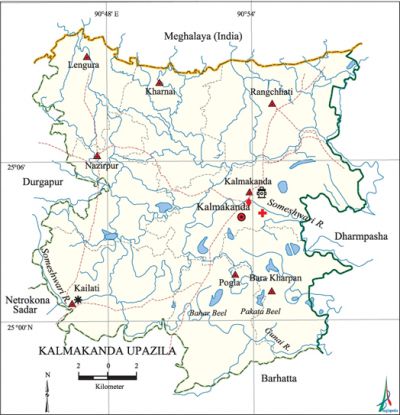 Literacy rate and educational institutions Average literacy 30.2%; male 32.9%, female 27.3%. Noted educational institutions: Kalmakanda Pilot High School (1942), Kalmakanda Girls' High School, Lengura High School, Rangchhati High School.
Cultural organisations Club 22, library 1, cinema hall 2, playground 6.
Tourist spots Tombs of seven Freedom Fighters' at Lengura.
Main sources of income Agriculture 77.33%, non-agricultural labourer 4.37%, industry 0.38%, commerce 8.45%, transport and communication 0.67%, service 2.15%, construction 0.52%, religious service 0.25%, rent and remittance 0.21% and others 5.67%.
Ownership of agricultural land Landowner 61.88%, landless 38.12%; agricultural landowner: urban 48.69% and rural 62.49%.
Main crops Paddy, wheat, mustard.
Extinct or nearly extinct crops Jute, pulse.
Main fruits Mango, jackfruit, banana, blackberry.
Fisheries, dairies and poultries This upazila has a number of fisheries, dairies and poultries.
Communication facilities Pucca road 52.07 km, semi-pucca road 19 km, mud road 342.47 km; waterway 11 nautical miles.
Extinct or nearly extinct traditional transport Palanquin, horse carriage, bullock cart and buffalo cart.
Noted manufactories Ice factory, flour mill, saw mill, oil mill, printing press, welding factory.
Cottage industries Goldsmith, blacksmith, potteries, embroidery, wood work.
Hats, bazars and fairs Nazirpur, Kalmakanda, Panchgaon, Gobindapur, Lengura and Dairarkanda bazars, Chemnil Mela and Kalmakanda Mela are notable.
Main exports Paddy.
Access to electricity All the unions of the upazila are under rural electrification net-work. However 10.66% of the dwelling households have access to electricity.
Sources of drinking water Tube-well 76.19%, tap 1.01%, pond 4.24% and others 18.56%. The presence of intolerable level of arsenic has been detected in shallow tube-well water of the upazila.
Sanitation 12.21% (rural 11.71% and urban 23.18%) of dwelling households of the upazila use sanitary latrines and 63.38% (rural 63.33% and urban 64.53%) of dwelling households use non-sanitary latrines; 24.41% of households do not have latrine facilities.
Health centres Upazila health complex 1, satellite clinic 2, family planning centre 8, TB and leprosy control centre. 1.
Natural disasters The floods of 1988 and 2004 caused heavy damages to settlements, livestock and crops of the upazila.
NGO activities Operationally important NGOs are brac, caritas, proshika, asa. [Syed Marufuzzaman]
References Bangladesh Population Census 2001, Bangladesh Bureau of Statistics; Cultural survey report of Kalmakanda Upazila 2007.