Kanthalia Upazila (jhalokati district) area 152.08 sq km, located in between 22°20' and 22°31' north latitudes and in between 90°01' and 90°12' east longitudes. It is bounded by rajapur and bhandaria upazilas on the north, bamna upazila on the south, betagi upazila on the east, bhandaria and mathbaria upazilas on the west.
Population Total 130364; male 65009, female 65355; Muslim 110604, Hindu 19691, Christian 38 and others 31.
Water bodies Main rivers: bishkhali, Gajalia.
Administration Kanthalia Thana was formed on 6 August 1918 and it' was turned into an upazila in 1985.
Upazila
Municipality
Union
Mouza
Village
Population
Density (per sq km)
Literacy rate (%)
Urban
Rural
Urban
Rural

-

6

47

52

8733

121631

857

70.4

67.6
Upazila Town

Area (sq km)

Mouza

Population

Density (per sq km)

Literacy rate (%)

7.42

2

8733

1177

70.4
Union
Name of union and GO code
Area (acre)
Population
Literacy rate (%)
Male
Female

Awrabunia 31

5032

8917

8767

68.15

Amua 15

6194

13008

12963

67.26

Kanthalia 63

4324

9271

9518

71.13

Chenchri Rampur 47

8441

13100

13424

64.94

Patikhalghaaata 79

4414

7834

7964

69.26

Saulajalia 94

8981

12879

12719

67.78
Source Bangladesh Population Census 2001, Bangladesh Bureau of Statistics.
History of the War of Liberation In 1971 the Pak army conducted mass killing and plundering; they also set many houses of the upazila on fire. During the war of liberation, a seriousencounter was held between the Pak army and the freedom fighters at Amua causing heavy death toll and wounding many from both sides.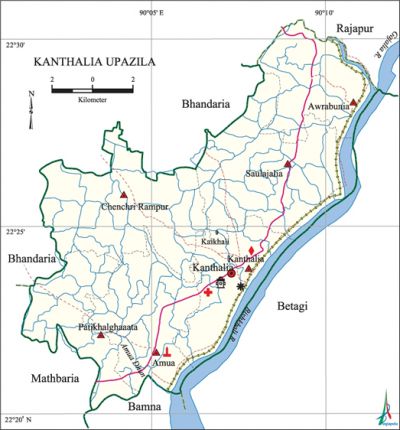 Marks of the War of Liberation Memorial monument 1 (Martyr Hemayet Uddin Memorial adjacent to the Amua Union Parishad Office).
Religious institutions Mosque 460, temple 108, sacred place 1.
Literacy rate and educational institutions Average literacy 67.8%; male 70.1%, female 65.6%. Noted educational institutions: Kanthalia Pilot Secondary School, Kanthalia Girls' Secondary School, Chinrakhali Secondary School, Chinrakhali Senior Alim Madrasa (1924).
Cultural organisations Library 19, club 48, cinema hall 1, women organisation 1, playground 30.
Main sources of income Agriculture 56.83%, non-agricultural labourer 3.71%, commerce 14.93%, transport and communication 1.16%, service 10.42%, construction 1.88%, religious service 0.38%, rent and remittance 1.09% and others 9.60%.
Ownership of agricultural land Landowner 76.05%, landless 23.95%; agricultural landowner: urban 60.81% and rural 77.18%.
Main crops Paddy, wheat, potato, pulse, betel leaf, onion, garlic, vegetables.
Extinct or nearly extinct crops Sesame, mustard, sweet potato.
Main fruits Mango, jackfruit, coconut, litchi, banana, papaya, hog-plum, guava.
Fisheries, dairies and poultries This upazila has a number of fisheries, dairies, poultries, hatcheries and nurseries.
Communication facilities Pucca road 99 km, semi-pucca road 25 km, mud road 850 km; waterway 9 nautical miles; bridge 28; culvert 585.
Extinct or nearly extinct traditional transport Palanquin, horse carriage, bullock cart.
Noted manufactories Flour mill, ice factory, salt factory.
Cottage industries Weaving, potteries, bamboo work, tailoring, welding factory.
Hats, bazars and fairs Hats and bazars are 25, fairs 5, most noted of which are Amua Hat, Gosher Hat, Kaikhali Hat, Aura Hat, Marichbunia Hat, Taltala Hat and Chhonauta Ghoradaha Mela.
Main exports Paddy, betel leaf, onion, garlic, banana, papaya.
Access to electricity All the unions of the upazila are under rural electrification net-work. However 13.97% of the dwelling households have access to electricity.
Sources of drinking water Tube-well 66.44%, pond 24.61%, tap 0.45% and others 8.50%. A survey was conducted on all the deep and shallow tube-wells of the upazila in 2002 in which the presence of arsenic in an intolerable level has been detected in 5% of the-tube well water. At present about 72% shallow tube-well water of the upazila contain intolerable arsenic.
Sanitation 54.45% (rural 70.87% and urban 53.23%) of dwelling households of the upazila use sanitary latrines and 41.41% (rural 42.37% and urban 28.50%) of dwelling households use non-sanitary latrines; 4.14% of households do not have latrine facilities.
Health centres Upazila health complex 1, family planning centre 7, community clinic 20, satellite clinic 3.'
Natural disasters The courses of rivers of the region were changed due to the earthquake of 1763. Many people were victims of the flood of 1786 and the cyclones and tidal bores of 1822, 1876, 1960, 1965 and 1970. These natural disasters also caused heavy damages to settlements, livestock and other properties of the upazila.
NGO activities Operationally important NGOs are brac, asa, Dik. [Shah Muhammad Habibullah Abuadi]
References Bangladesh Population Census 2001, Bangladesh Bureau of Statistics; Cultural survey report of Kanthalia Upazila 2007.