Khilgaon Thana (Dhaka metropolitan) area 14.83 sq km, located in between 23'44' and 23'46' north latitudes and in between 90'24' and 90'29' east longitudes. It is bounded by badda thana on the north, motijheel, sabujbagh and demra thanas on the south, rupganj upazila on the east and rampura thana on the west.
Population Total 230902; male 125306, female 105596; Muslim 225985, Hindu 4804, Buddhist 38, Christian 36 and others 39.
Water bodies Main river: balu; Banasree Lake is notable.
Administration Khilgaon Thana was formed in 1998 comprising part of Sabujbagh, gulshan and Demra Thanas. Rampura Thana was formed in 2009 comprising Ward No. 22 and 23.'
Thana
Ward and union
Mahalla
Population
Density (per sq km)
Literacy rate (%)
Urban
Rural
Urban
Rural
4+1 (Part)
12
197972
32930
15560
65.90
50.18
Ward and union
Name of ward and union
Area (sq km)
Population
Literacy rate (%)
Male
Female
Ward no. 24
0.93
33066
28186
76.37
Ward no. 25
1.12
44849
37787
71.89
Ward no. 26
2.62
29671
24413
49.45
Dakshingaon (Demra part)
4.85
13696
11840
56.28
Nasirabad
5.31
4024
3370
48.14
Source  Bangladesh Population Census 2001, Bangladesh Bureau of Statistics.
Archaeological heritage and relics Ancient Math at Taltala.
Religious institutions Khilgaon Shatilma Mosque, Baitul Taqwa Jami Mosque, Khilgaon Shahi Mosque, Khilgaon Eidgah Mosque and Buraburi Mandir are notable.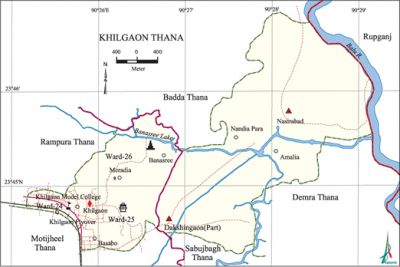 Literacy rate and educational institutions Average literacy 56.92%; male 60.71%, female 52.36%. Noted Educational institutions: Bangabandhu Technical and Commerce College, Mahanagar Technical School and College, Khilgaon Model College, National Ideal School and College, Shantipur High School and College, Khilgaon Govt. High School (1967), Basabo High School, Khilgaon Model School, Khilgaon Govt. Girls' School, Dhaka Ideal School, Hussain Muhammad Ershad Govt. Primary School, Meradia Govt. Primary School, Jamia Mahamudia Madrasa.
Cultural organisations Provati Sangsad Club, Shepibad Jubo Kallan Sangsad Club, Khilgaon Krira O Somaj Kollan Sangsad, Surya Doy Sangsad Club, KaKhaGa Club, Milestone Community Centre.
Important installations Ansar Headquarters.
Main sources of income Agriculture 2.87%, non-agricultural labourer 1.82%, industry 1.89%, commerce 24.23%, transport and communication 18.18%, service 30.25%, construction 4.25%, religious service 0.13%, rent and remittance 3.75% and others 12.63%.
Ownership of agricultural land Landowner 56.33%, landless 43.67%.
Main crops Paddy, vegetables.
Extinct or nearly extinct crops Jute, China, Kaun.
Main fruits Mango, jackfruit, banana, litchi, papaya.
Main fruits Mango, jackfruit, papaya, guava, coconut.
Fisheries, dairies and poultries This thana has a number of fisheries and poultries.
Communication facilities Total roads: 39.43 km. Khilgaon flyover is notable.
Extinct or nearly extinct traditional transport Palanquin, horse carriage.
Noted manufactories Garments industry, ice cream factory, bakery, saw mill.
Cottage industries Weaving, handicrafts, cane work, wood work.
Bazars and shopping complex Khilgaon Taltala Super Market, Hazi Anowar Complex, Khilgaon Bazar, Dakshin Goran Bazar, Meradia Hat and Bazar, Nandipara Bazar are notable.
Access to electricity All the wards and unions of the thana are under electrification net-work. However 96.69% of the dwellings have access to electricity.'
Sources of drinking water Tube-well 20.92%, pond 0.18%, tap 77.40% and others 1.50%.
Sanitation 83.26% of dwelling households of the upazila use sanitary latrines and 15.82% of dwelling houses use non-sanitary latrines; 0.92% of households do not have latrine facilities.
Health centres Urban Primary Health Care Project, Lions Eye Hospital, Jamuna Diagnostic Centre, Model Diagnostic Centre, Badhan Pathology Centre are notable.'
NGO activities brac, asa, proshika, CAP. [Md Tuhin Molla]
References Bangladesh Population Census 2001, Bangladesh Bureau of Statistics.