Kotchandpur Upazila (jhenaidah district) area 165.66 sq km, located in between 23°22' and 23°33' north latitudes and in between 88°55' and 89°06' east longitudes. It is bounded by jhenaidah sadar upazila on the north, maheshpur and chaugachha upazilas on the south, kaliganj (Jhenaidah) upazila on the east, chuadanga sadar and jibannagar upazilas on the west.
Population Total' 132347; male 68247, female 64100; Muslim 115623, Hindu 16582, Buddhist 20, Christian 112 and others 10.
Water bodies Main rivers: chitra and kobadak; Baluhar Baor and Tanir Beel are notable.
Administration Kotchandpur Thana was formed in 1772 and it was turned into an upazila in 1983. Municipality was formed in 1883.
Upazila
Municipality
Union
Mouza
Village
Population
Density (per sq km)
Literacy rate (%)
Urban
Rural
Urban
Rural

1

5

81

78

32025

100322

799

56.0

41.2
Municipality

Area (sq km)

Ward

Mahalla

Population

Density (per sq km)

Literacy rate (%)

17.85

9

43

32025

1794

56.0
Union
Name of union and GO code
Area (acre)
Population
Literacy rate (%)
Male
Female

Elangi 40

6339

9058

8329

45.83

Kushna 67

7761

12209

11507

37.12

Dora 27

9164

9947

9553

35.85

Baluhar 13

6671

10010

9359

43.87

Sabdalpur 81

6584

10554

9796

44.29
Source Bangladesh Population Census 2001, Bangladesh Bureau of Statistics.
Archaeological heritage and relics Chand Khan Mazar (1656), Shivabari Mandir (1680), Rathkhola (seventeenth century), Kali Mandir (1820), Mohila College Building (1805), Jami Mosque (1884) at village Nagda, Jami Mosque (1885) at Barabamandaha, Ikhra Mandir (Fadilpur), Gambuj Mandir (Jalalpur), two-storied building of Tarin Datta and Nibaran Chanda (Kotchandpur bazar); brass made throne preserved at Shiva Mandir and three statues (Jagannath, Balaram and Subhadra) preserved at Jagannath Mandir.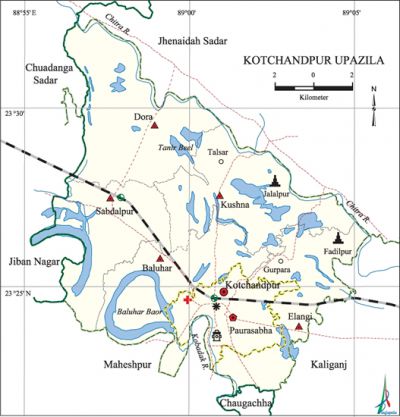 Memorable event In 2006, a fighter plane of the Bangladesh Air Force was crushed at village Baharampur under Kushna union in which the pilot Taniul Alam was killed.
Religious institutions Mosque 252, temple 20, tomb 3.
Literacy rate and educational institutions Average literacy 44.8%; male 49.2%, female 40.2%. Educational institutions: college 5, secondary school 19, primary school 37, madrasa 9. Noted educational institutions: Government Khandaker Musharraf Hossain Degree College (1969), Kotchandpur Poura Mohila College, Kotchandpur Pilot Secondary School (1899), Kotchandpur Secondary Girl's School.
Newspapers and periodicals Defunct: Unmesh (1975), Khanakal (1980), Kingshuk (1980), Ma (1980), Swadhinata Amar Swadhinata (1981), Kotchandpur Sahitya (1982), Agnishikha (1984), Dinamide (1984), Gitanga (1998), Sotomoni (1991).
Cultural organisations Library 1, club 23, community centre 5, press club 2.
Main sources of income Agriculture 64.03%, non-agricultural labourer 3.23%, industry 0.68%, commerce 15.95%, transport and communication 3.13%, service 5.32%, construction 1.69%, religious service 0.14%, rent and remittance 0.40% and others 5.43%.
Ownership of agricultural land Landowner 58.44%, landless 41.56%; agricultural landowner: urban 41.13% and rural 63.89%.Main crops Paddy, sugarcane, jute, pulse, wheat, cotton.
Extinct or nearly extinct crops Kaun, china, sesame, linseed, mesta (jute), tobacco, arahar, gram. Main fruits Mango, blackberry, jackfruit, guava, banana, palm, date, coconut.
Fisheries, dairies and poultries This upazila has a number of fisheries, poultries, artificial cattle breeding centre and hatcheries.
Communication facilities Pucca road 73 km, mud road 474 km; railway 15.82 km.
Extinct or nearly extinct traditional transport Palanquin, horse carriage, bullock cart.
Noted manufactories Rice mill, welding factory, saw mill, chocolate factory.
Cottage industries Manufacture of bullock cart wheel, brass work.
Hats, bazars and fairs Hats and bazars are 17, fairs 8, most noted of which are Kotchandpur, Sabdalpur, Elangi, Talsar, Gurpara, Jalalpur and Kushna hats, Baishakhi Mela, Rathkhola Mela, Kalitala Mela, Chaitra Samkranti Mela at Fadilpur.
Main exports Jute, sugarcane, rice, date molasses, pulse, mango.
Access to electricity All the wards and unions of the upazila are under rural electrification net-work. However' 33.58% of the dwelling households have access to electricity.
Sources of drinking water Tube-well 91.70%, pond 0.09%, tap 2.58% and others 5.63%. Sanitation 21.66% (rural 12.79% and urban 49.77%) of dwelling households of the upazila use sanitary latrines and 47.25% (rural 50.78% and urban 36.06%) of dwelling households use non-sanitary latrines; 31.09% of households do not have latrine facilities.
Health centres Upazila health centre 1, family welfare centre 2, mother and child welfare centre 3, clinic 5, union health and family welfare centre 2, satellite clinic 3, community clinic 11, veterinary hospital 1.
NGO activities Operationally important NGOs are brac, asa. [Md. Azizur Rahman]
References Bangladesh Population Census 2001, Bangladesh Bureau of Statistics; Cultural survey report of Kotchandpur Upazila 2007.