Jibannagar Upazila (chuadanga district) area 199.32 sq km, located in between 23°22' and 23°31' north latitudes and in between 88°45' and 88°57' east longitudes. It is bounded by chuadanga sadar upazila on the north, maheshpur upazila (jhenaidah) on the south, kotchandpur upazila (Jhenaidah) on the east, west bengal the state of India on the west.
Population Total 153187; male 78312, female 74875; Muslim 149496, Hindu 3657 and others 34.
Water bodies Main rivers: bhairab; Natunpara Beel, Joydia Beel, Ruar Beel and Sutia Beel are notable.
Administration Jibannagar Thana was turned into an upazila in 1983.
Upazila
Municipality
Union
Mouza
Village
Population
Density (per sq km)
Literacy rate (%)
Urban
Rural
Urban
Rural

1

4

70

80

35149

129059

824

47.75

40.77
Municipality

Area
(sq km)

Ward

Mahalla

Population

Density
(per sq km)

Literacy rate (%)

12.40

9

29

24128

1946

50.17
Upazila Town

Area
(sq km)

Mouza

Population

Density
(per sq km)

Literacy rate (%)

15.75

2

11021

700

42.43
Union
Name of union and GO code
Area (acre)
Population
Literacy rate (%)
Male
Female

Andulbaria 19

8917

12640

12173

42.54

Uthali 76

13611

23366

22474

39.83

Jibannagar 57

10957

13753

13287

38.30

Banka 38

15770

21826

20561

42.73
Source Bangladesh Population Census 2001, Bangladesh Bureau of Statistics.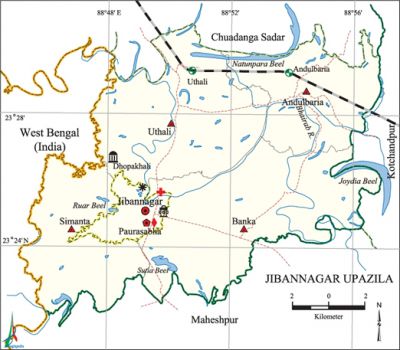 Archaeological heritage and relics Three-domed Mosque (Dhopakhali).
History of the War of Liberation In 1971, 10 Pak soldiers were killed by mine explosion by the freedom fighters at Shialmari on the border of Jibannagar and Darshana. Besides, a direct encounter between the freedom fighters and the Pak army was held on the Dhopakhali border of the upazila in which five freedom fighters were killed and two were wounded.
Marks of the War of Liberation Mass grave 1.
Religious institutions Mosque 131, temple 11, tomb 8. Noted religious institutions: Dhopakhali Mosque, tomb of Khawja Paresh Shah, Karcha Danga Mandir.
Literacy rate and educational institutions Average literacy 42.28%; male 44.55%, female 39.90%. Educational institutions: college 4, secondary school 24, primary school 62, kindergarten 4, NGO operated school 84, madrasa 18. Noted educational institutions: Jibannagar College (1984), Jibannagar Pilot Secondary School (1957).
Cultural organisations Library 2, club 18, theatre group 7, cinema hall 7.
Main sources of income Agriculture 69.83%, non-agricultural labourer 2.53%, industry 0.74%, commerce 13.65%, transport and communication 3.43%, service 3.48%, construction 1.21%, religious service 0.49%, rent and remittance 0.27% and others 4.70%.
Main crops Paddy, sugarcane, jute, wheat, mug, musuri, vegetables.
Extinct or nearly extinct crops Sesame, mustard, tobacco, linseed, gram.
Main fruits Mango, jackfruit, papaya, banana.
Fisheries, dairies and poultries 'Fishery 3, dairy 4, poultry 17.
Communication facilities Roads: pucca 80 km, semi-pucca 26 km and mud road 23 km; railways 13 km.
Extinct or nearly extinct traditional transport Palanquin, horse carriage.
Noted manufactories Sugar mill, flour mill, rice mill, chira mill, saw mill, ice factory.
Cottage industries Weaving, embroidery, blacksmith, potteries, brass and metal work, bamboo work, cane work.
Hats, bazars and fairs Hats and bazars are 19, fairs 2 (Baruni and Gangapuja).
Access to electricity All the wards and unions of the upazila are under rural electrification net-work. However 23.53% of the dwelling households have access to electricity.
Sources of drinking water Tube-well 94.87%, tap 0.97%, pond 0.06% and others 4.10%.
Sanitation 20.77% (rural 17.81% and urban 32.07%) of dwelling households of the upazila use sanitary latrines and 40.92% (rural 40.70% and urban 47.75%) of dwelling households use non-sanitary latrines; 38.30% of households do not have latrine facilities.
Health centres Upazila health complex 1, health and family planning centre 4.
NGO activities Operationally important NGOs are brac, asa, CARE, Wave Foundation, Usha. [Iman Siddiqui]
References Bangladesh Population Census 2001, Bangladesh Bureau of Statistics; Cultural survey report of Jibannagar Upazila 2007.