Kurigram Sadar Upazila (kurigram district) area 276.45 sq km, located in between 25°45' and 25°55' north latitudes and in between 89°34' and 89°50' east longitudes. It is bounded by phulbari (kurigram) and nageshwari upazilas on the north, ulipur upazila on the south, assam state of India on the east, rajarhat upazila on the west.
Population Total 259157; male 131804, female 127353; Muslim 239519, Hindu 19254, Buddhist 18, Christian 52 and others 314.
Water bodies Main rivers: brahmaputra and dharla; Nagdaha Beel is notable.
Administration Kurigram Sadar Thana, now an upazila, was established in 1874.
Upazila
Municipality
Union
Mouza
Village
Population
Density (per sq km)
Literacy rate (%)
Urban
Rural
Urban
Rural

1

8

78

264

68924

190233

937

64.11

-
Municipality

Area (sq km)

Ward

Mahalla

Population

Density (per sq km)

Literacy rate
(%)

27.32

9

107

68924

2523

64.11
Upazila Town

Area (sq km)

Mouza

Population

Density (per sq km)

Literacy rate (%)

0.95

1

2532

2665

64.11
Union
Name of union and GO code
Area (acre)
Population
Literacy rate (%)
Male
Female

Kanthalbari 57

4783

13329

12635

45.33

Ghogadaha 28

6705

11712

11575

32.59

Punchgachhi 85

5963

10876

10970

22.75

Belgachha 17

4257

10593

9999

47.25

Bhogdanga 19

9236

20195

20016

26.75

Mogalbachha 76

5854

8853

8603

35.51

Jatrapur 47

17007

8551

8911

18.92

Holokhana 38

9365

13221

12726

29.99
Source Bangladesh Population Census 2001, Bangladesh Bureau of Statistics.
Archaeological heritage and relics Kalibari, two cannons of Panga Kingdom (preserved at the BDR Gate), Kalir Pot (Daserhat), the former residence of sub-divisional officer.
Historical events Historical events like tebhaga movement, indigo resistance movement, Fakir-Sannyasi movement and war of liberation occurred in Kurigram sadar upazila. The Kurigram town was affected by Dharla river erosion several times. The 'red water' erosion of 1954 is a memorable event.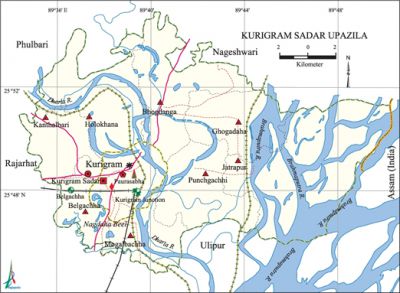 Marks of the War of Liberation Mass grave 5 (Kanthalbari, Jail gate, place on the south of the residence of Mohi Bepari, in front of the bungalow of SP, beside the residence of Doctor Safar); martyr memorial plank at Ghoshpara; victory memorial monument at the turn of the College.
Literacy rate and educational institutions Average literacy 38.38%; male 44.30%, female 32.29. Noted educational institutions: Kurigram Government College (1961), Kurigram Government Mahila College (1973), Kurigram Vocational School and College (1965), Kurigram Government High School (1895), Kurigram River View High School (1915), Kurigram Girls' High School (1928), Khalilganj High School (1961), Khalilganj Government Primary School (1885), Kurigram Alia Madrasa (1967).
Newspapers and periodicals Daily: Chaoa Paoa, Jago Bahe, Kurigram Khabor, Banglar Manush; Weekly: Ganakatha, Baher Desh, Kalam Jamin.
Cultural organisations Library 5, club 42, women society 4, cinema hall 3, debating society 1, Shilpakala Academy 1, cultural organisation 8.
Amusement centres Dharla Bridge and embankment.
Main sources of income Agriculture 53.32%, non-agricultural labourer 10.12%, industry 0.57%, commerce 13.01%, transport and communication 3.15%, service 8.97%, construction 1.17%, religious service 0.21%, rent and remittance 0.24% and others 9.24%.
Ownership of agricultural land Landowner 47.97%, landless 52.03%; agricultural landowner: urban 31.45% and rural 53.77%.
Main crops Paddy, jute, maize, potato, wheat, mustard, bamboo.
Extinct or nearly extinct crops China, aus paddy.
Main fruits Mango, jackfruit, banana, blackberry, papaya, litchi, betel nut, kamranga.
Fisheries, dairies and poultries Dairy 30, hatchery 2.
Communication facilities Pucca road 103 km, semi-pucca road 730 km, railway 10 km, waterway 4.32 nautical miles.
Extinct or nearly extinct traditional transport Palanquin, horse carriage, bullock cart and buffalo cart.
Noted manufactories Spinning mill.
Cottage industries Jute mill, potteries, nakshi kantha, nakshi pakha, bamboo work.
Hats, bazars and fairs Hats and bazars are 24, fairs 7, most noted of which are Kanthalbari Hat and Jatrapur Bazar.
Main exports Paddy, jute, potato, bamboo.
Access to electricity All the wards and unions of the upazila are under rural electrification net-work. However 17.73% of the dwelling households have access to electricity.
Sources of drinking water Tube-well 91.09%, pond 0.13%, tap 3.09% and others 5.69%.
Sanitation 28.11% (rural 22.16% and urban 45.04%) of dwelling households of the upazila use sanitary latrines and 25.29% (rural 26.08% and urban 23.02%) of dwelling households use non-sanitary latrines; 46.60% of households do not have latrine facilities.
Health centres Hospital 1, upazila health complex 1, clinic 4.
NGO activities Operationally important NGOs are asa, CARE, brac, Save The Children. [Md Kamal Hossain]
References Bangladesh Population Census 2001, Bangladesh Bureau of Statistics; Cultural survey report of Kurigram Sadar Upazila 2007.