Lalmonirhat Sadar Upazila
Lalmonirhat Sadar Upazila (lalmonirhat district) area 259.54 sq km, located in between 25°46' and 26°00' north latitudes and in between 89°20' and 89°36' east longitudes. It is bounded by west bengal state of India and aditmari upazila on the north, kaunia and rajarhat upazilas on the south, phulbari (kurigram) and rajarhat upazilas on the east, Aditmari and gangachara upazilas on the west.
Population Total 289272; male 148625, female 140647; Muslim 243486, Hindu 45117, Buddhist 448, Christian 34 and others 187.
Water bodies Main rivers: dharla, tista, Swarnamati.
Administration Lalmonirhat Thana was formed in 1901 and it was turned into an upazila in 1984. Lalmonirhat Municipality was formed in 1873. Lalmonirhat was the headquarters of the Western Railway since the British period.
Upazila
Municipality
Union
Mouza
Village
Population
Density (per sq km)
Literacy rate (%)
Urban
Rural
Urban
Rural

1

9

123

148

57236

232036

1114

60.8

41.5
Municipality

Area (sq km)

Ward

Mahalla

Population

Density
(per sq km)

Literacy rate (%)

17.61

9

63

57236

3250

60.8
Union
Name of union and GO code
Area (acre)
Population
Literacy rate (%)
Male
Female

Kulaghat 51

6782

12303

11757

36.58

Khuniagachh 43

6168

13289

12428

28.35

Gokunda 29

4564

15045

14519

54.41

Panchagram 83

6763

13331

12923

43.15

Barabari 20

5519

11712

11276

41.00

Mahendranagar 73

8461

16057

15450

45.00

Mogalhat 65

7523

15294

14832

35.91

Rajpur 94

6503

8166

7813

52.75

Harati 36

5499

13456

12385

38.04
Source  Bangladesh Population Census 2001, Bangladesh Bureau of Statistics.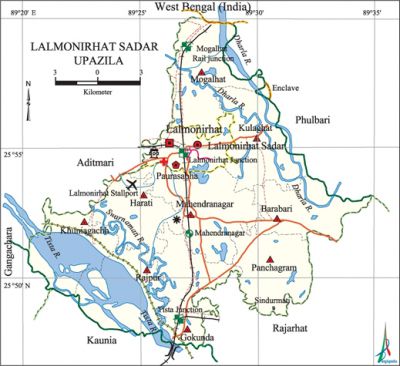 Archaeological heritage and relics Subadar Monsur Khan Mosque (Nidaria Mosque); Harano Mosque, Sindurmati Pond, Hussain Sarabor (dry tank).'
History of the War of Liberation In 1971 Lalmonirhat Sadar was under Mogalhat Sub-sector of Sector 6. On 4 April the Pak army took possession of the Lalmonirhat Airport. On 5 April, the Pak army, in collaboration with the Beharis sacked the area. On 9 November the Pak army captured a number of persons and killed them at the premises of the Araikhamar Dakbangalow. During the war of liberation the Pak army killed many Bangali Railway officers and staff. The Pak army was forced to leave Lalmonirhat on the face of the heavy attack by the freedom fighters on 4 and 5 December. Lalmonirhat was liberated on 6 December.
Marks of War of Liberation Mass graves 3 (pond on the backyard of the Rifle Battallion, backyard of Railway main building, well on the backyard of the Science Laboratory of Lalmonirhat Government High School); memorial monument 2; Martyr Dr. Zoha Memorial Sarani at the west side of the Railway over-bridge.
Religious institutions Mosque 607, temple 121, church 4, sacred place 3. Noted religious institutions: Nidaria Mosque, Central Jami Mosque, Thanapara Jami Mosque, Baitul Majud Jami Mosque, Kali Mandir at Telipara, Shree Shree Bridheshwari Mandir, Puranbazar Church of God, Khata Para Bara Dargah, Sindurmati Tirtha, Bania Dighi Tirtha.
Literacy rate and educational institutions Average literacy 45.5%; male 51.9%, female 38.8%. Educational institutions: college 10, secondary school 60, primary school 133, madrasa 59. Noted educational institutions: Lalmonirhat Government College (1964), Majida Khatun Government Women's College (1988), Sheikh Shafi Uddin Commerce College (1991), Lalmonirhat Government Ideal Degree College (1994), Government Technical School and College (1978), Lalmonirhat Government High School (1919), Lalmonirhat Government Girls' High School (1930), Church of God High School (1946), Kashipur Bilateral High School (1959), Railway Children Park Government High School (1960), Kobi Sheikh Fazlul Karim Girls' High School (1986), Nesaria Alia Madrasa (1965).
Newspapers and periodicals Daily: Lalprovat (2000); weekly: Lalmonirhat Barta (1991), Janajani (1984); literary periodical: quarterly Chalaman (1984), Raktasurya' (1977), Ashikar (1978); Bikash (1986), Sahitya Parishad Patrika (1990), Lalposter (1995), Monthly Roddur (2001), Sampriti (2005); defunct: Chalaman, Akata,' Daruchini, Chharpatra, Idaning, Aurenna Radan.
Cultural organisations Library 79, club 175, cultural organisation 12, women's organisation 2, auditorium 2, jatra party 4, magic performance group 1, theatre party 2, cinema hall 2.
Tourists spots Air Base, Mogalhat Zero Point, Tista Railway Bridge, Railway Park and Open Stage, Kutubkhana,' Sindurmati, Lalmonirhat District Museum.
Main sources of income Agriculture 62.45%, non-agricultural labourer 3.46%, industry 0.55%, commerce 13.57%, transport and communication 3.06%, service 8.18%, construction 1.08%, religious service 0.17%, rent and remittance 0.35% and others 7.13%.
Main crops Paddy, tobacco, sugarcane, potato, maize, vegetables.
Extinct or nearly extinct crops Jute, china, kaun.
Main fruits Mango, jackfruit, litchi, betel nut, papaya, shaddock, coconut.
Fisheries, dairies and poultries Fishery 19, poultry 36, hatchery 7.
Communication facilities Pucca road 129 km, semi-pucca road 28 km, mud road 491 km; railway 24 km; waterway 35 nautical miles. Rail station 4.
Extinct or nearly extinct traditional transport Palanquin, horse carriage and buffalo cart.
Noted manufactories Flour mill, oil mill, saw mill, ice factory, biscuit factory.
Hats, bazars and fairs Hats and bazars are 23, fairs 14, most noted of which are Goshala Hat, Nababer Hat, Mahendranagar Hat, Burir Bazar, Tista Hat, Kulaghat' Hat, Rajpur Hat, Sindurmati Mela, Sukan Dighi Mela, Garkata Mashan Mela and Durga Puja Mela.
Main exports Tobacco, sugarcane, betel nut, papaya, potato, maize, vegetables.
Access to electricity All the wards and unions of the upazila are under electrification net-work. However 13.26% of the dwelling households have access to electricity.
Natural resources Quality stone with silicate and manganese, akaric (raw) iron and oil mine have been traced in the upazila.
Sources of drinking water Tube-well 94.4%, tap 0.83%, pond 0.17% and others 4.6%.
Sanitation 31.47% (rural 23.21% and urban 64.23%) of dwelling households of the upazila use sanitary latrines and 32.3% (rural 34.34% and urban 24.2%) of dwelling households use non-sanitary latrines; 36.24% of households do not have latrine facilities.
Health centres Hospital 3, union health centre 4, maternity centre 1, clinic 6.
NGO activities Operationally important NGOs are brac, proshika, asa, rdrs. [Tanzimul Nayan]
References Bangladesh Population Census 2001, Bangladesh Bureau of Statistics; Cultural survey report of Lalmonirhat Sadar Upazila 2007.