Lohani, Fateh (1920-1975) actor, film director, writer and journalist. He was born in sirajganj, received school education in calcutta and obtained matriculation from St Mary's Cathedral Mission High School. Lohani Fateh completed his studies in IA and BA programmes in Ripon College. He went to London in 1950 and completed a two years course on drama producing at the Oldwick Theatre School. Simultaneously, he took film education as a member of the British Film Institute. Fateh Lohani wrote stories, screenplays and music and also worked as a producer of radio programmes, a newscaster, recitation artist and a translator.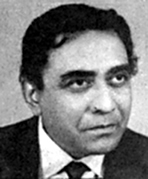 During studies in school at Calcutta Fateh Lohani used to perform caricature, appeared stage in dramas and recited poems. At the Ripon College he acted in many Bangla and English dramas including Sri Madhusudan written by Banaful and Hamlet directed by Utpal Dutta. Later, he was associated with amateur drama groups and theatre stages. He also directed Sirajuddaula and was one of its key actors. He acted in Ramer Sumati at the famous Bani Theatre Stage.
Impressed by his performance in the Nara-nari of Hemen Roy staged at Rangmahal at the initiative of Alok-Tirtha, a professional drama group, the eminent cameraman and filmmaker Bimal Roy offered him an opportunity to act in a small role in a Hindi film Hamrahi (1945).
Fateh got a nickname Kiran Kumar. At this time he also acted in a drama Joar written and directed by Udayan Chowdhury (Ismail Mohammad) and produced by Rangila Art Corporation and in the film Dukkhe Jader Jiban Gada written, directed and produced by Himadri Chowdhury (Obayed Ul Haq). Lohani started his profession of a journalist and writer at Calcutta before the partition of bengal (1947). He worked for the daily Azad and weekly Ittehad. After 14 august 1947, he joined Dhaka Radio as a newscaster and continued taking part in drama and poetry recitation.
Fateh Lohani had also composed music. He played a leading role in publication of the monthly literature magazine Agatya since 1949. The same year he joined the Karachi Radio and later, BBC. On his return to Dhaka in 1954, he started producing films and simultaneously, worked in radio, acted in drama and carried out the profession of writing. He was the first director of a feature film after the establishment of Film Development Corporation in 1957. His films were Akash Ar Mati (1959) and Asia (1960). Satrang, a urdu film directed by him was released in 1965. The first television drama in which Fateh Lohani appeared was Nirbhik and the first film of Dhaka in which he played a role was Raja Elo Shahare (1964). Other films in which Fateh Lohani performed include Muktir Bandhan (1947), Tanha (1964), Behula (1966), Fir Milenge Ham Dono (1966) Agun Niye Khela (1967), Darshan (1967), Julekha (1967), Etotuku Asha (1968), Balyabandhu (1968), Momer Alo (1968), Mayar Sangshar (1969), Mishar Kumari (1970), Tansen (1970), Akabaka (1970), Antaranga (1970), Ghurnijhar (1970), Swaralipi (1970), Darpachurna (1970), Dip Nebhe Nai (1970), Apabad (1970), Daku Mansur (1974), Dui Rajar Kumar (1975), Ek Mutho Bhat (1975) and Kuasha (1977). Some of the dramas written by Fateh Lohani are Nivrita Sanglap, Dur Thekey Kachhey and Sagar Dola. He translated some dramas such as Death of a Salesman (Arthur Miller), Lazarus Laughed (Eugene O'Neill), Mourning Becomes Electra (Eugene O'Neill) and The Oldman and the Sea (Ernest Hemingway).
Fateh Lohani was honoured with the President Award and Nigar Prize of Pakistan in 1961 (for his film Asia in the category of best production), Mazid Almakki Award of Pakistan in 1968 (best actor in radio drama), Bangladesh Film Journalists Association Award in 1975 (for acting in films) and the Silver Jubilee Trophy of FDC in 1983.
Fateh Lohani died on 12 April 1975 while he was in work during the shooting of his film Kuasha at kaptai of Chittagong. [Anupam Hayat]