Madarganj Upazila (jamalpur district) area 225.38 sq km, located in between 24°47' and 24°59' north latitudes and in between 89°40' and 89°50' east longitudes. It is bounded by islampur and melandaha upazilas on the north, sarishabari and sariakandi upazilas on the south, Melandaha and jamalpur sadar upazilas on the east, Sariakandi upazila on the west.
Population Total 233049; male 119368, female 113681; Muslim 228769, Hindu 4158, Buddhist 18, Christian 10 and others 94.
Water bodies Main rivers: jamuna, Jhinai, Chatal; Chiradhuna Beel and Kharka Beel are notable.
Administration Madarganj Thana was formed in 1906 and it was turned into an upazila on 24 March 1983.
Upazila
Municipality
Union
Mouza
Village
Population
Density (per sq km)
Literacy rate (%)
Urban
Rural
Urban
Rural

1

7

108

116

30076

202973

1034

31.1

23.6
Municipality

Area (sq km)

Ward

Mahalla

Population

Density (per sq km)

Literacy rate (%)

10.79

9

22

30076

2787

31.1
Union
Name of union and GO code
Area (acre)
Population
Literacy rate (%)
Male
Female

Adarbhita 11

7178

18453

17166

26.17

Karaichara 71

7578

17773

16944

22.90

Gunaritala 47

7905

17703

16921

28.30

Char Pakerdaha 35

8316

16591

16075

23.11

Jorekhali 59

10519

14266

13115

21.92

Balijuri 23

9827

7989

8000

16.64

Sidhuli 83

4372

11369

10608

21.11
Source  Bangladesh Population Census 2001, Bangladesh Bureau of Statistics.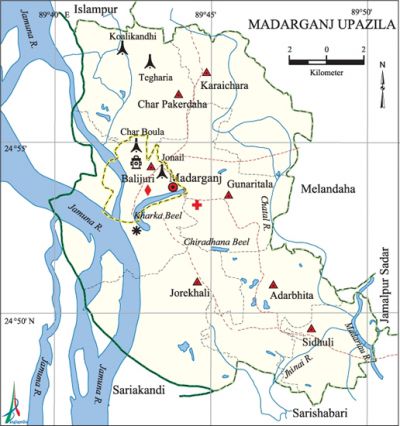 Archaeological heritage and relics Talukdar Bari Jami Mosque, Sree Sree Lakshminarayan Mandir, Tartapara Neel Kuthi (nearly extinct).
Marks of the War of Liberation Mass grave 7 (Koalikandi, Tegharia Bazar, Jonail, Chargolabari, Charbhatia, Kolur Patti, Charboula).
Religious institutions Mosque 287, temple 7.
Literacy rate and educational institutions Average literacy 24.6%; male 28.2%, female 20.9%. Educational institutions: college 6, technical college 3, secondary school 2, primary school 160, ngo school 2, madrasa 34. Noted educational institutions: Madarganj AHZ Government College (1968), Nurunahar Mirza Kashem Mahila Degree College (1994), Jhar Kata Multilateral High School (1907),' Balijuri FM High School (1910), Shamganj High School (1947), Balijuri Rowshan Ara Government Girls' High School (1964), Jonail Nayapara Fatema Khan Mamud Girls' High School (1965).
Newspapers and periodicals Daily: Pallibani (irregular); literary periodical: Vela, Usha, Unmesh; defunct: Monthly' Madarganj, Monthly Dristipat, Palli Kagoz.
Cultural organisations Library 1, club 32, cinema hall 1, women's organisation 1, playground 26.
Main sources of income Agriculture 71.64%, non-agricultural labourer 2.13%, industry 0.40%, commerce 11.40%, transport and communication 1.48%, service 3.98%, construction 1.02%, religious service 0.19%, rent and remittance 0.39% and others 7.37%.
Ownership of agricultural land Landowner 63.09%, landless 36.91%; agricultural landowner: urban 47.24% and rural 65.41%.'
Main crops Paddy, jute, wheat, maize, mustard, sugarcane, sweet potato, masur, gram, cabbage, cauliflower, sunflower, black gram, barley, turmeric, ginger, betel leaf, vegetables.
Extinct or nearly extinct crops Sesame, linseed, ground-nut, kaun.
Main fruits Mango, coconut, jackfruit, banana, watermelon, futi.
Communication facilities Pucca road 70 km, semi-pucca road 37 km, mud road 380 km.
Extinct or nearly extinct traditional transport Palanquin, horse carriage, bullock cart, dhuli, soari.
Noted manufactories Rice mill, oil mill, chanachur factory, bakery, ice cream factory, printing press.
Cottage industries Goldsmith, blacksmith, potteries, weaving, bamboo work.
Hats, bazars and fairs Hats and bazars are 22, fairs 8, most noted of which are Balijuri Hat, Shamganj Kalibari Hat, Jonail Hat, Mahisbathan Bazar, Tegharia Bazar, Bajitpara Bazar, Patadaha Bazar, Binodtongi Bazar, Balijuri Durga Puja Mela, Tegharia Eid Mela and Mahisbathan Eid Mela.
Main exports Paddy, jute, mustard, gram, black gram, sweet potato, vegetables.
Access to electricity All the wards and unions of the upazila are under rural electrification net-work. However 8.29% (urban 14.96% and rural 7.31%) of the dwelling households have access to electricity.
Sources of drinking water Tube-well 91.07%, tap 0.27%, pond 0.14% and others 8.52%.
Sanitation 17.55% (rural 16.58% and urban 24.14%) of dwelling households of the upazila use sanitary latrines and 54.14% (rural 40.97% and urban 48.54%) of dwelling households use non-sanitary latrines; 28.31% of households do not have latrine facilities.
Health centres Upazila health complex 1, family planning centre 4, family welfare centre 7, satellite clinic 5, community clinic 32.
NGO activities Operationally important NGOs are brac, asa, CARE. [Sayed Md Abdullah Al Mamun Chowdhury]
References Bangladesh Population Census 2001, Bangladesh Bureau of Statistics; Cultural survey report of Madarganj Upazila 2007.