Madaripur District (dhaka division) area 1144.96 sq km, located in between 23°00' and 23°30' north latitudes and in between 89°56' and 90°21' east longitudes. It is bounded by faridpur and munshiganj districts on the north, barisal and gopalganj districts on the south, shariatpur district on the east, faridpur district on the west.
Population Total 1146349; male 584016, female 562333; Muslim 1001316, Hindu 143093, Buddhist 1729, Christian 39 and others 172.
Water bodies Main rivers: padma, arial khan, kumar, Ghagor; madaripur beel route Canal is notable.
Administration Madaripur Sub-Division was formed in 1854 under Bakerganj District and it was separated from Bakerganj District and included in Faridpur District in 1873. Madaripur Sub-Division was turned into a district in 1984. Of the four upazilas of the district shibchar upazila is the largest (321.88 sq km) and rajoir upazila is the smallest (229.28 sq km).
District
Area (sq km)
Upazila
Municipality
Union
Mouza
Village
Population
Density (per sq km)
Literacy rate (%)
Urban
Rural

1144.96

4

3

57

520

1039

140365

1005984

1001

42.4
Others Information of District

Name of Upazila

Area
(sq km)

Municipality

Union

Mouza

Village

Population

Density
(per sq km)

Literacy rate
(%)

Kalkini

279.99

1

14

160

163

271796

971

45.24

Madaripur Sadar

313.81

1

15

159

184

332020

1058

45.87

Rajoir

229.28

-

10

93

186

218095

951

44.3

Shibchar

321.88

1

18

108

506

324438

1008

34.2
Source Bangladesh Population Census 2001, Bangladesh Bureau of Statistics.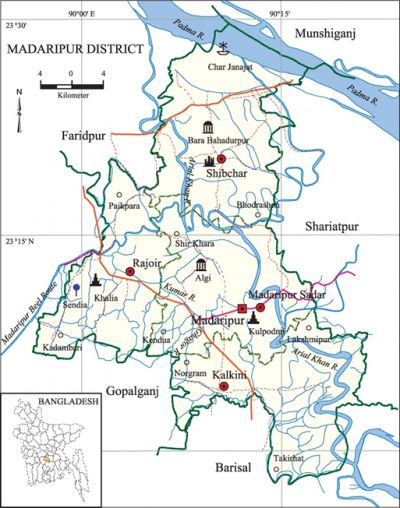 History of the War of Liberation The Pak army killed Abdur Rashid Khan (Sub Jailer of Madaripur Sadar upazila) along with his entire family on 24 April 1971. A prolonged encounter (8 to 10 December) was held between the freedom fighters and the Pak army near the Somaddar Bridge on the Madaripur Takerhat Road in which a number of freedom fighters and Pak soldiers were killed and wounded. In this encounter the Khalil Bahini captured 40 Pak soldiers including one Major and one Captain. During the war of liberation about 53 freedom fighters of Madaripur Sadar upazila were killed. The Pak army brutally killed about 50 persons at village Sendia of Rajoir upazila. They also conducted mass killing, rape and plundering, and also set many houses of Rajoir upazila on fire. Madaripur district was liberated on 10 December.
Marks of the War of Liberation Mass grave 3 (Kalagachhia, Bahadurpur and Mithapur).
Literacy rate and educational institutions Average literacy 42.4%; male 46.9%, female 37.3%. Noted educational institutions: Government Nazimuddin College (1948), Government Barhamganj College (1964), Rajoir Degree College (1970), Shahebrampur Kabi Nazrul Islam College (1972), Kalkini Syed Abul Hossain College (1972), Shoshikar Shaheed Smriti College (1973), Charmuguria College (1978), Government Sufiya Mahila College (1984), Rijia Begum Mahila College (1985), Syed Abul Hossain College (1989), Uthrail High School, Charmuguria Merchants High School (1931), Donovan Government Girls' High School (1914), Mithapur LN High School (1915), Amgram High School (1917), Birmohan High School (1919), Panchchar High School (1920), 'Rajoir- Gopalganj Kapali Jubasangha High School (1929), RM High School (1930), Madbarer Char RM High School' (1930), Isibpur High School' (1932), Kadambari' High School' (1942), Shoshikar High School (1943), Kalkini Pilot' High School' (1946), Shahebrampur Multilateral High School' (1946), Munshi Kadirpur High School (1950), United Islamia Government High School (1950), Tekerhat High School (1952), Bhandari Kandi High School (1953), Tantibari Islamia High School (1954), Kanthalbari High School (1962), Aruakandhi Notakhola Barakhola High School (1963), Bahadurpur High School (1968), Gopalpur High School (1970), Khallia Rajaram Institution (1900), Shibchar Nandakumar Institution (1910), Dattapara TN Academy, Utrail High School, Madaripur Public Institution (1953), Rajkumar Edward Institution (1902), Rajoir KJSS Model Institution, Bhadrasan JC Academy (1918), DK Ideal Syed Atahar Ali Academy (1995), Charnachana Fazil Madrasa (1912).
Main sources of income Agriculture 61.33%, non-agricultural labourer 2.59%, industry 0.84%, commerce 15.46%, transport and communication 2.27%, service 7.25%, construction 1.71%, religious service 0.20%, rent and remittance 0.87% and others 7.48%.
Newspapers and periodicals Daily: Subarnagram (1998), Pranto (2001), Madaripur' News (2006), Bislashon (2009); weekly: Suprovat (1991), Shah Madar (1993), Shariatullah (1996). Ajkal (1999), Ganasachetanata (2006), Subarta' (2007); monthly: Jugachetona (1991), Poster (1991), Shanti Shamoyeki (1992), Jabol-e-Noor (2005); literary periodical: Shondipan, Kisholoy, Baishakhi, Canvas, Barnomala, Nabaprovat; defunct: Daily Diganta (1960), weekly janani Bangla (1972), Kisholoy (1984), weekly Madaripur Barta (1986), weekly Arial Khan (1989), fortnightly Balaronjika (1863).
Folk culture The most notable folk culture of the district include Gazir Gan, Kirtan, Dhuagan etc. Besides, Matua community of Rajoir upazila arranges Matua song during the Durga Puja festival.
Tourists spots Charmuguria Bandar, Hazrat Shah Madar Dargah, Auliapur Neelkuthi, Algi Kazibari Mosque and Shokuni' Lake (Madaripur Sadar Upazila); Raja Ram Mandir, Pronob Math, Annapurna Mandir, Khalia Shanti Kendra and Ganesh Pagol Mandir (Rajoir); Senapati Dighi (Kalkini); tomb of Haji Shariatullah and Raja Basu Durga Mandir (Shibchar). [Shahidul Haq]
See also The upazilas under this district.
References Bangladesh Population Census 2001, Bangladesh Bureau of Statistics; Cultural survey report of Madaripur District 2007; Cultural survey report of Upazilas of Madaripur District 2007.