Mohanganj Upazila (netrokona district) area 243.20 sq km, located in between 24°45' and 24°55' north latitudes and in between 90°55' and 91°07' east longitudes. It is bounded by barhatta and dharmapasha upazilas on the north, atpara, madan and khaliajuri upazilas on the south, jamalganj and Khaliajuri upazilas on the east, Atpara upazila on the west.
Population Total 143740; male 73702, female 70038; Muslim 118610, Hindu 24976, Buddhist 71 and others 83.
Water bodies Main rivers: Dhalai, Magra, Kansa, Dhanu, Ghorautra, Chinai; Bandha Beel and Makra Beel are notable.
Administration Mohanganj Thana, now an upazila, was formed on 6 April 1920.
Upazila
Municipality
Union
Mouza
Village
Population
Density (per sq km)
Literacy rate (%)
Urban
Rural
Urban
Rural

1

7

128

163

21376

122364

591

58.8

29.7
Municipality

Area (sq km)

Ward

Mahalla

Population

Density (per sq km)

Literacy rate (%)

6.94

9

18

21376

3080

58.8
Union
Name of union and GO code
Area (acre)
Population
Literacy rate (%)
Male
Female

Gaglajur 31

10780

9054

8212

28.62

Tentulia 84

9898

8488

8053

24.74

Barkashia Birampur 10

5338

8778

8342

31.57

Baratali Banihari 21

6399

8333

8414

31.19

Maghan Siadhar 42

9177

9941

9516

31.93

Samaj Sahildeo 63

7857

9593

9331

28.11

Suair 73

8889

8330

7979

31.45
Source  Bangladesh Population Census 2001, Bangladesh Bureau of Statistics.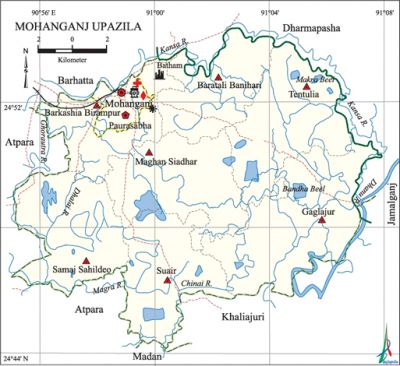 Archaeological heritage and relics Ancient fort at village Betham (Sultan Alauddin Hussain Shah period), Shekher Bari Mosque (Hussain Shah period), Daulatpur Temple (876 BS).
History of the War of Liberation The freedom fighters made a surprise attack on the Pak army at Mohanganj Police Station and forced them to flee away towards Barhatta Upazila. The freedom fighters then took control over the Police Station. On 8 December the freedom fighters, in collaboration with the local people, killed 19 razakars at Patharghata of Mohanganj.
Religious institutions Mosque 217, temple 32.
Literacy rate and educational institutions Average literacy 34.3%; male 36.9%, female 31.5%. Educational institutions: college 2, secondary school 8, primary school 50, school 46, madrasa 5. Noted educational institutions: Mohanganj Degree College (1969), Mohanganj Mohila College (1998), Mohanganj Government Pilot High School (1931), Mohanganj Public High School (1981).
Cultural organisations Library 4, club 36, cinema hall 3, women organisation 4, playground 12, theatre group 1.
Main sources of income Agriculture 67.75%, non-agricultural labourer 2.87%, industry 0.80%, commerce 11.87%, transport and communication 2.80%, service 4.30%, construction 0.86%, religious service 0.46%, rent and remittance 0.28% and others 8.01%.
Main crops Paddy, jute, mustard, cotton.
Extinct or nearly extinct crops Potato.
Main fruits Mango, jackfruit, blackberry.
Fisheries, dairies and poultries Fishery 50,' poultry 61.
Communication facilities Pucca road 34.34 km, semi-pucca road 37 km, mud road 217 km; railway 3 km; waterway 12 nautical miles.
Extinct or nearly extinct traditional transport Palanquin, horse carriage, bullock cart, buffalo cart.
Noted manufactories Flour mill, saw mill, rice mill, oil mill, ice factory, printing press, welding factory.
Cottage industries Goldsmith, blacksmith, potteries, embroidery, wood work.
Hats, bazars and fairs Hats and bazars are 38, fairs 2, most noted of which are Mohanganj Hat,' Chhesrakhali Hat, Mathura Hat, Jainpur Hat, Betham Hat, Gaglajur Hat, Paikura Hat, Palgaon Hat, Nagdora Mela and Barantar Mela.
Main exports Paddy, dry fish, egg.
Access to electricity All the wards and unions of the upazila are under rural electrification net-work. However 20.13% of the dwelling households have access to electricity.
Sources of drinking water Tube-well 94.85%, tap 0.86%, pond 1.44% and others 2.85%. The presence of arsenic has been detected in 33% of the shallow tube-well water of the upazila.
Sanitation 13.80% (rural 7.06% and urban 52.38%) of dwelling households of the upazila use sanitary latrines and 75.71% (rural 81.44% and urban 42.82%) of dwelling households use non-sanitary latrines; 10.50% of households do not have latrine facilities.
Health centres Upazila health complex 1, family planning centre 7, satellite clinic 2.
NGO activities Operationally important NGOs are brac, proshika, asa, Ahsania Mission. [Syed Marufuzzaman]
References Bangladesh Population Census 2001, Bangladesh Bureau of Statistics; Cultural survey report of Mohanganj Upazila 2007.