Mollahat Upazila (bagerhat district) area 187. 88 sq km, located in between 22°48' and 22°59' north latitudes and in between 89°40' and 89°57' east longitudes. It is bounded by kalia upazila on the north, fakirhat and chitalmari upazilas on the south, Chitalmari, tungipara and gopalganj sadar upazilas on the east, terokhada and rupsa upazilas on the west.
Population Total 126218; male 64731, female 61487; Muslim 98970, Hindu 27151, Buddhist 67 and others 30.
Water bodies Main rivers: madhumati, Nalua, chitra, Atharbanki; Kendua Beel, Kodalia Beel and Kata Gang are notable.
Administration Mollahat Thana was formed in 1867 and it was turned into an upazila on 2 July 1983.
Upazila
Municipality
Union
Mouza
Village
Population
Density (per sq km)
Literacy rate (%)
Urban
Rural
Urban
Rural

-

7

59

102

11712

114506

672

53.3

48.4
Upazila Town

Area (sq km)

Mouza

Population

Density (per sq km)

Literacy rate (%)

8.79

8

11712

1332

53.3
Union
Name of union and GO code
Area (acre)
Population
Literacy rate (%)
Male
Female

Atjuri 09

6691

10465

10647

50.62

Udaypur 95

5667

11178

10766

53.73

Kulia 85

4309

8834

8267

44.80

Kodalia 76

7619

9390

9023

47.45

Gaola 47

10138

7451

6834

61.10

Gangni 38

3833

9196

8385

41.52

Chunkhola 28

5416

8217

7565

41.77
Source  Bangladesh Population Census 2001, Bangladesh Bureau of Statistics.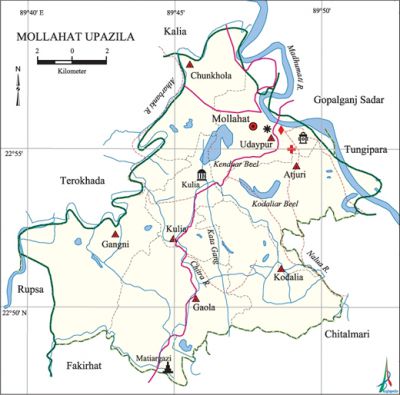 Archaeological heritage and relics Single domed Mosque (Kulia union).
Historical events There was an artificial scarcity of cotton yarn for production of fishing nets due to black marketing and other reasons in 1943-44. As a result the fishermen were jobless and they organized a movement. During the war of liberation in 1971 a battle was fought between the freedom fighters and the Pak army at Chakulia in which about 200 Pakistani soldiers including a Captain were killed.'
Marks of the War of Liberation Memorial monument 1 (Chakulia).
Religious institutions Mosque 267, temple 72, church 2. Noted religious institutions: Single domed mosque at Uttar Kulia, Udaypur Jami Mosque, Mollahat Court Mosque, Udaypur Arua Kandi Baitul Aman Jami Mosque, Duttapara Kali Mandir, Dakshin Ambari Kali Mandir, Matiyar Gazi Mandir.
Literacy rate and educational institutions Average literacy 48.9%; male 51.5%, female 46.1%. Educational institutions: college 4, secondary school 21, primary school 102, madrasa 10. Noted educational institutions: Khalilur Rahman Degree College (1968), Schiadaha Chunkhola MB Secondary School (1916), Angra Government Primary School (1918), Madartali Model Government Primary School (1928), Udaypur Jamia Halimia Darul Ulum Madrasa (1920).
Newspapers and periodicals Weekly: Mollahat Barta (defunct).
Cultural organisations Club 7, playground 20.
Main sources of income Agriculture 69.17%, non-agricultural labourer 2.58%, industry 0.83%, commerce 10.38%, transport and communication 3.24%, service 6.77%, construction 0.59%, religious service 0.40%, rent and remittance 0.59% and others 5.45%.
Ownership of agricultural land Landowner 64.58%, landless 35.42%; agricultural landowner: urban 45.62% and rural 66.51%.
Main crops Paddy, jute, sugarcane, wheat, sesame, betel leaf, pulse, vegetables.
Extinct or nearly extinct crops Tobacco.
Main fruits Mango, jackfruit, banana, papaya, coconut, betel nut, date.
Fisheries, dairies and poultries Fishery (shrimp cultivation) 10000, poultry 159.
Communication facilities Pucca road 49.48 km, semi-pucca road 12 km, mud road 189.59 km; waterway 11.34 nautical miles.
Extinct or nearly extinct traditional transport Palanquin, horse carriage, bullock cart.
Noted manufactories Rice mill, ice factory, bidi factory, saw mil.
Cottage industries Goldsmith, blacksmith, potteries, embroidery, bamboo work, wood work, cane work, nakshi kantha, nakshi pakha, mat manufacturing.
Hats, bazars and fairs Hats and bazars are 33, fairs 4, most noted of which are Garka Hat, Nagarkandi Hat, Nashuakhali Hat, Kodalia Hat, Chander Hat and Paddodanga' Kali Puja Mela.
Main exports Betel leaf, sugarcane, date molasses, coconut, betel nut, banana, papaya, fish.
Access to electricity All the unions of the upazila are under rural electrification net-work. However 30.86% of the dwelling households have access to electricity.
Sources of drinking water Tube-well 94.78%, tap 1.24%, pond 2.50% and others 1.48%.
Sanitation 22.78% (rural 23.74% and urban 13.30%) of dwelling households of the upazila use sanitary latrines and 67.47% (rural 65.92% and urban 82.66%) of dwelling households use non-sanitary latrines; 9.75% of households do not have latrine facilities.
Health centres Upazila health complex 1, union family planning centre 6, clinic 1.
NGO activities Operationally important NGOs are brac, asa, CARE. [Tapos Kumer Biswas]
References Bangladesh Population Census 2001, Bangladesh Bureau of Statistics; Cultural survey report of Mollahat Upazila 2007.