Monohardi Upazila (narsingdi district) area 195.57 sq km, located in between 24°04' and 24°15' north latitudes and in between 90°38' and 90°49' east longitudes. It is bounded by pakundia and katiadi upazilas on the north, shibpur upazila on the south, belabo and Katiadi upazilas on the east, kapasia upazila on the west.
Population Total 244540; male 121484, female 123056; Muslim 233134, Hindu 10861 and others 545.
Water bodies Main rivers: old brahmaputra, arial khan; Gotashia Beel, Jaria Beel and Parail Beel are notable.
Administration Monohardi Thana, now an upazila, was formed in 1904.
Upazila
Municipality
Union
Mouza
Village
Population
Density (per sq km)
Literacy rate (%)
Urban
Rural
Urban
Rural

1

11

124

170

12088

232452

1250

53.3

42.2
Upazila Town

Area (sq km)

Mouza

Population

Density (per sq km)

Literacy rate (%)

6.83

4

12088

1770

53.33
Union
Name of union and GO code
Area (acre)
Population
Literacy rate (%)
Male
Female

Ekduaria 54

4414

12155

12606

46.89

Kanchikata 67

4805

10577

10909

45.05

Khidirpur 74

5072

13245

12932

39.94

Gotashia 61

5119

10545

10601

35.44

Chandanbari 33

2903

9930

9848

50.24

Char Mandalia 40

3793

11747

11875

35.58

Chalak Char 27

3677

8974

9067

33.23

Daulatpur 47

3550

8989

9402

48.00

Bara Chapa 06

5148

12010

12132

40.71

Lebutala 81

5115

10583

10786

42.75

Shukundi 94

4245

12729

12898

50.71
Source  Bangladesh Population Census 2001, Bangladesh Bureau of Statistics.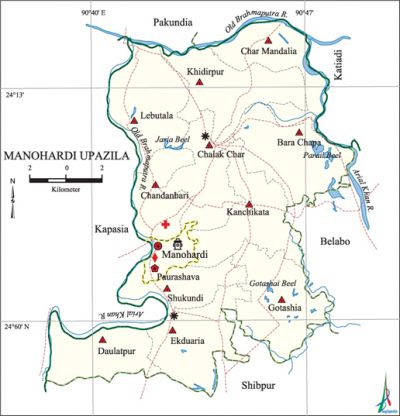 Archaeological heritage and relics Single domed mosque at Mia Bari (1890), mosque of Abdul Hai Maulvi at Shukundi (1900).
Historical events During the mass upsurge, the police opened fire on the agitated general public who were picketing and organizing processions at Hatirdia Bazar (during hartal) on 29 December 1968 killing five persons and wounding many. During the war of liberation in 1971 the freedom fighters launched a surprise attack on the Pak army stationed at the Monohardi High School Camp in which 5 Pak soldiers were killed; the freedom fighters also kept the camp under their control for some time. In the middle of August an encounter between the freedom fighters and the Pak army was held at village Doshdona under Shukundi union in which 4 Pak soldiers were killed. As a retaliation the Pak army sacked the whole village the following day.
Religious institutions Mosque 645, temple 26, tomb 2. Noted religious institutions: Bilagi Mia-Bari Mosque, Abdul Hai Maulvi Mosque at Shukundi, Narandi Ashok Molla Mosque, Asadnagar Mazar, Monohardi Pagal Nath Ashrama.
Literacy rate and educational institutions Average literacy 42.7%; male 44.7%, female 40.9%. Noted educational institutions: Hatirdia Rajiuddin College (1972), Khidirpur College (1987), Khidirpur High School (former George Mary Academy, 1912), Chalak Char High School (1933), Hatirdia Sadat Ali Model High School (1941), Monohardi High School (1948), LK Union High School (1950), Shekergaon Senior Madrasa, Dharabanda Fazil Madrasa (1926), Dasdona Islamia Fazil Madrasa (1930).
Newspapers and periodicals Defunct: daily Grameen Darpan (1984), weekly: Mashal (1987).
Cultural organisations Club 68, auditorium 1, cinema hall 2, playground 40.
Main sources of income Agriculture 64.78%, non-agricultural labourer 2.4%, industry 0.73%, commerce 11.81%, transport and communication 2.72%, service 7.04%, construction 0.9%, religious service 0.19%, rent and remittance 2.8% and others 6.63%.
Ownership of agricultural land Landowner 71.36%, landless 28.64%; agricultural landowner: urban 58.26% and rural 72.04%.
Main crops Paddy, jute, wheat, sugarcane, betel leaf, garlic, vegetables.
Extinct or nearly extinct crops Sesame, kaun, linseed, ground-nut, arahar.
Main fruits Mango, jackfruit, litchi, banana, papaya.
Fisheries, dairies and poultries Fishery 1 dairy 32, poultry 300, hatchery 1. cattle breeding centre 4.
Communication facilities Pucca road 298.43 km, semi-pucca road 65 km, mud road 216.64 km; waterway 46 nautical miles.
Extinct or nearly extinct traditional transport Palanquin, horse carriage, bullock cart.
Cottage industries Blacksmith, weaving, potteries, wood work.
Hats, bazars and fairs Hats and bazars are 27, fairs 5, most noted of which are Hatirdia Hat, Monohardi Hat, Chalak Char Hat, Sagardi Hat and Monohardi Khalpar Mela.
Main exports Jute, banana, betel leaf, garlic, vegetables.
Access to electricity All the wards and unions of the upazila are under rural electrification net-work. However 23.37% of the dwelling households have access to electricity.
Sources of drinking water Tube-well 90.58%, tap 0.47% pond 6.33% and others 2.62%.
Sanitation 29.21% (rural 28.33% and urban 46.23%) of dwelling households of the upazila use sanitary latrines and 27.03% of dwelling households use non-sanitary latrines; 43.76% of households do not have latrine facilities.
Health centres Upazila health complex 1, satellite clinic and family planning centre 7, Bradley Burt Charitable Hospital at Monohardi (1921).
NGO activities Operationally important NGOs are brac, asa. [Md. Iftekhar Uddin Bhuiyan]
References Bangladesh Population Census 2001, Bangladesh Bureau of Statistics; Cultural survey report of Monohardi Upazila 2007.