Muktagachha Upazila (mymensingh district) area 314.71 sq km, located in between 24°36' and 24°52' north latitudes and in between 90°04' and 90°20' east longitudes. It is bounded by mymensingh sadar and jamalpur sadar upazilas on the north, fulbaria upazila on the south, Mymensingh Sadar and Fulbaria upazilas on the east, madhupur and Jamalpur Sadar upazilas on the west.
Population Total 366397; male 185909, female 180488; Muslim 348178, Hindu 17248, Buddhist 838 and others 133. Indigenous community such as garo belongs to this upazila.
Administration Muktagachha Thana was formed in 1961 and it was turned into an upazila in 1983. Muktagachha Municipality was formed in 1875.
Upazila
Municipality
Union
Mouza
Village
Population
Density (per sq km)
Literacy rate (%)
Urban
Rural
Urban
Rural

1

10

261

283

37762

328635

1164

48.0

33.8
Municipality

Area (sq km)

Ward

Mahalla

Population

Density (per sq km)

Literacy rate (%)

11.97

9

21

37762

3155

48.0
Union
Name of union and GO code
Area (acre)
Population
Literacy rate (%)
Male
Female

Kashimpur 51

7489

17618

17068

38.55

Kumarghata 69

6305

15650

15149

39.16

Kheruajani 60

7112

16995

16693

33.17

Ghoga 43

7103

13494

12849

27.73

Tarati 94

7856

17478

16705

44.30

Daogaon 25

7579

17079

17249

26.13

Dulla 34

10284

16401

15747

29.94

Baragram 16

7290

15405

15245

33.49

Basati 17

7141

18167

17728

31.03

Mankon 77

7461

18165

17750

33.62
Source  Bangladesh Population Census 2001, Bangladesh Bureau of Statistics.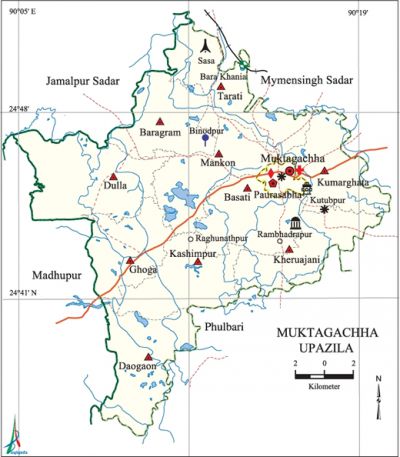 Archaeological heritage and relics Bhuiyanbari' Mosque, Gopal and Shiva Mandir at the Atani Zamindar Bari (built in the last part of 18th century), Anandamoyee Kali and Shiva Mandir, Lakshmikhola Shiva Mandir, tomb of Kutub Shah at Kutubpur, tomb of Joyen Shah at Rasulpur, tomb of Kali Shah Dewan.
History of the War of Liberation The freedom fighters resisted the Pak army at Jalchhatra on their way to Muktagachha on 23 April 1971. The freedom fighters under Commander Refazuddin, launched attacks on the Pak army at Bat-tali, Bhiti Bari and on Muktagachha Police Station. The Pak army conducted brutal mass killing, torture and plundering at villages Binodbari, Mankon, Bouerchar Shasha of the upazila. Muktagachha upazila was liberated on 10 December.
Marks of the War of Liberation Mass killing site 4 (premises of zamindar Bakul Babu of the upazila sadar, Dumping area, Mankon and Binodbari); mass grave 5 (Dumping area of the upazila sadar, Mazipara of Ishwar Gram, Sreepur in Mankon union, Majhihati, Shasha of Tarati union); memorial monument 2 (Majhihati and Bangbangla adjacent Baizana Bridge)
Religious institutions Mosque 521, temple 22, church 5, tomb 5.
Literacy rate and educational institutions Average literacy 35.3%; male 38.4%, female 32.2%. Educational institutions: college 10, secondary school 42, primary school 144, regional scout training centre 1, regional cooperative institute 1, madrasa 52. Noted educational institutions: Ramkishore High School (1300), Nagendra Narayan Primary School (1907), Kheruajani High School (1899), MN Pilot Girls' High School (1907).
Newspapers and periodicals Weekly: Aloran Barta; fortnightly: Sabar Katha; periodical: Sonali Sis; defunct: Promodi, Surid, Nirmallah, Desher Khabar, Muktakantha, Ajker Muktagachha.
Cultural organisations Library 1, cinema hall 6.
Main sources of income Agriculture 59.26%, non-agricultural labourer 4.61%, industry 1.13%, commerce 11.29%, transport and communication 6.32%, service 4.96%, construction 1.35%, religious service 0.22%,' rent and remittance 0.28% and' others 10.58%.
Ownership of agricultural land Landowner 55.46%, landless 44.54%; agricultural landowner: urban 57.09% and rural 40.40%.
Main crops Paddy, jute, betel leaf, wheat, sugarcane, mustard.
Extinct or nearly extinct crops Local varieties of banana, pulse.
Main fruits Banana, blackberry, watermelon, mango, jackfruit, coconut.
Fisheries, dairies and poultries Fishery 103, dairy 27, poultry 61.
Communication facilities Pucca road 100 km, semi-pucca road 11 km, mud road 742.15 km.
Extinct or nearly extinct traditional transport Palanquin, horse carriage, buffalo cart.
Noted manufactories Oil mill 12, saw mill 16, rice mill 221, biscuit factory 15, bidi factory 2, printing press 3, food godown.
Cottage industries Blacksmith 72, weaving 126, milk products 25 wood work 40, bamboo work 20, cane work 10.
Hats, bazars and fairs Hats and bazars are 18, fairs 5, most noted of which are Dorichari Ani Bazar, Raghunathpur (Rouarchar) Hat, Chechua Hat, Gabtali Hat, Dropour Hat, Kutubpur Shivaratri Mela, Ramchandrapur Mela, Lakshmikhola Mela, Sapanna Prahar Mela.
Main exports Rice, jute, betel leaf, bidi.
Access to electricity All the wards and unions of the upazila are under rural electrification net-work. However 21.49% of the dwelling households have access to electricity.
Sources of drinking water Tube-well 90.26%, tap 0.55%, pond 3.48% and others 8.79%.
Sanitation 27.16% (rural 24.28% and urban 53.93%) of dwelling households of the upazila use sanitary latrines and 37.37% (rural 38.52% and urban 26.70%) of dwelling households use non-sanitary latrines; 35.46% of households do not have latrine facilities.
Health centres Upazila health complex 1, satellite clinic 4, hospital 1,' community clinic 27, family planning centre 6, veterinary hospital 1.
NGO activities Operationally important NGOs are brac, caritas, proshika, asa, Pratasha. [Mesbah Uddin Tuhin]
References Bangladesh Population Census 2001, Bangladesh Bureau of Statistics; Cultural survey report of Muktagachha Upazila 2007.