Nachole Upazila (nawabganj district) area 283.68 sq km, located in between 24°38' and 24°51' north latitudes and in between 88°15' and 88°21' east longitudes. It is bounded by gomastapur upazila on the north-west, nawabganj sadar upazila on the south-west, tanore upazila on the south-east, niamatpur upazila on the north-east. The soil of this region is very congenial to the production of paddy.
Population Total 132308; male 67406, female 64902; Muslim 117183, Hindu 12046, Buddhist 1935, Christian 21 and others 1123. Indigenous communities such as santal, munda, oraon, Mahali belong to this upazila.
Water bodies Main river: mahananda; Lakshmikol and Damas beels are noted.
Administration Nachole Thana was formed in 1918 and it was turned into an upazila in 1984.
Upazila
Municipality
Union
Mouza
Village
Population
Density (per sq km)
Literacy rate (%)
Urban
Rural
Urban
Rural

-

4

201

197

10407

121901

466

58.6

38.7
Upazila Town

Area (sq km)

Mouza

Population

Density (per sq km)

Literacy rate (%)

5.15

2

10407

2021

58.6
Union
Name of union and GO code
Area (acre)
Population
Literacy rate (%)
Male
Female

Kasba 38

15183

15695

15000

39.96

Nachole 57

18250

24148

23476

45.91

Nizampur 76

18489

12855

12532

41.98

Fatehpur 19

18176

14708

13894

29.81



Source  Bangladesh Population Census 2001, Bangladesh Bureau of Statistics.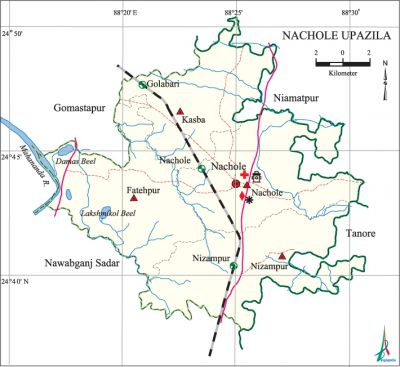 Archaeological heritage and relics Ali Shahpur Mosque (Fatehpur), Kalihar Zamindar Bari, Mallikpur Zamindar Bari.
Historical events In 1949, tebhaga movement spread over Nachole under the leadership of ila mitra. The peasants of Nachole, specially the Santals were the main force of this movement. This movement is variously known as nachole uprising, Tebhaga Movement or Nachole Peasant Movement.
Religious institutions Uzirpur dargah, Nachole Bazar Mandir, Deupara Math are notable.
Literacy rate and educational institutions Average literacy 40.3%; male 42.6%, female 38%. Educational institutions: college 6, technical college 3, secondary school 34, primary school 77, madrasa 18. Noted educational institutions: Nachole Degree College (1972), Nachole Mohila College (1993), Nachole High School (1957), Nachole Primary School.
Main sources of income Agriculture 73.27%, non-agricultural labourer 4.91%, industry 0.29%, commerce 9.38%, transport and communication 1.25%, service 3.54%, construction 0.67%, religious service 0.09%, rent and remittance 0.08% and others 6.52%.
Ownership of agricultural land Landowner 43.37%, landless 56.63%; agricultural landowner: urban 45.78% and rural 43.17%.
Main crops Paddy, wheat, pulse, vegetables.
Extinct or nearly extinct crops China, koda, maara (one kind of pulse).
Main fruits Mango, jackfruit, litchi, blackberry, palm, coconut, watermelon, plum.
Communication facilities Pucca road 131 km, semi-pucca road 4.40' km, mud road 369 km; railway 19 km; waterway 3.23' nautical miles.
Extinct or nearly extinct traditional transport Palanquin, horse carriage.
Cottage industries Potteries, bamboo work, cane work.
Hats, bazars and fairs Hats and bazars are 12, fairs 6, most noted of which are Nachole Hat, Rajbari Hat, Sonaichandi Hat, Mollikpur Hat, Nizampur Hat, Verendi Golabari Hat, Durga Puja Mela at Nachole Bazar and Baishakhi Mela.
Main exports Paddy.
Access to electricity All the unions of the upazila are under rural electrification net-work. However 18.16% of the dwelling households have access to electricity.
'Sources of drinking water Tube-well 94.32%, tap 2.41%, pond 0.45% and others 2.82%.
Sanitation 9.77% (rural 7.65% and urban 35.84%) of dwelling households of the upazila use sanitary latrines and 42.19% (rural 42.16% and urban 42.62%) of dwelling households use non-sanitary latrines; 48.04% of households do not have latrine facilities.
Health centres Upazila health complex 1, health and family planning centre 4, hospital 1, clinic 2, homeopathy dispensary 120.
NGO activities Operationally important NGOs are brac, proshika, asa, caritas, BARD. [Mazharul Islam Taru]
References Bangladesh Population Census 2001, Bangladesh Bureau of Statistics; Cultural survey report of Nachole Upazila 2007.