Nandigram Upazila (bogra district) area 265.47 sq km, located in between 24°35' and 24°48' north latitudes and in between 89°08' and 89°21' east longitudes. It is bounded by shahjahanpur and kahaloo upazilas on the north, singra upazila on the south, sherpur (bogra) upazila on the east, adamdighi, raninagar and Singra upazilas on the west.
Population Total 168155; male 85690, female 82465; Muslim 146398, Hindu 21683, Buddhist 8 and others 66. Indigenous communities such as santal, oraon belong to this upazila.
Water bodies Main rivers: nagar, Bhadrabati.
Administration Nandigram Thana was formed in 1932 and it was turned into an upazila in 1983.
Upazila
Municipality
Union
Mouza
Village
Population
Density (per sq km)
Literacy rate (%)
Urban
Rural
Urban
Rural

-

5

235

245

5423

162732

633

54.3

45.7
Upazila Town

Area (sq km)

Mouza

Population

Density (per sq km)

Literacy rate (%)

2.36

1

5423

2298

61.2
Union
Name of union and GO code
Area (acre)
Population
Literacy rate (%)
Male
Female

Thalta Majhgram 84

12264

16422

15507

45.73

Nandigram 73

12197

18203

17390

44.92

Burail 31

13902

17753

17180

40.07

Bhatgram 10

12650

17371

16954

39.86

Bhatra 21

14591

15941

15434

40.28
Source Bangladesh Population Census 2001, Bangladesh Bureau of Statistics.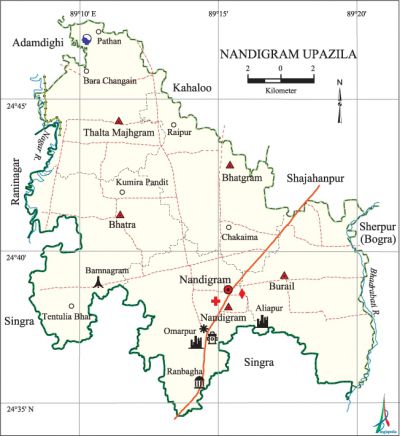 History of the War of Liberation On 28 April 1971 the Pak army conducted mass killing at village Baman of the upazila in which 157 innocent persons were killed. Besides, during the war of liberation one freedom fighter was killed in an encounter with the Pak army. Nandigram was liberated on 8 December.
Marks of the War of Liberation Mass grave 1 (Bamangram).
Religious institutions Mosque 371, temple 26. Noted religious institutions: Omarpurhat Jami Mosque, Aliapukur Jami Mosque, Ranbagha Jami Mosque, Chan Mokamtala Jami Mosque.
Literacy rate and educational institutions Average literacy 42.2%; male 48.4%, female 35.7%. Educational institutions: college 10, secondary school 24, primary school 93, madrasa 19. Noted educational institutions: Kundar Hat High School (1945), Damgara Siddiquia Fazil Madrasa (1928).
Cultural organisations Club 31, cinema hall 2, cultural group 2, press club 1.
Main sources of income Agriculture 81.94%, non-agricultural labourer 1.65%, industry 0.22%, commerce 7.54%, transport and communication 1.50%, service 2.82%, construction 0.31%, religious service 0.14%, rent and remittance 0.15% and others 3.73%.
Main crops Paddy, wheat, mustard, potato, chilli, pulse, vegetables.
Main fruits Mango, jackfruit, banana, plum.
Fisheries, dairies and poultries Fishery 2, dairy 3, poultry 10.
Communication facilities Pucca road 35 km, semi-pucca road 44.99 km, mud road 38.64 km.
Extinct or nearly extinct traditional transport Palanquin, horse carriage, bullock cart.
Noted manufactories Food processing industry 70, fabricated metal works 23, printing press 1.
Cottage industries Potteries, wood work, bamboo work.
Hats, bazars and fairs Hats and bazars are 25, fairs 3, most noted of which are Nandigram Hat, Ranbagha Hat, Omarpur Hat, Kundar Hat and Baishakhi Mela at Kalyanpur.
Main exports Paddy, curd.
Access to electricity All the unions of the upazila are under rural electrification net-work. However 23.23% of the dwelling households have access to electricity.
Sources of drinking water Tube-well 94.07%, tap 0.46%, pond 0.16% and others 5.31%.
Sanitation 26.68% (rural 25.29% and urban 72.01%) of dwelling households of the upazila use sanitary latrines and 44.11% (rural 44.95% and urban 16.77%) of dwelling households use non-sanitary latrines; 27.21% of households do not have latrine facilities.
Health centres Upazila health centre 1, family welfare centre 2, union health centre 4. hospital 1.
NGO activities Operationally important NGOs are brac, asa, CARE, thengamara mahila sabuj sangha. [Md. Khairul Alam Pulak]
References Bangladesh Population Census 2001, Bangladesh Bureau of Statistics; Cultural survey report of Nandigram Upazila 2007.