Sherpur District (dhaka division) area 1364.67 sq km, located in between 24°18' and 25°18' north latitudes and in between 89°53' and 90°91' east longitudes. It is bounded by Meghalaya state of India on the north, mymensingh and jamalpur districts on the south, Mymensingh district on the east, Jamalpur district on the west.
Population Total 1358325; male 676388, female 681937; Muslim 1313519, Hindu 34944, Buddhist 34, Christian 8686 and others 1142.
Water bodies Main rivers: old brahmaputra, Someshwari, Chilakhali, Bhogai, kangsa, Digana; Katakhali Canal is notable.
Administration Sherpur Municipality was formed in 1869. Sherpur Sub-division was turned into a district in 1984. Of the five upazilas of the district sherpur sadar is the largest (356.12 sq km) and nakla is the smallest (174.80 sq km).
District
Area (sq km)
Upazila
Municipality
Union
Mouza
Village
Population
Density (per sq km)
Literacy rate (%)
Urban
Rural
1364.67
5
4
52
434
695
188106
1170219
995
37.9
Others Information of District
Name of Upazila
Area (sq km)
Municipality
Union
Mouza
Village
Population
Density (per sq km)
Literacy rate (%)
Jhenaigati
242.07
-
7
75
117
160452
666
38.7
Nakla
173.84
1
9
79
108
189685
1091
43.0
Nalitabari
327.60
1
12
107
140
251361
767
39.0
Sherpur Sadar
372.89
1
14
96
188
497179
1333
36.7
Sreebardi
248.25
1
10
77
142
259648
1046
34.8
Source Bangladesh Population Census 2011, Bangladesh Bureau of Statistics.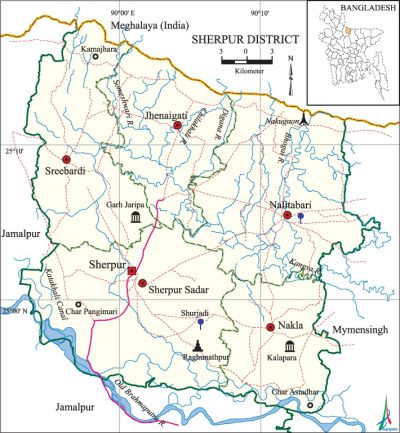 War of Liberation A number of freedom fighters including Commander Nazmul Ahsan were killed in an encounter with the Pak army at Cherakhali of Nalitabari upazila. On 27 July the Pakistani soldiers killed 185 people at village Sohagpur of this upazila. On 24 November the Pak army killed 52 people at village Suryadi under Sherpur Sadar upazila. 20 freedom fighters were killed in encounters with the Pak army at Narayankhola, Gaurdar, Boroitar and Chandrakona of Nakla upazila. There are mass graves at 2 places (Sreebardi and Nalitabari) and three mass killing sites (two at Sherpur Sadar and one at Jhenaigati); a memorial monument has been built at Nalitabari, Muktijoddha Memorial Plaque has been founded at Jhenaigati and Muktijoddha Memorial Stadium has been built at Sherpur Sadar.
Literacy rate and educational institutions Average literacy 37.9%; male 40.2%, female 35.7%. Educational institutions: college 14, agricultural training institute 1, nursing training institute 1, vocational training institute 1, secondary school 122, primary school 633, kindergarten 7, madrasa 194. Noted educational institutions: Sherpur Government College (1964), Sreebardi Government College (1969), Omarpur Government Mohila College (1972), Technical School and College (2001), Sherpur Polytechnic Institute (2004), Gobindapur Peace Memorial Institute (1918), Agriculture Training Institute (1957), Sapmari High School (1907), Joginimuri Multilateral High School (1912), Chandrakanta Rajlakshmi High School (1919), Hiranmayee High School (1919), Gopalkhila High School (1919), Sherpur GK Pilot High School (1919), Sherpur High School (1920), Afzalunnessa Girls' High School (1922), Taraganj Pilot High School (1927), Sherpur Government Girl's High School (1952), Sreebardi Madhuranath Binodini Government Pilot Girls' High School (1964), Sherpur Government Victoria Academy (1887), Chandrakanta Government Primary School (1944), Jamia Siddiqia Terabazar Madrasa (1978), Iddrisia Alim Madrasa (1991).
Main sources of income Agriculture 65.71%, non-agricultural labourer 4.30%, industry 0.95%, commerce 10.99%, transport and communication 3.16%, service 4.16%, construction 0.93%, religious service 0.18%, rent and remittance 0.15% and others 9.47%.
Newspapers and periodicals Weekly: Sherpur (1986), Doshkahania (1991), Chalti Khabar (1991); quaterly: Rangdhanu Bhaban (2005), Sahityalaka, Adda, Barsati; defunct: Biddyanati Sadini (1865), weekly: Biggapani, Charubarta (1881), Bangasuridh (1881), Samskriti Sanjibini, fortnightly: Kishore (1957-58), Banasree, Palli Darpan; monthly: Daxina (1967), Prabaha, Angan, Muktangan, Gono Barta, Aunnesa, Uccharan, Manus Theke Manus, Samcharan, Nandita Nabin, Ghonai Amra.
Folk culture Folk songs of the district include Bhatiyali, Jarigan, Sarigan, Bhawaya, Murshidi, Marfati, Kirtan, Kabigan, Bristirgan (song inviting rain), Maganer Gan, Maij Bhandari song, Dehatatva, Malshi song, Udasani or Baramashi song, Rakhali song, Palagan, Meyeli Gan.
Important installations and tourist spots Madhutila Ecopark (Nalitabari), Rubber Dam on the river Bhogai (Nalitabari), Gazni Recreation Centre (Jhenaigati), Mariam Nagar Mission (Jhenaigati), Aynapur Rubber Dam (Jhenaigati), Sandhakur Rubber Plantation (Jhenaigati). [AKM Reazul Hasan]
See also The upazilas under this district.
References Bangladesh Population Census 2001 and 2011, Bangladesh Bureau of Statistics; Cultural survey report of Sherpur District 2007; Cultural survey report of upazilas of Sherpur District 2007.