Narayanganj Sadar Upazila
Narayanganj Sadar Upazila (narayanganj district) area 100.75 sq km, located in between 23°33' and 23°43' north latitudes and in between 90°26' and 90°33' east longitudes. It is bounded by demra Thana on the north, munshiganj sadar and tongibari upazilas on the south, bandar (narayanganj) and sonargaon upazilas on the east, keraniganj and serajdikhan upazilas on the west.
Population Total '882971; male 486822, female 396149; Muslim 824289, Hindu 57954, Buddhist 476, Christian 130 and others 122.
Water bodies Main rivers: shitalakshya, dhaleshwari, buriganga, ichamati.
Administration Narayanganj Municipality was formed in 1876.
Upazila
Municipality
Union
Mouza
Village
Population
Density (per sq km)
Literacy rate (%)
Urban
Rural
Urban
Rural

1

10

56

132

241393

641578

8764

58.8

54.18
Municipality

Area (sq km)

Ward

Mahalla

Population

Density (per sq km)

Literacy rate (%)

12.69

8

78

241393

19022

66.93
Union
Name of union and GO code
Area (acre)
Population
Literacy rate (%)
Male
Female

Alir Tek 20

2083

8863

7937

40.70

Enayetnagar 31

1442

39013

32247

57.48

Kashipur 63

1116

30766

26240

60.61

Kutubpur 79

3648

79934

64369

53.94

Gognagar 47

462

11011

9794

56.85

Godnail 45

2763

21204

18864

58.16

Fatullah 37

1166

65425

52438

55.19

Baktaballi 25

5504

18897

16330

49.19

Siddirganj 85

2913

53723

42499

61.22

Sumil Para 90

658

26818

15206

48.43
Source Bangladesh Population Census 2001, Bangladesh Bureau of Statistics.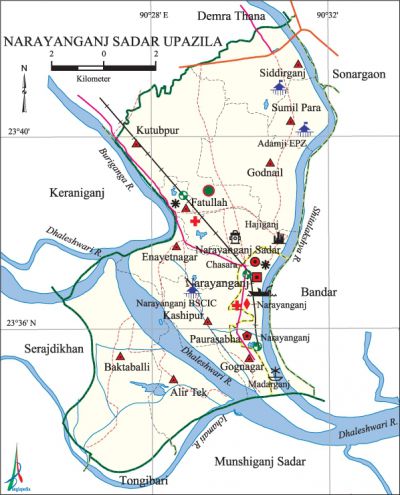 Archaeological heritage and relics Fort and Shahi mosque at Hajiganj, tomb and mosque of Bibi Mariam, Enayetnagar Mosque, Tomb of Mia Shah, Lakshmi-Narayan Mandir.
Historical events The reception meeting was held in 1949 at the Rahmatullah Institute of Narayanganj in honour of Huseyn Shaheed Suhrawardy on the occasion of his coming to Dhaka from Kolkata. The people of Narayanganj took active role in the language movement of 1952. During the war of liberation the freedom fighters raided Razakar Camp at Baburail Bridge and killed 7 rajakars. On 29 November the Pak army shot 139 persons dead at a place on the bank of the Buriganga in Dikri Char area of the upazila.
Religious institutions Fakirtola Jami Mosque, Amla Para Jami Mosque, Narayanganj Sadhupal Church, Dhakeshwari Mandir, Nagbari Mandir, Dargah of Hazrat Shah Fatehullah Bogdadi (R) are notable.
Literacy rate and educational institutions Average literacy 58.8%; male 62.4%, female 54.4%. Educational institutions: college 7, secondary school 49, primary school 112, kindergarten 70, madrasa 20. Noted educational institutions: Narayanganj College, Haji Misir Ali College, Sanar Para Rawshanara College, Adarsha Girls' School and College, Narayanganj Technical School and College, Tolaram Government College (1937), Narayanganj Government Mohila College, Narayanganj High School (1885), Narayanganj Bar Academy (1906), Morgan Girls' High School (1910), Deobhog Haji Ujir Ali High School (1924), Narayanganj Government Girls' High School, Narayanganj Islamia Fazil Madrasa.
Newspapers and periodicals Daily: Sitalakshya, Khaborer Pata, Sochaton, Ajker Narayanganj, Soja Sapta, Dandy Barta, Desher Alo, Ihkal, Juger Chinta; defunct: Sabuj Bangla, Bartabaha, Ganadesh, Porichoi, Rokto Golap, Kriya Saptaha, Akshata Polash, Roktakto Falgun, Chitra Lekha, Rupashi Bangla, The Economists, Bhaskar, Jhikimiki, Shapla, papyrus, Daruchini, Robisabargo, Amirto, Ajiban.
Cultural organisations Library 15, club 12, theatre group 5, cinema hall 14, playground 30, literary society 3.
Tourist spots Fakirtola Mosque, Chashara Eidgah, Kali Mandir, Ram Krishna Mission, St. Paul Church, Braksha Mandir, Dredger Base and Mary Anderson Floating Restaurant.
Main sources of income Agriculture 4.20%, non-agricultural labourer 3.11%, industry 4.67%, commerce 25.30%, transport and communication 7.66%, service 29.71%, construction 3.43%, religious service 0.14%, rent and remittance 2.93% and others 18.85%.
Ownership of agricultural land Landowner 34.02%, landless 38.90%; agricultural landowner: urban 65.98% and rural 62.55%.
Main crops Paddy, potato, jute, sugarcane, masur, mustard.
Extinct or nearly extinct crops Linseed, kalai, kaun.
Main fruits Mango, banana, papaya.
Fisheries, dairies and poultries This upazila has a number of fisheries, dairies and poultries.
Communication facilities Pucca road 140 km, semi-pucca road 31 km, mud road 988 km; waterway 14 nautical miles.
Extinct or nearly extinct traditional transport Palanquin, horse carriage.
Noted manufactories Garments factory, aluminum factory, dying and knitting factory, flour mill, steel' mill, oil mill, textile mill, jute mill, paper mill, brick-field, bidi factory, welding factory.
Cottage industries Hosiery, wood work, embroidery, potteries.
Hats, bazars and fairs Hats and bazars are 70, fairs 10, most noted of which are Fatulla Cattle Market, Pagla Hat, Dikrir Char Hat, Baktaballi Hat, Degubabur Bazar, Machhua Bazar, Kalir Bazar, Masdair Bazar, Hajiganj Bazar, Kashipur Bangla Bazar, Beo Bazar, Khanpur Bazar, Siddirganj Bazar, Deobhog Lakshmi-Narayan Akhra Mela, Fatulla Baishakhi Mela.
Access to electricity All the wards and unions of the upazila are under rural electrification net-work. However 94.24% of the dwelling households have access to electricity.
Main exports Jute products, garments products.
Sources of drinking water Tube-well 71.63%, tap 25.13%, pond 0.63% and others 2.62%.
Sanitation 76.13% of dwelling households of the upazila use sanitary latrines and 23.66% of dwelling households use non-sanitary latrines; 1.21% of households do not have latrine facilities.
Health centres Hospital 2, clinic 26, other health centre 9, EPI centre 61.
NGO activities Operationally important NGOs are brac, proshika, asa, Manobik Unnayan Centre, Attakarma Samsthan Unnayan Centre, Bangladesh Mohila Sangha. [Ruhul Amin Prodhan]
'References Bangladesh Population Census 2001, Bangladesh Bureau of Statistics; Cultural survey report of Narayanganj Sadar Upazila 2007.