New Market Thana (Dhaka metropolitan) area 1.67 sq km, located in between 23°43' and 23°43' north latitudes and in between 90°22' and 90°23' east longitudes. It is bounded by dhanmondi and kalabagan thanas on the north, shahbagh thana on the east, lalbagh thana on the south, hazaribagh thana on the west.
Population Total 66439; male 42399, female 24040; Muslim 61191, Hindu 4126, Buddhist 631, Christian 464 and others 66.
Administration New Market Thana was formed on 27 June 2005 comprising parts of Dhanmondi thana.
Thana
Ward and Union
Mahalla and Mouza
Population
Density (per sq km)
Literacy rate (%)
Urban
Rural
Urban
Rural
Ward
Ward and Union
Area (sq km)
Population
Literacy rate (%)
Male
Female
Ward no. 52
1.67
42399
24040
82.32
Source Bangladesh Population Census 2001, Bangladesh Bureau of Statistics.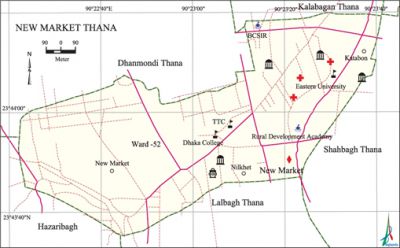 Historical events On the night of 25 March 1971 the Pak army launched a surprise attack on the Pilkhana EPR (East Pakistan Rifle) Headquarters, ceased arms and ammunitions of the EPR personnel and killed many of them.
Religious institutions Noted religious institutions are New Market Mosque, BGB Headquarter Mosque, Teachers Training Institute Mosque, Nilkhet Mosque, NAYEM Mosque, Dhaka College Mosque.
Literacy rate and educational institutions Average literacy 86.25%; male75.27%, female 75.27%. Noted educational institutions: Institute of Social Welfare and Research (Dhaka University), Northern University, Dhaka College (1841), Teachers' Training College, Bir Srestha Nur Mohammad Rifles School and College, Government Laboratory High School, Nilkhet High School
Cultural organisations Balaka Cinema Hall, BDR Cinema Hall are notable.
Noted installations National Academy for Educational Management (NAEM), BGB Headquarters, Bangladesh Council of Scientific and Industrial Research (BCSIR), Palli Unnayan Academy (Rural Development Academy), Nilkhet T&T Office, Institute of Cost and Management Accountants of Bangladesh (ICMAB), Bangladesh-Kuwait Maitree Hall (Dhaka University), Begum Fazilatunnesa Mujib Hall (Dhaka University).
Main sources of income Agriculture 0.35%, non-agricultural labourer 0.32%, industry 1.17%, commerce 31.00%, transport and communication 1.40%, construction 1.67%, religious services 0.21%, service 50.64%, rent and remittance 3.01% and others 10.22%.
Ownership of agricultural land Landowner 65.31%, landless 34.69%.
Extinct or nearly extinct crops Paddy, jute, sugarcane, pulses.
Main fruits Mango, jackfruit, litchi, guava, banana, papaya, etc.
Communication facilities Total roads 23.64 sq km.
Extinct or nearly extinct traditional transport Palanquin, bullock cart and horse carriage.
Manufactories Garments and pharmaceuticals.
Cottage industries Goldsmith, leather works, tailoring, book binding.
Bazars and shopping centers New market, Gauchhia Market, Chandrima Super Market, Dhanmondi Hawkers Market, Katabon Market, Chadni Chawk Super Market, Anjana Plaza, Eastern Mallika, Multiplan Centre, Globe Shopping Complex, Badruddozza Shopping Centre.
Main exports Readymade garments, leather products.
Access to electricity All the wards of the thana are under electrification net-work. However 98.23% of the dwelling households have access to electricity.
Sources of drinking water Tube-well 3.78%, tap 94.69%, pond 0.08% and others 1.47%.
Sanitation 97.84% of dwelling households of the thana use sanitary latrines and 1.47% of dwelling households use non-sanitary latrines; 0.68% of households do not have latrine facilities.
Health centres Noted health centers include Popular Diagnostics Centre, Popular Medical College Hospital. [Shamsun Nahar]
References Bangladesh Population Census 2001, Bangladesh Bureau of Statistics.