Dhanmondi Thana (Dhaka metropolitan) area 4.34 sq km, located in between 23°43' and 23°45' north latitudes and in between 90°21' and 90°23' east longitudes. It is bounded by mohammadpur thana on the north, new market and hazaribagh thanas on the south, sher-e-bangla nagar, kalabagan and New Market thanas on the east, Hazaribagh thana on the west.
Population Total 128942; male 74368, female 54574; Muslim 110729, Hindu 16836, Buddhist 770, Christian 564 and others 43.
Water bodies dhanmondi lake is notable.
Administration Dhanmondi Thana was formed in 1976.
Thana
Ward and Union
Mahalla and Mouza
Population
Density (per sq km)
Literacy rate (%)
Urban
Rural
Urban
Rural
1+2 (Part)
17
98942
-
29710
70.90
-
Ward
Ward
Area (sq km)
Population
Literacy rate (%)
Male
Female
Ward no 47 (Part)
0.49
18459
13718
61.63
Ward no 48 (Part)
0.98
23859
16887
72.89
Ward no 49
2.87
32050
23967
78.17
Source Bangladesh Population Census 2001,Bangladesh Bureau of Statistics.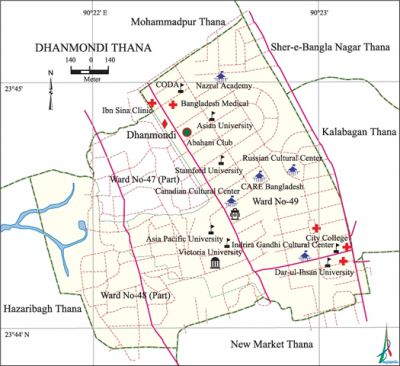 Archaeological heritage and relics Dhanmondi Shahi Eidgah (1640).
History of the War of Liberation bangabandhu sheikh mujibur rahman was arrested on the night of 25 March by the Pak army from his residence at Dhanmondi. Immediately before his arrest Bangabandhu declared the independence of Bangladesh from his Dhanmondi residence. On 15 August 1975 Bangabandhu Sheikh Mujibur Rahman was killed (along with his family members) by a group of army officers in this residence.
Noted Religious institutions Dhanmondi Central Mosque, Shobanbagh Mosque, Mosque-Ut-Takwa Society.
Literacy rate and educational institutions Average literacy 70.90%; male 75.29%, female 65.37%. Noted educational institutions: Bangladesh Medical College (1986), Stamford University (1994), Bangladesh Dental College (1996), The University of Asia Pacific (1996), Northern University of Bangladesh (1996), United International University (2003), University of Liberal Arts Bangladesh (2008), Asian University, Dar-Ul-Ihsan Universiy, Dhaka City College (1957), Dhanmondi Tutorial (1972), Dr. Malika College and university, Scholastica School (1977), Sunnydale School (1985), Oxford International School (1987), European Standard School (2001), Dhanmondi Girls' High School, Kakoli High School, Maple Leaf International School, Mastermind School, Marie Curie School, South Breeze School.
Cultural organisations Club 4, museum 1, community centre 7, playground 4. Noted cultural organisations: Abahani Club, Sultana kamal Mohila Sports Complex.
Tourist spots and important installations bangabandhu memorial museum, dhanmondi lake, Rabindra Sarobar, Nazrul Academy (1985), Russian Centre of Science and Culture, Canadian Cultural Centre, Indrira Gandhi Cultural Centre, Alliance Francaise, Drik Gallery are notable.
Main sources of income Agriculture 0.76%, non-agricultural labourer 1.12%, industry 1.56%, commerce 28.08%, transport and communication 7.88%, service 39.42%, construction 2.56%, religious service 0.10%, rent and remittance 5.24% and others 13.28%.
Ownership of agricultural land Landowner 61.87%, landless 38.13%.
Extinct or nearly extinct crops Paddy, jute, sugarcane, pulses.
Main fruits Mango, jackfruit, litchi, guava, banana.
Communication facilities Total road 50.14 km.
Extinct or nearly extinct traditional transport Palanquin, bullock cart and horse carriage.
Cottage industries Goldsmith, handicrafts, embroidery, leather industry.
Shopping centres and bazars Metro Shopping Mall, Rapa Plaza, A R Plaza, Nandan Super Shop, Concord Royal Court, Orchid' Plaza are Notable.
Access to electricity All the wards of the thana are under electrification net-work. However 97.38% of the dwelling households have access to electricity.
Sources of drinking water Tube-well 11.21%, tap 87.92%, pond 0.05% and others 0.82%.
Sanitation 89.76% of dwelling households of the thana use sanitary latrines and 9.82% of dwelling households use non-sanitary latrines; 0.42% of households do not have latrine facilities.
Health centres Medinova Diagnostics Center, Bangladesh Medical, Japan Bangladesh Friendship Hospital, Ibn Sina diagnostic and imaging centre, Kidney Hospital are notable.
NGO activities Operationally important NGOs are brac, CARE, Centre For Policy Dialogue, Naripokkho, Bangladesh Nari Progati Sangha, Bangladesh Shishu Adhikar Forum. [Syed Shabbir Ahmed]
References Bangladesh Population Census 2001, Bangladesh Bureau of Statistics.