Panchagarh Sadar Upazila (panchagarh district) area 347.08 sq km, located in between 26°17' and 26°29' north latitudes and in between 88°31' and 88°46' east longitudes. It is bounded by west bengal state of India on the north and east, boda and debiganj upazilas on the south, atwari and tentulia upazilas and West Bengal state of India on the west. The upazila has two enclaves; the Indian enclaves in the upazila are Garati and Singimari.
Population Total 229237; male 118226, female 111011; Muslim 214442, Hindu 14553, Buddhist 185, Christian 17 and others 40.
Water bodies Main rivers: karatoya, Talma, Chawai.
Administration Panchagarh thana was established under Jalpaiguri district of West Bengal during the British rule. It was under the Thakurgaon sub-division of dinajpur district at the time of the partition of 1947 and had been a thana under Panchagarh sub-division since 1980. Panchagarh Thana was formed in 1909 and it wa s turned into an upazila in 1984.
Upazila
Municipality
Union
Mouza
Village
Population
Density (per sq km)
Literacy rate (%)
Urban
Rural
Urban
Rural

1

10

83

196

38929

190308

660

61.4

42.2
Municipality

Area (sq km)

Ward

Mahalla

Population

Density
(per sq km)

Literacy rate (%)

20.72

9

32

38542

1860

61.5
Upazila Town

Area
(sq km)

Mouza

Population

Density
(per sq km)

Literacy rate (%)

-

1

387

-

55.3
Union
Name of union and GO code
Area (acre)
Population
Literacy rate (%)
Male
Female

Amarkhana 11

8366

9956

9414

38.78

Kamat Kajal Dighi 59

6172

7183

6760

46.35

Garinabari 43

7105

8926

8369

43.85

Chaklarhat 23

11568

10753

10171

40.26

Dhakkamara 36

7192

11286

10758

49.23

Panchagarh Sadar 71

8560

11088

9980

42.94

Magura 65

5783

7465

6915

46.09

Satmara 83

11036

12102

11106

34.19

Haribhasa 47

12196

11077

10980

40.46

Hafizabad 35

5922

8401

8005

43.50
Source Bangladesh Population Census 2001, Bangladesh Bureau of Statistics.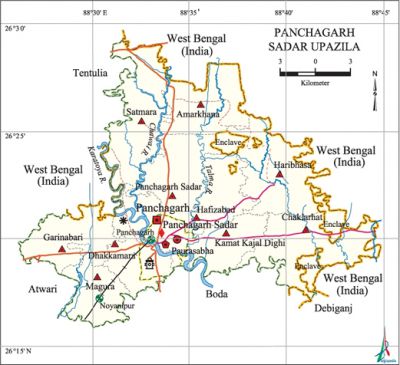 Historical events A large number of the Muslim population migrated and settled at Panchagarh town and nearby villages in consequent of the Hindu Muslim riot in Jalpaiguri town during 1949 to 1950. The people of this upazila took part in various movements such as fakir-sannyasi resistance (1762 to 1800), tebhaga movement (1938 to 1939 and 1946 to 1947), language movement, movement for turning Panchagarh into a sub-division (1949 to 1980), movement against the oppression of the EPR on the border area, mass upsurge in 1969, etc. At the beginning of the war of liberation two members of the EPR were shot dead by the Pak army; besides, 18 Pak soldiers were killed in an encounter with the freedom fighters. The freedom fighters also destroyed the bridge near the Amarkhana camp on the Chawai river to obstruct the Pak army to the north. During the period between 19 April and 30 April 1971 the Pak army killed about fifty persons on upazila town and at Mirgarh. In July the Pak army killed 16 persons at Amarkhana.
Marks of the War of Liberation Mass grave 1 (at a place on the bank of the Karatoya); Shaheed Farooque Ahmad Memorial Monument at Dhakka-mara of Panchagarh town; grave of Martyr Freedom Fighter Sakimuddin in front of the Baital Aman Mosque of Jagdal Hat.
Literacy rate and educational institutions Average literacy 45.7%; male 51%, female 40%. Educational institutions: college 12, vocational training institute 1, business education institution 2, secondary school 60, primary school 477, kindergarten 10. Noted educational institutions: Bishnu Prasad High School (1944), Mirgarh Government Primary School (1918), Mayna Primary School (1928).
Newspapers and periodicals Weekly: Panchagarh Barta; fortnightly: Ei Samay; defunct: Uttar Asa, Karatoya, Pancharupa, Aloran Barta, Unmesh, Durjay, Pilsuj.
Cultural organisations Library 6, club 3, shilpakala institute 1, auditorium 1, stadium 1, circuit house 1, cinema hall 4.
Tourist spots Maharaj Dighi and Garh at Bhitar Garh, Rocks Museum in Panchagarh Government Mohila College, Kajla Dighi at Tunir Hat, Panchagarh Forest in the suburb of the Town.
Main sources of income Agriculture 59.73%, non-agricultural labourer 6.44%, industry 0.63%, commerce 11.85%, transport and communication 4.63%, service 8.15%, construction 0.84%, religious service 0.16%, rent and remittance 0.19% and others 7.38%.
Ownership of agricultural land Landowner 53.43%, landless 46.57%; agricultural landowner: urban 39.47% and rural 56.2%.'
Main crops Paddy, jute, wheat, sugarcane, potato, sesame, linseed, water-melon, bamboo, vegetables.
Extinct or nearly extinct crops Tobacco, arahar, aus paddy, dhemsi.
Main fruits Mango, jackfruit, guava, banana, pomegranate, pineapple, custard apple, watermelon, betel nut.
Extinct or nearly extinct traditional transport Palanquin, horse carriage, bullock cart.
Noted manufactories Sugar mill, rice mill, husking mill, saw mill, electric pole manufacturing industry, distillery (industrial spirit), homeo laboratory, welding factory.
Cottage industries Goldsmith, blacksmith, potteries, weaving, bamboo and wood work.
Hats, bazars and fairs Hats and bazars are 37, fairs 5, most noted of which are Rajnagar Hat, Jagdal Hat, Jhalai Hat, Haribhasa Hat, Model Hat, Futkibari Hat, Magura-dalua Hat, Chaklarhat, Goleha Hat, Talma Hat, Mirgarh Hat, Ziabari Hat, Tunir Hat, Dewan Hat, Kazir Hat, Zila Parishad Chattar Mela, Panchagarh Sadar Mela and Amlahar Mela.
Main exports Paddy, wheat, jute, betel nut, water melon, sugar, electric pole, alcohol, bamboo and bamboo mat.
Access to electricity All the wards and unions of the upazila are under rural electrification net-work. However 11.92% of the dwelling households have access to electricity.
Natural resources Nuri stone and sand have been found in this upazila.
Sources of drinking water Tube-well 73.72%, tap 1.67%, pond 1.09% and others 23.52%.
Sanitation 29% (rural 19.69% and urban 75.97%) of dwelling households of the upazila use sanitary latrines and 27.07% (rural 29.97% and urban 12.43%) of dwelling households use non-sanitary latrines; 43.93% of households do not have latrine facilities.
Health centres Sadar hospital 1, upazila health complex 1, satellite clinic 3, family planning centre 8, diabetic hospital 1, hospital 1, clinic 10.
NGO activities Operationally important NGOs are brac, asa, Swanirvar Bangladesh, rangpur dinajpur rural service. [Md. Ahsan Habib]
References Bangladesh Population Census 2001, Bangladesh Bureau of Statistics; Cultural survey report of Panchagarh Sadar Upazila 2007.