Phulbari Upazila (Kurigram District)
Phulbari Upazila (kurigram district) area 163.63 sq km, located in between 25°32' and 26°04' north latitudes and in between 89°28' and 89°40' east longitudes. It is bounded by west bengal state of India on the north, kurigram sadar, rajarhat and lalmonirhat sadar upazilas on the south, nageshwari upazila on the east, Lalmonirhat Sadar upazila on the west. This upazila has 3 enclaves.
Population Total 140392; male 70627, female 69765; Muslim 125033, Hindu 15245 and others 114.
Water bodies Main rivers: dharla, Nilkamol.
Administration Phulbari Thana was formed in 1914 and it was turned into an upazila in 1983.
Upazila
Municipality
Union
Mouza
Village
Population
Density (per sq km)
Literacy rate (%)
Urban
Rural
Urban
Rural

-

6

50

166

11083

129309

858

42.72

37.71
Upazila Town

Area (sq km)

Mouza

Population

Density (per sq km)

Literacy rate (%)

8.74

1

11083

1268

42.72
Union
Name of union and GO code
Area (acre)
Population
Literacy rate (%)
Male
Female

Kashipur 54

6813

14585

13653

46.66

Naodanga 67

6413

9788

9890

31.90

Phulbari 40

5882

14018

13977

41.42

Bara Bhita 13

8137

12380

12484

35.61

Bhanagmore 27

6652

12918

12545

34.49

Shimulbari 81

4798

6938

7216

33.66
Source Bangladesh Population Census 2001, Bangladesh Bureau of Statistics.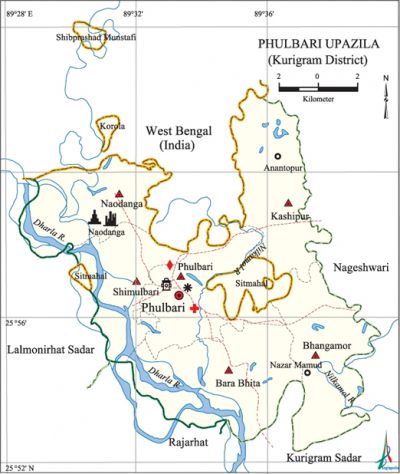 Archaeological heritage and relics Bishnu Mandir, abandoned Zamindar Bari and Mandir at Naodanga.
History of the War of Liberation On 27 March 1971, an encounter was held between the freedom fighters and the Pak army in which freedom fighter Lutfor Rahman (a member of the EPR) was killed.
Religious institutions Mosque 261, temple 11.
Literacy rate and educational institutions Average literacy 38.11%; male 45.44%, female 30.74%. Noted educational institutions: Phulbari Degree College (1973), Naodanga School and College (1919), Phulbari Jasimia High School (1938), Kursa Fursa Government Primary School (1940), Shah Bazar AH Fazil Madrasa (1956), Naodanga DS Dakhil Madrasa (1969).
Cultural organisations Library 3, club 11, cinema hall 1.
Amusement centres Phulsagar, Zamindar Bari at Naodanga, Dharla Barrage.
Main sources of income Agriculture 74.28%, non-agricultural labourer 5.18%, industry 0.25%, commerce 9.31%, transport and communication 1.70%, service 3.81%, construction 0.65%, religious service 0.18%, rent and remittance 0.17% and others 4.47%.
Ownership of agricultural land Landowner 57.95%, landless 42.05%; agricultural landowner: urban 49.57% and rural 58.66%.'
Main crops Paddy, wheat, jute, potato, betel leaf, mustard, onion, garlic, vegetables.
Extinct or nearly extinct crops Dhemsi, china, aus paddy.
Main fruits Mango, jackfruit, litchi, papaya, blackberry, kamranga, betel nut, latkan.
Fisheries, dairies and poultries Hatchery 2.
Communication facilities Pucca road 60.60 km, mud road 229.29 km; waterway 3.78 nautical miles.
Extinct or nearly extinct traditional transport Palanquin, horse carriage, bullock cart.
Noted manufactories Biscuit factory, ice factory.
Cottage industries Goldsmith, jute work, embroidery, potteries, manufacture of decorated hand operated fan, bamboo work.
Hats, bazars and fairs Hats and bazars are 16, most noted of which are Balar Hat, Phulbari Hat, Kharibari Hat and Ganga Hat.
Main exports Paddy, jute, betel leaf, onion, betel nut, vegetables.
Access to electricity All the unions of the upazila are under rural electrification net-work. However 4.86% of the dwelling households have access to electricity.
Sources of drinking water Tube-well 93.70%, tap 0.20%, pond 0.29% and others 5.82%.
Sanitation 31.54% (rural 31.44% and urban 32.76%) of dwelling households of the upazila use sanitary latrines and 20.08% (rural 20.44% and urban 15.83%) of dwelling households use non-sanitary latrines; 48.38% of households do not have latrine facilities.
Health centres Upazila health complex 1, satellite clinic 3, clinic 1.
Natural disasters Many people were victims of the famine of 1974. Besides, the flood of 1988 caused heavy damages to settlements, crops and livestock of the upazila.
NGO activities Operationally important NGOs are RANGPUR DINAJPUR RURAL SERVICE, brac, Solidarity. [Mirza Md. Nasir Uddin]
References Bangladesh Population Census 2001, Bangladesh Bureau of Statistics; Cultural survey report of Phulbari Upazila 2007.