Puthia Upazila (rajshahi district) area 192.64 sq km, located in between 24°20' and 24°31' north latitudes and in between 88°42' and 88°56' east longitudes. It is bounded by durgapur (Rajshahi) and baghmara upazilas on the north, charghat and bagatipara upazilas on the south, natore sadar upazila on the east, paba and Durgapur upazilas on the west.
Population Total 188864; male 97810, female 91054; Muslim 176519, Hindu 10371, Buddhist 829, Christian 40 and others 1150. Indigenous communities such as santal, oraon and Mahali belong to this upazila.
Water bodies Main rivers: Hoja, Barnai.
Administration Puthia Thana was formed on 12 March 1869 and it was turned into an upazila in 1984.
Upazila
Municipality
Union
Mouza
Village
Population
Density (per sq km)
Literacy rate (%)
Urban
Rural
Urban
Rural

-

6

128

184

12976

175888

980

55.37

44.54
Upazila Town

Area (sq km)

Mouza

Population

Density (per sq km)

Literacy rate (%)

7.83

6

12976

1657

55.37
Union
Name of union and GO code
Area (acre)
Population
Literacy rate (%)
Male
Female

Jeopara 54

8267

15160

14339

40.23

Puthia 67

7223

14679

13581

48.29

Baneshwar 13

6361

16930

15660

48.75

Belpukuria 27

6958

17388

15732

47.77

Bhalukgachhi 40

8378

15815

14763

48.46

Silmaria 81

10414

17838

16979

38.82
Source Bangladesh Population Census 2001, Bangladesh Bureau of Statistics.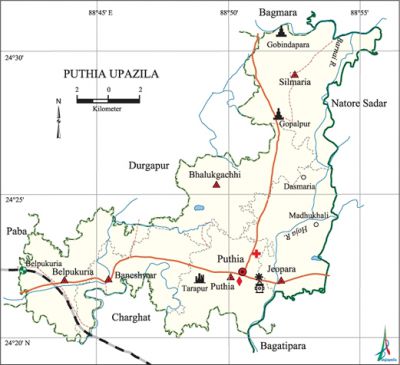 Archaeological heritage and relics Syed Karam Ali Shah Mosque and Mazar, Puthia Rajbari, Jhulan Mandir in the Rajbari, Ahnik Mandir (Chhoto Ahnik Mandir and Baro Ahnik Mandir, built either in the last part of eighteenth century or in the first part of nineteenth century), Chauchala (pyramid shaped), Mandir (Chhoto Govinda Mandir and Chhoto Shiva Mandir, built either in the last part of eighteenth century or in the first part of nineteenth century), Ratna Mandir (Ek Ratna or Pran Gopal Mandir, built in the nineteenth century, Pancha Ratna Mandir built in 1895, and Pancha Ratna Shiva Mandir built in 1813), Flat Roof Mandir (Gopal Mandir and Tarapur Mandir), Octagonal Rath Mandir, Dochala or Ek Bangla Mandir (built in the nineteenth century), Dol Mandir or Dol Mancha (built in 1895); besides, this upazila has two ancient dighis' named Shiva Sagar and Gobinda Sagar.
Historical events In the 16th century Afghan Jagirdar Laskar Khan was defeated to the Mughal Commandar Mansingh and in consequent Pitambar, son of Bathsacharya (Brahman) received the zamindari of the region. After the death of Pitambar, his brother received the title of Raja. This dynasty of Puthia is the oldest royal dynasty of the Rajshahi Zamindari.
Marks of the War of Liberation Mass grave 1: Biharipara (Biraldaha).
Religious institutions Mosque 397, temple 30, church 11, tomb 1. Noted religious institutions: Biraldaha Mosque, tomb of Hazrat Karam Ali Shah at Biraldaha.
Literacy rate and educational institutions Average literacy 45.30%; male 49.92%, female 40.35%. Educational institutions: college 14, secondary school 48, primary school 91, madrasa 14. Noted educational institutions: Baneshwar College (1964), PN Technical High School (1865), Dhokrakul High School (1949), Syed Karam Ali Darus Sunnat Fazil Madrasah at Biraldaha (1963).
Cultural organisations Library 5, club 41, cinema hall 1.
Main sources of income Agriculture 67.11%, non-agricultural labourer 2.88%, industry 0.80%, commerce 13.24%, transport and communication 4.24%, service 4.80%, construction 0.77%, religious service 0.13%, rent and remittance 0.35% and others 5.68%.
Ownership of agricultural land Landowner 58.30%, landless 41.7%; agricultural landowner: urban 44.97% and rural 59.26%.
Main crops Paddy, jute, wheat, maize, potato, sugarcane, onion, garlic, chilli, mustard, sesame, pulse, vegetables.
Extinct or nearly extinct crops Sweet potato, kaun, linseed, aus paddy.
Main fruits Mango, jackfruit, litchi, banana, papaya, pulm, guava, date, coconut, palm.
Fisheries, dairies and poultries Fishery 14, poultry 18, hatchery 2.
Communication facilities Pucca road 154.87 km, mud road 408.77 km; railway 8 km.
Extinct or nearly extinct traditional transport Palanquin, horse carriage, bullock cart.
Noted manufactories Rice mill 16, ice factory 2, saw mill 4, printing press 2, welding factory 30, battery manufacturing 10.
Cottage industries Blacksmith 45, potteries 10, bamboo work 300.
Hats, bazars and fairs Hats and bazars are 10, fair 1, most noted of which are Mollapara Bazar, Zalmalia Bazar, Sadhanpur Bazar, Baneshwar Hat and Rath Mela at Puthia Rajbari.
Main exports Paddy, jute, wheat, molasses, potato, onion, garlic, mango, jackfruit, banana, papaya.
Access to electricity All the unions of the upazila are under rural electrification net-work. However 29.30% of the dwelling households have access to electricity.
Sources of drinking water Tube-well 96.83%, tap 0.40%, pond 0.14% and others 2.63%. Out of 17372 tube-wells, the presence of arsenic has been detected in 581.
Sanitation 28.34% (rural 26.21% and urban 58.04%) of dwelling households of the upazila use sanitary latrines and 44.36% (rural 45.60% and urban 27.04%) of dwelling households use non-sanitary latrines; 27.30% of households do not have latrine facilities.
Health centres Upazila health complex 1, satellite clinic 1, family planning centre 6, clinic 5.
NGO activities Operationally important NGOs are brac, proshika, asa, caritas, CARE, thengamara mahila sabuj sangha. [AKM Kaisaruzzaman]
References Bangladesh Population Census 2001, Bangladesh Bureau of Statistics; Cultural survey report of Puthia Upazila 2007.