Paba Upazila (rajshahi district) area 280.42 sq km, located in between 24°18' and 24°31' north latitudes and in between 88°28' and 88°43' east longitudes. It is bounded by mohanpur and tanore upazilas on the north, west bengal state of India and charghat upazila on the south, puthia and durgapur (rajshahi) upazilas on the east, godagari upazila on the west.
Population Total 262251; male 136794, female 125457; Muslim 254420, Hindu 5021, Buddhist 2123, Christian 46 and others 641. Indigenous communities such as santal, oraon, Paharia and Buno belong to this upazila.
Water bodies Main rivers: padma, Shiba.
Administration Paba Thana was formed in 1949 and it was turned into an upazila on 11 November 1983.
Upazila
Municipality
Union
Mouza
Village
Population
Density (per sq km)
Literacy rate (%)
Urban
Rural
Urban
Rural

-

9

186

269

262251

-

935

43.62

-
Union
Name of union and GO code
Area (acre)
Population
Literacy rate (%)
Male
Female

Darshan Para 23

3492

5959

5697

39.28

Damkur 15

4278

8756

8268

44.02

Noahata 71

9748

24348

22718

50.96

Parila 87

7640

17011

15229

36.92

Baragachhi 7

8880

17088

15991

42.77

Haragram 31

3680

13960

12205

38.38

Haripur 47

8594

13518

12651

42.15

Harian 39

14204

24717

22092

47.18

Hujuri Para 55

7021

11437

10606

41.25
Source Bangladesh Population Census 2001, Bangladesh Bureau of Statistics.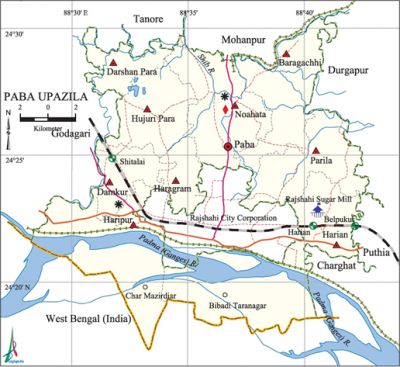 Archaeological heritage and relics Noahata Bagdhani Mosque (1830), Taraf Parila Mosque, Miapur Mosque (1558), tomb of Hazrat Madan Shah Niamat Ullah Hussain (R) at' Basantapur, two ancient Buddhist Maths (Deva Para).
Historical events Hindu Muslim riot was held at village Hujuri Para Sarusa in 1962 consequent upon the Hindu Muslim riot in India. After the partition of India many Muslim families from Maldah and Murshidabad established their settlements in this upazila by exchange of land. In the region they are known as 'land exchange refugee'. During the war of liberation the Pak army forced 27 youths to dig ditch and at village Sonaikandhi in Haripur union and on completion of digging the ditch the youths were shot dead and buried in the ditch. The Pak army made a surprise attack on the Police camp of Bolanpur and killed all the police personnel and buried them at a brickfield. The freedom fighters destroyed a patrol vehicle of the Pak army by ambush on the Rajshahi-Nawabganj road near Kasba Sugarcane Purchase Centre and killed 10 to 12 members of the Pak army. Besides, the Pak army established a camp at Godagari Hat of this upazila and launched inhuman torture in the nearby villages.
Marks of the War of Liberation Mass grave 1 at Sonaikandi; mass killing site 1 (near the Joha Hall of Rajshahi University); memorial monument at the playground of Noahata College.
Religious institutions Mosque 400, temple 5, church 7. Noted religious institutions: Bagdhani Mosque, Noahata Jami Mosque, Kharkhari Baroari Mandir, Musorail Mandir at Narikel Baria.
Literacy rate and educational institutions Average literacy 43.62%; male 46.82%, female 4.13%. Educational institutions: college 9, technical school 2, secondary school 46, primary school 175, madrasa 16. Noted educational institutions: Hat Ramchandrapur College (Hat Godagari), Noahata Mohila College (Noahata Bazar), Maskatadia Multilateral Technical High School (1952), Baragachha Secondary School (1944), Kharkhari Government Primary School (1885), Shitlai Government Primary School (1885), Noahata Government Primary School (1885), Baya Government Primary School (1887).
Cultural organisations Library 1, club 28, cinema hall 5, women's organisation 64, playground 70.
Main sources of income Agriculture 54.68%, non-agricultural labourer 4.89%, industry 0.83%, commerce 14.88%, transport and communication 6.42%, service 38.30%, construction 2.37%, religious service 0.16%, rent and remittance 0.20% and others 7.28%.
Ownership of agricultural land Landowner 49.46%, landless 50.54%.
Main crops Paddy, wheat, jute, potato, onion, vegetables, betel leaf.
Extinct or nearly extinct crops Kaun, motor, mustard, linseed, arahar.
Main fruits Mango, jackfruit, banana, papaya, guava, litchi.
Fisheries, dairies and poultries Fishery 50, dairy 222, poultry 48, hatchery 5.
Communication facilities Pucca road 215.03 km, semi-pucca road 33.32 km, mud road 309.49 km; railway 10 km; waterway 5 nautical miles. Railstation 2 (Harian, Shitlai), airport 1 (Noahata).
Extinct or nearly extinct traditional transport Palanquin, horse carriage.
Noted manufactories Sugar mill 1, jute mill 1, flour mill 65, oil mill 5, saw mill 12, ice factory 10, welding factory 45, bidi factory 30, cold storage 8, brick-field 66.
Cottage industries Goldsmith 30, blacksmith 40, potteries 150, weaving 50, bamboo work 150.
Hats, bazars and fairs Hats and bazars are 19, fairs 3, most noted of which are Noahata Hat, Damkur Hat, Baragachhi Hat, Katakhali Hat, Noahata Krishi Mela and Maugachhi Durga Puja Mela.
Main exports Sugar, paddy, jute, molasses, betel leaf, potato, mango, banana, papaya, litchi, vegetables.
Access to electricity All the unions of the upazila are under rural electrification net-work. However 31.76% of the dwelling households have access to electricity.
Sources of drinking water Tube-well 96.69%, tap 0.78%, pond 0.20% and others 2.33%. Arsenic has been detected in the water of the shallow tube-wells of 6 unions out of 9 unions of the upazila.'
Sanitation 21.53% of dwelling households of the upazila use sanitary latrines and 47.76% of dwelling households use non-sanitary latrines; 30.72% of households do not have latrine facilities.
Health centres Upazila health complex 1, union health unit 3, family planning centre 7, clinic 98, charitable dispensary 3.
NGO activities Operationally important NGOs are brac, asa, proshika, thengamara mahila sabuj sangha, CARE, caritas. [Md. Ruhul Islam]
References Bangladesh Population Census 2001, Bangladesh Bureau of Statistics; Cultural survey report of Paba Upazila 2007.