Ramgati Upazila (lakshmipur district) area 291.82 sq km, located in between 22°52' and 22°90' north latitudes and in between 90°47' and 91°01' east longitudes. It is bounded by kamalnagar on the north, hatiya upazila and meghna river on the south, subarnachar upazila on the east, tazumuddin and daulatkhan upazilas and Meghna river on the west.
Population Total 229153; male 117715, female 111438; Muslim 217267, Hindu 11864 and others 22.
Water bodies Main rivers: Meghna.
Administration Ramgati Thana was formed in 1862 and it was turned into an upazila in 1983.
Upazila
Municipality
Union
Mouza
Village
Population
Density (per sq km)
Literacy rate (%)
Urban
Rural
Urban
Rural

-

7

24

70

61883

138667

578

38.7

20.31
Upazila Town

Area (sq km)

Mouza

Population

Density (per sq km)

Literacy rate (%)

71.64

2

61883

864

37.93
Union
Name of union and GO code
Area (acre)
Population
Literacy rate (%)
Male
Female

Char Abdullah 15

9950

7486

6387

20.84

Char Algi 31

7371

15686

15366

38.06

Char Alexandar 23

15512

31640

29394

35.29

Char Poragacha

5424

6729

6644

24.16

Char Gazi 55

12743

19252

17772

22.50

Char Bedam 39

8663

10838

10700

25.75

Char Ramiz 87

8440

17732

17315

38.72

Bara Kheri 07

4603

8352

7860

41.01
Source Bangladesh Population Census 2001, Bangladesh Bureau of Statistics.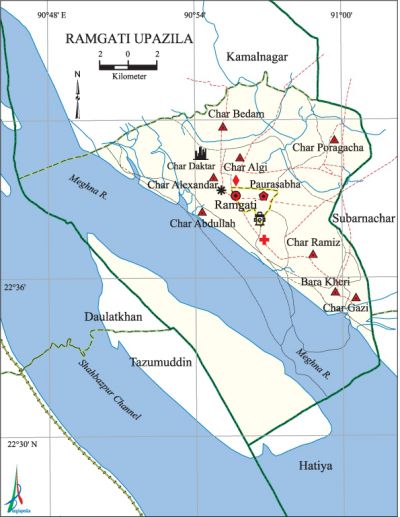 Archaeological heritage Bedar Boksh Mosque, Rani Bhabani Kamada Math.
History of the War of Liberation During the war of liberation in 1971 a battle was fought between the freedom fighters and the Pak army at the turn of the Zamindar Hat in which 17 Pak soldiers including a number of razakars were killed.
Religious institutions Mosque 105, temple 10, math 1. Noted religious institutions: Ramgati Central Jami Mosque, Char Poragachha Mosque, Bedarbox Mosque, Ashrama of Bura Karta, Rani Bhabani Kamda Math.
Literacy rate and educational institutions Average literacy 29.5%; male 31.9%, female 27.0%. Educational institutions: college 4, secondary school 27, primary school 145, madrasa 46. Noted educational institutions: Alexandar Govt. College (1970), Ramgati Ahamadia College (1983), Abdul Hadi College, Town Alexandar Mohila College, ASM Abdur Rob Govt. College, Ramgati BBK Pilot Ideal High School (1933), Char Sita Torab Ali High School (1947), Ramgati Acchiya Pilot Girls School (1968), Alexandar Pilot Girls School (1972), Balu Char Islamia Senior (Alim) Madrasa (1933), Char Alexandar Alia Madrasa (1938).
Newspapers and periodicals Periodical: Ramgati Darpan, Swadesh Bhumi.
Cultural organisations Library 4, club 12, theater group 3, cinema hall 3, women's organisation 23.
Main sources of income Agriculture 66.56%, non-agricultural labourer 4.00%, industry 0.53%,' commerce 11.25%, transport and communication 1.53%, service 4.58%, construction 0.81%, religious service 0.31%, rent and remittance 0.31% and others 10.12%.
Ownership of agricultural land Landowner 48.81%, landless 51.19%; agricultural landowner: urban 40.10% and rural 50.41%.'
Main crops Paddy, wheat, chilli, onion, ground nut, soybean.
Extinct or nearly extinct crops Kaun, barley, jute.
Main fruits Mango, jackfruit, guava, coconut, betel nut.
Fisheries, dairies and poultries Fishery 58, Dairy 9, poultry 40.
Communication facilities Pucca road 70.79 km, semi-pucca road 23 km, mud road 290 km.
Extinct or nearly extinct traditional transport Palanquin and bullock cart.
Noted manufactories Rice mill, flour mill, saw mill, ice-crime factory, bidi factory.
Cottage industries Goldsmith, blacksmith, weaving, bamboo work, wood work.
Hats, bazars and fairs Hats and bazars are 50, fairs 2, most noted of which are Alexandar Hat, Ramgati Hat, Karunanagar Hat, Zamindar Hat, Bibir Hat, Karaitala Hat, Sennir Hat and Bura Kartar Mela at Alexadar.
Main exports Hilsa fish, shrimp, paddy, ground nut, soybean, chilli.
Access to electricity All the unions of the upazila are under rural electrification net-work. However 6.08% of the dwelling households have access to electricity.
Sources of drinking water Tube-well 75.84%, pond 13.92%, tap 0.83% and others 9.41%.
Sanitation 21.72% (rural 19.57% and urban 33.47%) of dwelling households of the upazila use sanitary latrines and 63.24% (rural 64.74% and urban 55.05%) of dwelling households use non-sanitary latrines; 15.04% of households do not have latrine facilities.
Health centres Upazila health complex 1, satellite clinic 2, family planning centre 9, clinic 2.
Natural disaster More than one lakh people' and several lakhs livestock were victims of the devastating tornado and tidal bore of 11 November 1970; it also caused heavy damages to property of the upazila.
NGO activities Operationally important NGOs are brac, proshika, asa, CODEC, Social Association for Rural Advancedment. [Md Zahir Uddin Babar]
References Bangladesh Population Census 2001, Bangladesh Bureau of Statistics; Cultural survey report of Ramgati Upazila 2007.