Salikha Upazila (magura district) area 228.64 sq km, located in between 23°15' and 23°27' north latitudes and in between 89°15' and 89°30' east longitudes. It is bounded by jhenaidah sadar and magura sadar upazilas on the north, bagherpara and narail sadar upazilas on the south, Narail Sadar, Magura Sadar, lohagara and mohammadpur (Magura) upazilas on the east, kaliganj (jhenaidaha) and Bagherpara upazilas on the west.
Population Total 147663; male 75782, female 71881; Muslim 105550, Hindu 42092, Buddhist 8, others 13.
Water bodies Main rivers: Fatki, chitra, nabaganga; Jamla, Nangra and Burulir beels are notable.
Administration Salikha Thana was formed in 1924 and it was turned into an upazila in 1983.
Upazila
Municipality
Union
Mouza
Village
Population
Density (per sq km)
Literacy rate (%)
Urban
Rural
Urban
Rural

-

7

100

118

5601

142062

646

56.2

43.5
Upazila Town

Area (sq km)

Mouza

Population

Density (per sq km)

Literacy rate (%)

5.13

3

5601

1092

56.2
Union
Name of union and GO code
Area (acre)
Population
Literacy rate (%)
Male
Female

Arpara 11

6420

11575

10812

48.40

Gangarampur 47

7106

10075

9761

46.83

Talkhari 83

11379

16161

15366

39.12

Dhaneshwargati 35

10582

10725

10067

40.84

Bunagati 23

5627

7626

7168

48.08

Shalikha 59

5699

6965

6545

45.20

Shatakhali 71

9686

12655

12162

43.36
Source  Bangladesh Population Census 2001, Bangladesh Bureau of Statistics.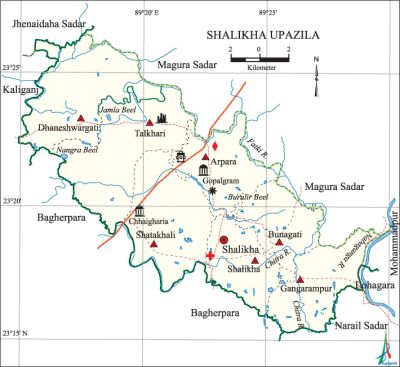 Archaeological heritage and relics Chhaigharia Mosque, Gopalgram Jami Mosque (seventeenth century), Loknath Asrama at Talkhari.
History of the War of Liberation During the war of liberation the Pak army buried six freedom fighters alive after forcing them to dig their own graves at road side of Shatakhali on the Magura-Jessore highway. Seven freedom fighters were killed by the razakars at Talkhari.
Marks of the War of Liberation Memorial monument 1.
Religious institutions Mosque 309, temple 16.
Literacy rate and educational institutions Average literacy 44%; male 49.4%, female 38.3%. Educational institutions: college 3, secondary school 27, primary school 49, satellite school 5, community school 5, madrasa 16. Noted educational institutions: Gangarampur PK Primary' Schol (1900), Simakhali Secondray School, Arpara Secondray School, Sharshuna Secondray School, Simakhali Primary School (1932), Arpara Primary School, Sharshuna Primary School, Bagdanga Shamsul Ulam Dakil Madrasa, Poripur Dakhil Madrasa, Shatakhali Darul Ulam Madrasa.
Cultural organisations Library 11, club 25, cinema hall 1, women organisation 1, theatre group 2, jatra party 2, playground 20.
Main sources of income Agriculture 78.76%, non-agricultural labourer 1.68%, industry 0.69%, commerce 9.08%, transport and communication 2.01%, service 4.48%, construction 0.69%, religious service 0.09%, rent and remittance 0.31% and others 2.21%.
Ownership of agricultural land Landowner 74.01%, landless 25.99%; agricultural landowner: urban 61.03% and rural 74.52%.'
Main crops Paddy, jute, pulse, oil seed, sugarcane, wheat, vegetables.
Extinct or nearly extinct crops Gram, sesame, kaun, arahar.
Main fruits Mango, jackfruit, banana, papaya, litchi, date, star apple, grape fruit.
Fisheries, dairies and poultries Fishery 2, poultry 4, cattle breeding sub-centre 2.
Communication facilities Pucca road 100 km, semi-pucca road 45 km, mud road 425 km.
Extinct or nearly extinct traditional transport Palanquin, horse carriage, bullock cart.
Noted manufactories Rice mill, oil mill, milk processing factory, welding factory, chocolate factory, ball pen industry, bakery.
Cottage industries Blacksmith, potteries, weaving.
Hats, bazars and fairs Hats and bazars are 28, fairs 10, most noted of which are Arpara Hat, Simakhali Hat, Chaturbaria Hat, Singra Hat, Bunagati Hat, Ganga Snana Mela, Baruni Mela, Durgapuja Mela, Kalipuja Mela, Shiva Gajan, Baishakhi Mela, Chaitra Sankranti Mela, bull fighting and Horse Race Mela.
Main exports Jute, paddy, wheat, pulse.
Access to electricity All the unions of the upazila are under rural electrification net-work. However 18% of the dwelling households have access to electricity.
Sources of drinking water Tube-well 97.97%, tap 0.48%, pond 0.16% and others 1.39%.
Sanitation 19.76% (rural 18.90% and urban 41.82%) of dwelling households of the upazila use sanitary latrines and 55.69% (rural 55.93% and urban 49.45%) of dwelling households use non-sanitary latrines; 24.55% of households do not have latrine facilities.
Health centres Upazila health complex 1, family planning centre 7, satellite clinic 2.
Natural disasters Many people were victims of the cyclones and tidal bore of 1585, 1909 and 1919, and the floods of 1938 and 1971, and famines of 1769-70 and 1943. These natural disasters also caused heavy damages to settlements, crops and other properties of the upazila.
NGO activities Operationally important NGOs are brac, asa. [Biren Mukherjee]
References Bangladesh Population Census 2001, Bangladesh Bureau of Statistics; Cultural survey report of Salikha Upazila 2007.