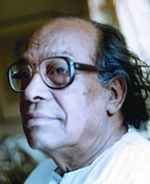 Sharif, Ahmed (1921-1999) educationist, thinker, and renowned scholar of medieval bangla literature. Sharif was born on 13 February 1921 in the village of Suchakradandi in patiya upazila of Chittagong district. His father was a clerk at the Chittagong Government Collegiate School. Sharif was brought up under the care of his uncle, abdul karim sahityavisharad, the well-known collector of puthi literature.
Ahmed Sharif was educated at Patiya High School, Chittagong College and Dhaka University from where he obtained his MA degree in Bangla in 1944. He began his professional life as a lecturer of Bangla at Nawab Faizunnesa College in laksham. For some time he worked as a programme organiser at the Dhaka station of Radio Pakistan. On 18 December 1950 Sharif joined the Bangla Department of Dhaka University as a research assistant and later became a lecturer in the department.
He was awarded the PhD degree in 1967 from Dhaka University for his thesis on the Bangla medieval poet syed sultan. In 1972 he became a professor. He was at various times chairman of the Bangla Department, Dean of the Faculty of Arts, member of the Syndicate, and president of the Teachers' Association. After his retirement from Dhaka University after 33 years of service in June 1983, he was appointed Nazrul Professor at Chittagong University for two years (1984-86).
Ahmed Sharif's research work began with the puthis which his uncle, Abdul Karim Sahityavisarad, had donated to dhaka university. He soon became an expert in Puthi literature. He edited 40 puthis. The first book published by the bangla academy was his edited work laily-majnu (1957), by the 16th century poet daulat uzir bahram khan. The first book published by the Bangla Department of Dhaka University was also a book edited by him, Puthi Parichiti (1958), containing brief descriptions of the 600 puthis donated by his uncle. The puthis edited by Sharif include alaol's Tohfa (1958) and Sikandarnama (1977), Muhammad Khan's Satya-Kali-Bibad-Sangbad (1959), Muslim Kavir Padasahitya (1961), Jayenuddin's rasulbijay (1964), Muzammil's Nitishastrabarta (1965), Madhyayuger Ragtalnama (1967), Babglar Sufisahitya (1969), Afzal Ali's Nasihatnama (1969), Baultattva (1973), and Syed Sultan's nabibangsha , rasulcharita (1978).
Sharif got great reputation as a specialist of Bangla medieval literature. While he studied the valuable contributions made by the Bengali Muslims, in writing the literary history of this period Sharif surveyed the contributions of all Bengali writers irrespective of religion. Babgali O Babgla Sahitya (in two volumes 1978, 1983), perhaps his finest work, is a comprehensive history of medieval Bangla literature. It throws light on the society and culture of medieval Bengal and the literature of different communities, such as, Buddhist literature, vaisnava literature, baul literature, and sufi literature. Sharif was the exponent of the theory of the Dark Age of Bangla literature. He also greatly contributed to the study of love stories and religious books written by Muslims as well as puthis, written bi-lingually. Some of his other books on the literature of the Medieval Period are Syed Sultan: Tanr Granthabali O Tanr Yuga (1972), Madhyayuger Sahitye Samaj O Sangskrtir Rup (1977) and Madhyayuger Bangla Sahitya (1985).
Sharif was also a distinguished essayist and thinker. He started writing essays in the forties and continued to write until his death. His area of interest in writing was Bangladesh, Bengali society, and Bangla language and literature. He was concerned with the idea of Bangladeshi identity and wrote immensely on the subject. Toward the end of his life, he used to write columns regularly in daily and weekly newspapers. His essays on Bangladesh society, literature, politics, religion, and philosophy have been published in many books, which include Bichita Chinta (1968), Sahitya O Sangskrti Chinta (1969), Svadesh Anvesa (1970), Jibane Samaje Sahitye (1970), Pratyay O Pratyasha (1971), Yug Yantrana (1974) Kaler Darpane Svadesh (1985), Bangalir Chinta-Chetanar Bibartan Dhara (1987), Banglar Biplabi Patabhumi (1989), Bangladesher Sampratik Chalchitra (1990), Manabata O Ganamukti (1990), Bangla, Bangali O Bangalitva (1992), Pragatir Badha O Pantha (1994), E Shatake Amader Jibandharar Ruparekha (1994), Svadesh Chinta (1997) Jijvasa O Anvesha (1997), Bish Shatake Bangali (1998), Bishvasbad, Vijvanbad, and Yuktibad and Maulabad (2000).
Sharif was a rationalist and humanist who possessed strength of character and determination. He was a dedicated and fearless intellectual, who criticised any government that resorted to unjust and anti-people policies. He wrote and spoke strongly against fundamentalism, military rule, autocracy and the opponents to Bangladesh liberation. His writings were often controversial, inviting the anger of those he criticised. All his life Sharif was associated with associations and institutions committed to humanism, human rights and intellectual freedom. In March 1971 he swore the writers of Bangladesh at the central shaheed minar in dhaka to the fight against Pakistani autocracy. After liberation he was a central figure of many societies, among them the Committee for the Protection of Fundamental Rights and Legal Aid, bangladesh lekhak shibir, Bangladesh Bhasha Samity, Colonel Taher Sansad, Ganatantrik Sanskritik Front and Swadesh Chinta Sangha. He was the General Secretary of the Asiatic Society of Bangladesh from 1969 to 1973.
Despite the controversies that Sharif aroused, his scholarship was recognised by all. Among the awards he received were the Bangla Academy Literary Prize, Daud Literary Prize, National Ekushe Award. Rabindra Bharati University, Kolkata, awarded him an honorary DLitt.
Ahmed Sharif was a secular person and did not believe in religious dogmas. Once some religious leaders declared him 'murtad' and announced not to render religious rituals after death. He responded to this announcement by donating his body after death to the Dhaka Medical College for research and his wishes were carried out after his death on 24 February 1999. [Ahmad Kabir]