Shibpur Upazila (narsingdi district) area 206.98 sq km, located in between 23°56' and 24°07' north latitudes and in between 90°38' and 90°50' east longitudes. It is bounded by mOnohardi upazila on the north, raipura, narsingdi sadar and palash upazilas on the south, belabo and Raipura upazilas on the east, Palash and kapasia upazilas on the west.
Population Total 265177; male 134255, female 130922; Muslim 254046, Hindu 11087, Buddhist 9, Christian 13 and others 13.
Water bodies Main rivers: shitalakshya, brahmaputra, arial khan, Paharia; Chinadi Beel is notable.
Administration Shibpur Thana, now an upazila, was formed on 12 January 1918.
Upazila
Municipality
Union
Mouza
Village
Population
Density (per sq km)
Literacy rate (%)
Urban
Rural
Urban
Rural

1

9

125

196

10426

254751

1282

62.3

48.8
Upazila Town

Area (sq km)

Mouza

Population

Density (per sq km)

Literacy rate (%)

3.52

4

10426

2962

62.31
Union
Name of union and GO code
Area (acre)
Population
Literacy rate (%)
Male
Female

Ayubpur 10

3910

13765

13440

43.87

Chak Radha 31

6079

17441

17317

51.43

Joynagar 63

9070

14383

13852

43.81

Josar 52

5470

13518

12886

53.05

Dulalpur 42

6322

14849

15263

47.55

Putia 84

5476

20991

19165

51.10

Baghaba 21

5765

12898

12706

39.71

Masimpur 73

4928

15387

15586

55.19

Sadhar Char 94

3858

11023

10707

57.46
Source Bangladesh Population Census 2001, Bangladesh Bureau of Statistics.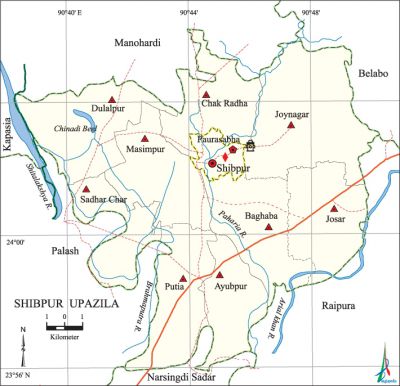 Archaeological heritage and relics Three domed Mosque (Ashrafpur, 1524), single domed mosque (Kumardi), tomb of Shah Mansur, two copperplate inscriptions (seventeenth century) discovered at village Ashrafpur, a gold coin (Gupta period) discovered at village Baghaba.
History of the War of Liberation During the war of liberation there were a number of training camps for the freedom fighters in the hilly areas of Joynagar and Josar unions. At that time these areas were called the Second Agartala. On 29 April, the Pak army brutally killed one person at a place called Ghasdia. At the end of October, an encounter was held between the freedom fighters and the Pak army at village Chalandia in which 2 freedom fighters were killed. An encounter between the freedom fighters and the Pak army was held at Putia in which a number of Pak soldiers including a Captain were killed and so were two freedom fighters. At the end of November, two freedom fighters were killed in another encounter with the Pak army at village Latarbagh.
Religious institutions Mosque 482, temple 2, tomb 3.
Literacy rate and educational institutions Average literacy 49.3%; male 51.1%, female 47.6%. Educational institutions: college 4, technical college 1, secondary school 39, primary school 135, madrasa 118. Noted educational institutions: Lakhpur Simulia High School (1917), Shibpur Pilot High School (1918), Moharpara High School (1919), Afsar Uddin High School (1968), Kumardi Senior Madrasa (1927).
Cultural organisations Club 60, cinema hall 2, women's organisation 1, playground 42.
Main sources of income Agriculture 54.55%, non-agricultural labourer 2.08%, industry 3.16%, commerce 15.07%, transport and communication 4.77%, service 8.21%, construction 1.55%, religious service 0.22%, rent and remittance 2.41% and others 7.79%.
Ownership of agricultural land Landowner 67.42%, landless 32.58%; agricultural landowner: urban 64.53% and rural 67.54%.
Main crops Paddy, jute, ginger, turmeric, vegetables.
Extinct or nearly extinct crops Sesame, mustard, sweet potato, kaun, linseed, china, arahar.
Main fruits Mango, jackfruit, banana, papaya, plum, guava, shaddock, kamranga.
Fisheries, dairies and poultries Fishery 2, dairy 153, Poultry 170, hatchery 2, nursery 5, cattle breeding centre 2.
Extinct or nearly extinct traditional transport Palanquin, bullock cart.
Noted manufactories Jute mill, textile mill.
Cottage industries Goldsmith, blacksmith, weaving, potteries, wood work.
Hats, bazars and fairs Hats and bazars are 20, fairs 5, most noted of which are Shibpur Hat, Josar Hat, Jallara Hat, Putia Hat, Lakhpur Hat, Joynagar Mela, Naukaghata Mela and Arali Mela.
Main exports Mango, jackfruit, banana, ginger, turmeric, vegetables, jute made goods, cotton, hosiery goods.
Access to electricity All the wards and unions of the upazila are under rural electrification net-work. However 42.08% of the dwelling households have access to electricity.
Sources of drinking water Tube-well 93.74%, tap 0.58%, pond 0.16% and others 5.52%.
Sanitation 40.72% (rural 39.09% and urban 80.06%) of dwelling households of the upazila use sanitary latrines and 32.19% (rural 32.91% and urban 14.65%) of dwelling households use non-sanitary latrines; 27.09% of households do not have latrine facilities.
Health centres Upazila health complex 1, satellite clinic and family welfare centre 4.
NGO activities Operationally important NGOs are brac, asa. [Md. Iftekhar Uddin Bhuiyan]
References Bangladesh Population Census 2001, Bangladesh Bureau of Statistics; Cultural survey report of Shibpur Upazila 2007.