Sonadanga Thana (Khulna metropolitan) area 8.42 sq km, located in between 22°50' and 22°51' north latitudes and in between 89°31' and 89°34' east longitudes. It is bounded by khalishpur thana on the north, kotwali thana on the south and east, dumuria and batiaghata upazilas on the west.
Population Total 172079; male 89754, female 82325; Muslim 157577, Hindu 12530, Buddhist 1916, Christian 21 and others 35.
Administration Sonadanga Thana was formed in 1986.
Thana
Ward and Union
Mahalla and Mouza
Population
Density (per sq km)
Literacy rate (%)
Urban
Rural
Urban
Rural
7
42
172079
-
20437
68.91
-
Ward
Ward
Area (sq km)
Population
Literacy rate (%)
Male
Female
Ward no. 16 (part)
1.31
16034
14875
71.71
Ward no. 17
2.33
15437
14915
67.60
Ward no. 18
1.62
9108
7657
68.42
Ward no. 19
0.51
13739
12582
69.50
Ward no. 20
0.48
12032
10507
65.34
Ward no. 25
0.73
13995
13111
71.03
Ward no. 26
0.66
9404
8678
67.24
Source Bangladesh Population Census 2001, Bangladesh Bureau of Statistics.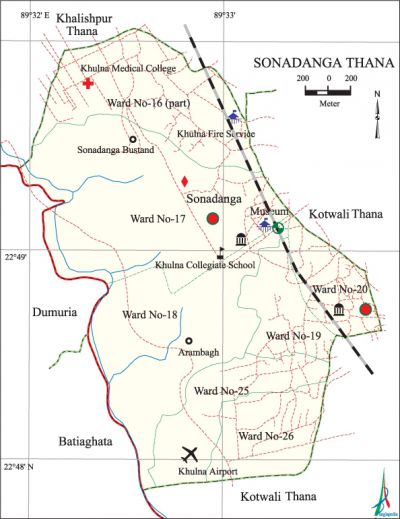 Marks of the War of Liberation Memorial monument 1 (Gollamari).
Religious institutions Baitun Nur Jami Mosque (New Market), Madina Mosque, Shibbari Adi Mandir, Baptist Church.
Literacy rate and educational institutions Average literacy 68.91%; male 72.31%, female 65.21%. Noted educational institutions: Khulna Medical College, Khulna Collegiate School, Khulna Pre-cadet School, Palli Mangal High School.
Newspapers and periodicals Daily: Anirban, Tatha; weekly: Samonnay.
Cultural organisations Library 1, museum 1, cinema hall 3, club 1.
Important installations and Tourist spots Bangladesh Betar Khulna, Museum, Khulna Fire Service, Khulna Airport.
Main sources of income Agriculture 3.91%, non-agricultural labourer 6.47%, industry 1.69, commerce 30.02%, transport and communication 8.75%, service 29.36%, construction 2.43%, religious service 0.25%, rent and remittance 1.50% and others 17.54%.
Ownership of agricultural land Landowner 43.07%, landless 56.93%.
Main crops Paddy, jute, sesame, mustard, vegetables.
Extinct or nearly extinct crops Sugarcane, water melon.
Main fruits Mango, blackberry, jackfruit, lemon, banana, papaya, wood apple, coconut, betel nut.
Extinct or nearly extinct traditional transport Palanquin, bullock cart and horse carriage.
Noted manufactories Textile mill, welding factory.
Cottage industries Goldsmith, potteries, bamboo work, weaving.
Hats, bazars and fairs Hats and bazars are 5, fairs 3, most noted of which are Nirla Bazar, Gollamari Bazar, Boyra Bazar, New Market, Eastern Plaza.
Access to electricity All the wards and mahallas of the thana are under electrification net-work. However 86.42% of the dwelling households have access to electricity.
Sources of drinking water Tube-well 95.47%, pond 0.15%, tap 4.26% and others 0.11%.
Sanitation 86.18% of dwelling households of the thana use sanitary latrines and 12.72% of dwelling households use non-sanitary latrines; 1.10% of households do not have latrine facilities.
NGO activities Operationally important NGOs are brac, asa, proshika. [Ashraful Islam Goldar]
References Bangladesh Population Census 2001, Bangladesh Bureau of Statistics.