Sonargaon Upazila (narayanganj district) area 171.66 sq km, located in between 23°32' and 23°46' north latitudes and in between 90°31' and 90°41' east longitudes. It is bounded by araihazar and rupganj upazilas on the north, munshiganj sadar and gazaria upazilas on the south, meghna and Gazaria upazilas on the east, bandar, narayanganj sadar, Rupganj upazilas and demra thana on the west.
Population Total 305562; male 159613, female 145949; Muslim 293976, Hindu 11388, Buddhist 42, Christian 142 and others 14.
Water bodies Main rivers: meghna, shitalakshya, old brahmaputra (moribund).
Administration Sonargaon Thana was turned into an upazila in 1983.
Upazila
Municipality
Union
Mouza
Village
Population
Density (per sq km)
Literacy rate (%)
Urban
Rural
Urban
Rural

1

11

351

487

4702

300860

1780

62.8

46.7
Upazila Town

Area (sq km)

Mouza

Population

Density (per sq km)

Literacy rate (%)

0.73

6

4702

6441

62.8
Union
Name of union and GO code
Area (acre)
Population
Literacy rate (%)
Male
Female

Aminpur 8

2237

12188

11439

58.01

Kachpur 43

3087

19839

16108

57.28

Jampur 34

5438

17529

15928

44.21

Noagaon 60

3054

9489

8769

40.52

Pirijpur 69

4252

17363

15098

50.05

Baradi 25

3350

12429

11857

32.86

Baidyer Bazar 17

2366

10250

9547

43.95

Mugra Para 51

1929

12630

11485

51.58

Shambhupura 86

3404

12096

12217

47.17

Sanmandi 94

5176

18117

17140

43.41

Sadipur 77

4061

17683

16361

42.88
Source Bangladesh Population Census 2001, Bangladesh Bureau of Statistics.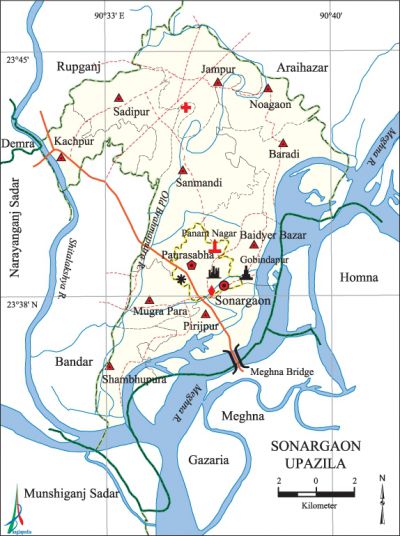 Archaeological heritage and relics Single domed mosque built by Jalaluddin Fatheh Shah (1489 AD), Tomb of Sultan Ghiyasuddin Azam Shah (1410 AD), single domed mosque built by Alauddin Hussain Shah (1522), Tomb of Shah Langar (1422), Panch Pir Dargah, grand trunk road, khasnagar dighi, Company Kuthi, yusufganj mosque, goaldi mosque (1519), langalband (holy bathing spot), Panam Nagar.
Historical events From 1335 to 1535 AD Sonargaon was sometime thecapital of Bengal and sometimes administrative headquarters of the eastern region of Bengal. The Moroccan traveler ibn battuta visited Sonargaon in 1346 AD. One freedom fighter was killed in an encounter with the Pak army at Panam during the war of liberation. During this time the Pak army conducted mass killing at villages Sanmandi, Pirijpur and Chilarbagh.
Religious institutions Mosque 460, temple 36, tomb 10. Noted religious institutions: Single domed mosque built by Jalaluddin Fatheh Shah (1489 AD), singled domed mosque built by Alauddin Hussain Shah (1522), Yusufganj Mosque, Goaldi Mosque (1519).
Literacy rate and educational institutions Average literacy 47%; male 51.5%, female 42.1%. Educational institutions: college 4, institution 1, secondary school 6, primary school 82, community school 26, satellite school 9, madrasa 10. Noted educational institutions: Sonargaon Degree College (1969), Kazi Fazlul Haque Womens' College (1988), Sonargaon GR Institution (1900), Baradi Multilateral High School (1900), Panchami Ghat High School (1909), Ribor Pilot Girls' High School (1916), Jampur Majher Char MSGK High School (1918), Baidyer Bazar NM Pilot High School, Hossainpur High School, Mohojampur High School, Mograpara HGGS Smriti Biddayatan (1934).
Newspapers and periodicals Irregular: Sonargaon Kagoj, Sonargaon Porikroma (monthly), Sonargaon Patrika.
Cultural organisations Library 3, club 26, women organisation 1, jatra group 5, cinema hall 6, playground 19.
Tourist spots Bangladesh Folk Art and Crafts Foundation at Sonargaon.
Main sources of income Agriculture 25.95%, non-agricultural labourer 2.60%, industry 4.27%, commerce 23.74%, transport and communication 4.51%, service 20.31%, construction 1.61%, religious service 0.31%, rent and remittance 4.68% and others 12.02%
Ownership of agricultural land Landowner 52.49%, landless 47.51%; agricultural landowner: urban 32.55% and rural 52.79%.'
Main crops Paddy, potato, sugarcane, jute, sesame, masur, khesari, vegetables.
Extinct or nearly extinct crops Kaun, linseed, mustard.
Main fruits Mango, litchi, banana, jackfruit, papaya.
Fisheries, dairies and poultries Fishery 12, poultry 780, hatchery 5.
Communication facilities Pucca road 85 km, mud road 200 km.
Extinct or nearly extinct traditional transport Palanquin, horse carriage, bullock cart.
Noted manufactories Garments factory, cement factory, spinning mill, steel mill, printing mill, rolling mill, paper mill, oil mill, textile mill.
Cottage industries Goldsmith, blacksmith, weaving, wood work, bamboo work, cane work.
Hats, bazars and fairs Hats and bazars are 16, fairs 6, most noted of which are Ananda Bazar Hat, Kaikartek Hat, Folk Art and Crafts Mela, Luknath Brahmachari Mela, Gachhtala Mela at Mangalgram,' Pagla Mela at Hamchadi and Bou Mela at Udbhabganj.
Main exports Industrial products, sari, cotton fabrics, vegetables.
Access to electricity All the wards and unions of the upazila are under rural electrification net-work. However 77.63% of the dwelling households have access to electricity.
Sources of drinking water Tube-well 93.36%, tap 2.03%, pond 0.60% and others 4%. The presence of arsenic has been detected in shallow tube-well water of the upazila.
Sanitation 38.19% (rural 38.13% and urban 42.03%) of dwelling households of the upazila use sanitary latrines and 57.21% (rural 57.24% and urban 55.30%) of dwelling households use non-sanitary latrines; 4.60% of households do not have latrine facilities.
Health centres Upazila health complex 1, health and family planning centre 11, satellite clinic 3, clinic 10. Natural disasters The cyclone of 1969 caused heavy damages to settlements of the village Nazirpur Neelkanda under Sanmandi union of the upazila.
NGO activities Operationally important NGOs are brac, proshika, asa, VARC, thengamara mahila sabuj sangha. [Shamsuddoha Chowdhury]
References Bangladesh Population Census 2001, Bangladesh Bureau of Statistics; Cultural survey report of Sonargaon Upazila 2007.