Sreepur Upazila (Gazipur District)
Sreepur Upazila (gazipur district)  area 465.24 sq km, located in between 24°01' and 24°21' north latitudes and in between 90°18' and 90°33' east longitudes. It is bounded by bhaluka and gaffargaon upazilas on the north, gazipur sadar and kaliganj upazilas on the south, kapasia upazila on the east, kaliakair and sakhipur upazilas on the west.
Population Total 337367; male 172186, female 165181; Muslim 324285, Hindu 12508, Buddhist 331, Christian 8 and others 235. Indigenous communities such as santal, Koch, rajbangshi, Mandi, Nunia and Bhangar belong to this upazila.
Water bodies Main rivers: banar, Kaoraid, Labandaha.
Administration Sreepur Thana was formed in 1933 and it was turned into an upazila in 1984.
Upazila
Municipality
Union
Mouza
Village
Population
Density (per sq km)
Literacy rate (%)
Urban
Rural
Urban
Rural

-

9

81

186

17363

320004

725

56.2

47.2
Upazila Town

Area (sq km)

Mouza

Population

Density (per sq km)

Literacy rate (%)

14.61

1

17363

1188

56.16
Union
Name of union and GO code
Area (acre)
Population
Literacy rate (%)
Male
Female

Kaoraid 38

13435

21876

20905

47.39

Gazipur 19

11420

18304

18001

36.26

Gosinga 28

14018

14498

14390

49.81

Telihati 85

11029

20169

18654

55.07

Prahladpur 57

9544

11562

11658

48.10

Barmi 9

12758

27122

25681

48.88

Maona 47

18838

16919

16474

40.36

Rajabari 66

12661

17435

16903

51.71

Sreepur 76

10427

24301

22515

50.05
Source  Bangladesh Population Census 2001, Bangladesh Bureau of Statistics.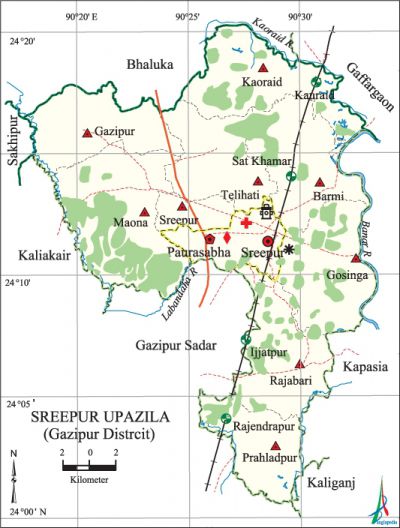 Archaeological heritage and relics Palace of the Chandal kings at Chinashukhania, remnants of the capital of Raja Shishu Paul at Shailat, remnants of the capital of the Das kings at Shait Halia, Singar Dighi, Burmese Fort and Kuthibari, Kaoraid Kali Mandir (1340 BS), cemetery of the Gupta familyat Kaoraid, Sreepur Molla Mosque (1801).
Historical events Sreepur is presumed to be 'named after Raja Sreepal. The local Bhuiyans fought at Karnapur to resist the onrush of the Mughal army. Possibly the Karnapur Fort and the adjacent dighi bear testimony to that incidence. At the end of March 1971, 60 freedom fighters launched an attack on Rajendrapur, Joydebpur Peelkhana and at Ordnance factory, and captured a huge amount of arms and ammunitions. The Pak army conducted mass killing at Sreepur College campus and at Satkhamair on 17 June. Many people were the victim of explosion of 7 bombs on 10 December in the upazila.
Marks of the War of Liberation Mass grave 2 (Sreepur College compound and Satkhamar area).
Religious institutions Mosque 660, temple 12, church 2, tomb 4. Noted religious institutions: tomb of Shah Saheb at Sreepur, Satkhamar Dargah, Akandabari Mosque at Kaoraid.
Literacy rate and educational institutions Average literacy 47.7%; male 51%, female 44.3%. Educational institutions: college 7, technical college 1, vocational school 1, secondary school 50, primary school 164, NGO operated school 44, madrasa 56. Noted educational institutions: Sreepur University College (1968), Kaoraid Kali Narayan High School (1929), Sreepur Pilot High School (1942), Barmi Bazar High School (1955).
Newspapers and periodicals Weekly: Apnar Kantha (2004); monthly: Mukti (1989); defunct daily: Sreepur Barta (1983); monthly defunct: Durjay (1988).
Cultural organisations Library 37, club 10, cinema hall 3, theatre group 6, women society 9.
Tourist spots Seagirl (Maona), Banya Dighi (Karnapur), Waddah Dighi (Tengra), Jivantya Swarga (Kaoraid), Boiragir Chala (Adarsha Gram), old market and monkey grazing centre at Burmese Bazar, Rabindra Bungalow and Mandir at Kaoraid and Ganga Sarabor sacred place.
Main sources of income Agriculture 54.62%, non-agricultural labourer 3.67%, industry 0.79%, commerce 15.63%, transport and communication 4.98%, service 8.52%, construction 1.52%, religious service 0.19%, rent and remittance 2.02% and others 7.71%.
Ownership of agricultural land Landowner 65.80%, landless 34.20%; agricultural landowner: urban 55.40% and rural 66.37%.'
Main crops Paddy, wheat, potato, jute, mustard, ginger, turmeric, vegetables.
Extinct or nearly extinct crops Betel leaf.
Main fruits Jackfruit, papaya, pineapple, banana, mango, litchi, guava.
Fisheries, dairies and poultries Fishery 35, dairy 109, poultry 772, hatchery 1.
Communication facilities Pucca road 168.90' km, semi-pucca road 15 km, mud road 1227.32 km; railway 29 km; waterway 21.56 nautical miles.
Extinct or nearly extinct traditional transport Palanquin, horse carriage, bullock cart, buffalo cart.
Noted manufactories Garments industry, glass industry, ceramic industry, rice mill, bakery, ice factory, saw mill.
Cottage industries Blacksmith, wood work, bamboo work, cane work.
Hats, bazars and fairs Hats and bazars are 25, fairs 10, most noted of which are Sreepur Hat, Maona Hat, Barmi Hat, Rajabari Hat, Kaoraid Hat, Eid Mela at Rajabari, Maona, Sreepur and Baishakhi Mela at Barmi.
Main exports Paddy, mustard, jute.
Access to electricity All the unions of the upazila are under rural electrification net-work. However 25.41% (urban 59.03% and rural 23.57%) of the dwelling households have access to electricity.
Natural resources Silicate and sand of Bhawal Garh.
Sources of drinking water Tube-well 91.28%, tap 0.46%, pond 0.31% and others 7.95%.
Sanitation 36.65% (rural 36.12% and urban 46.10%) of dwelling households of the upazila use sanitary latrines and 41.35% (rural 41.20% and urban 44.01%) of dwelling households use non-sanitary latrines; 22% of households do not have latrine facilities.
Health centres Upazila health complex 1, union health centre 4, family welfare centre 6, satellite clinic 5, clinic 53, Ganoshastha centre 1, hospital 1.
NGO activities Operationally important NGOs are brac, proshika. [Tapan Bagchi]
References Bangladesh Population Census 2001, Bangladesh Bureau of Statistics; Cultural survey report of Sreepur Upazila 2007.