Sulla Upazila (sunamganj district) area 260.74 sq km, located in between 24°34' and 24°49' north latitudes and in between 91°08' and 91°23' east longitudes. It is bounded by derai upazila on the north, itna and ajmiriganj upazilas on the south, baniachang and Ajmiriganj upazilas on the east, khaliajuri and Itna upazilas on the west.
Population Total 101298, male 52124, female 49174; Muslim 49373, Hindu 51893, Buddhist 16 and others 16.
Water bodies Main rivers: surma, piyain, Kalni; Chakui Beel, Banda Beel, Aria Beel, Ralia Beel, Katari Beel, Gachidoba Beel, Katari Beel and Gochidoba Beel are notable.
Administration Sulla Thana was formed in 1919 and it was turned into an upazila in 1983.
Upazila
Municipality
Union
Mouza
Village
Population
Density (per sq km)
Literacy rate (%)
Urban
Rural
Urban
Rural
-
4
68
115
4308
96990
389
70.3
34.4
Upazila Town
Area (sq km)
Mouza
Population
Density (per sq km)
Literacy rate  (%)
3.79
2
4308
1134
70.33
Union
Name of union and GO code
Area (acre)
Population
Literacy rate (%)
Male
Female
Atgaon 23
16288
13869
12764
26.50
Bahara 47
14426
13372
12567
47.11
Sulla 95
13957
12293
11815
32.96
Habibpur 71
18597
12590
12028
36.96
Source Bangladesh Population Census 2001, Bangladesh Bureau of Statistics.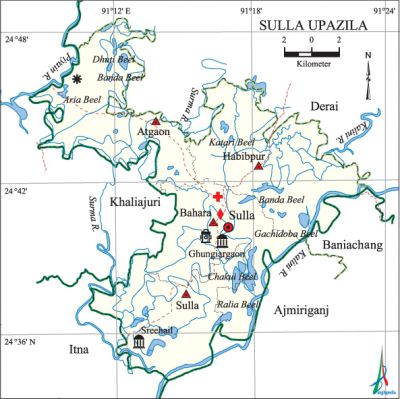 Archaeological heritage and relics Srihail Shaheb Bari Jami Mosque, stone statues at villages Dumra and Bahara, Sree Sree Ramkrishna Gosai Akhra, Someshwari Temple at Bahara.
History of the War of Liberation In 1971 this upazila was under Sector 5 of the war of liberation. During this time the Pak army conducted mass killing, torturing and plundering; they also set many houses of the upazila on fire. Sulla upazila was liberatd on 7 December.
Marks of the War of Liberation Memorial monument 2.
Religious institutions Mosque 120, temple 26, tomb 1, sacred place 2. Noted religious institutions: Gungiargaon Sulla Jami Mosque, Srihail Shaheb Bari Jami Mosque, Bahara Jami Mosque, Sree Sree Ramkrishna Gosai Akhra, Someshwari Temple at Bahara.
Literacy rate and educational institutions Average literacy 36%; male 38.8%, female 33.2%. Educational institutions: college 1, secondary school 9, primary school 98, community school 2, madrasa 3. Noted educational institutions: Sulla College (1986), Shahid Ali Bilateral Pilot High School (1968), Govinda Chandra Girls' High School (1981), Giridhar Pilot High School, Mamudnagar High School, Pallabi Adarsha High School, Bahara Primary School (1831), Anandapur Government Primary School (1925), Sulla Hasimia Islami Madrasa (1987).
Newspapers and periodicals Arunadai (2001), Darain (2000), Bhati Kantha (2001), Bijoy (2002), Gang (2003), Nakshatra (2004), 'Kalni (2001), Haorer Dheow (defunct).
Cultural organisations Library 6, club 10, literary organisation 2, music school 3, playground 18, women's organisation 4.
Main sources of income Agriculture 83.99%, non-agricultural labourer 3.50%, industry 0.08%, commerce 4.18%, transport and communication 0.04%, service 2.19%, construction 0.23%, religious service 0.18%, rent and remittance 0.18% and others 5.61%.
Ownership of agricultural land Landowner 63.97%, landless 36.03%; agricultural landowner: urban 51.27% and rural 64.58%.
Main crops Paddy, nut, potato, onion, vegetables, oil seed.
Extinct or nearly extinct crops Sesame, linseed, mustard.
Main fruits Coconut, mango, jackfruit, papaya, banana, pineapple.
Fisheries, dairies and poultries Fishery 16, dairy 3, poultry 40.
Communication facilities Pucca road 2.3 km, mud road 221.98 km.
Extinct or nearly extinct traditional transport Palanquin, horse carriage, bullock cart.
Noted manufactories Rice mill, ice factory, bakery, welding factory, plastic factory.
Cottage industries Goldsmith, blacksmith, potteries, bamboo work, cane work, wood work.
Hats, bazars and fairs Hats and bazars are 15, fairs 5, most noted of which are Gungiargaon Bazar, Pratap Pur Bazar, Sashkhai Bazar, Anandapur Bazar, Sulla Bazar, Mamudnagar Bazar, Satpara Bazar, Putka Bazar, Daudpur Bazar and Someshwari Baruni Mela.
Main exports Fish.
Access to electricity All the unions of the upazila are under rural electrification net-work. However 5.13% of the dwelling households have access to electricity.
Natural resources Peat coal.
Sources of drinking water Tube-well 88.73%, tap 0.71%, pond 4.39% and others 6.17%. The presence of arsenic has been detected in shallow tube-well water of the upazila.
Sanitation 14.98% (rural 13.05% and urban 55.49%) of dwelling households of the upazila use sanitary latrines and 70.25% (rural 71.75% and urban 38.72%) of dwelling households use non-sanitary latrines; 14.77% of households do not have latrine facilities.
Health centres Upazila health complex 1, union health and family welfare centre 2, community clinic 6, satellite clinic 1, TB clinic 1(operated by brac), leprosy treatment centre (operated by HEED Bangladesh).
Natural disasters Many people were victims of the earthquake of 1897; it also changed the course of the river. Besides, the floods of 1955, 1974, 1988 and 1998 and the tsunami of 2004 caused heavy damages to settlements, livestock, and crops of the upazila.
NGO activities Operationally important NGOs are brac, HEED Bangladesh. [Jiban Kumar Chanda]
References Bangladesh Population Census 2001, Bangladesh Bureau of Statistics; Cultural survey report of Sulla Upazila 2007.