Sunamganj Sadar Upazila (sunamganj district) area 268.61 sq km, located in between 24°49' and 25°10' north latitudes and in between 91°14' and 91°27' east longitudes. It is bounded by bishwambarpur upazila and Meghalaya state of India on the north, dakshin sunamganj upazila on the south, dowarabazar upazila on the east, Bishwambarpur upazila on the west.
Population Total 219338; male 113016, female 106322; Muslim 195621, Hindu 22736, Buddhist' 788, Christian 25 and others 168. Indigenous communities such as hajong, manipuri and garo belong to this upazila.
Water bodies Main rivers: surma, Dhamalia; Kandar Haor; Bahana, Raua, Sofela, Surya, Roua, Santal, Chatar, Ufa, Laiyar Kitta and Hakati beels are notable.
Administration Sunamganj Sadar Thana was formed in 1877 and it was turned into an upazila in 1984. Municipality was formed in 1960.
Upazila
Municipality
Union
Mouza
Village
Population
Density (per sq km)
Literacy rate (%)
Urban
Rural
Urban
Rural

1

9

143

307

57317

168674

817

57.89

31.20
Municipality

Area (sq km)

Ward

Mahalla

Population

Density (per sq km)

Literacy rate (%)

17.39

9

44

50664

2913

61.07
Union
Name of union and GO code
Area (acre)
Population
Literacy rate (%)
Male
Female

Aftabnagar 10

5201

8639

8044

31.70

Katair

6068

2603

2509

26.19

Gourararang 27

10511

14064

13316

29.67

Jahangirnagar

8070

7198

7164

33.72

Mollah Para 55

7384

8531

7907

28.52

Mohanpur 50

7869

11149

10768

30.00

Rangar Char 72

14778

10651

10483

29.48

Lakshmansree 39

4979

6380

5912

35.04

Surma

8199

17003

16353

34.75
Source Bangladesh Population Census 2001, Bangladesh Bureau of Statistics.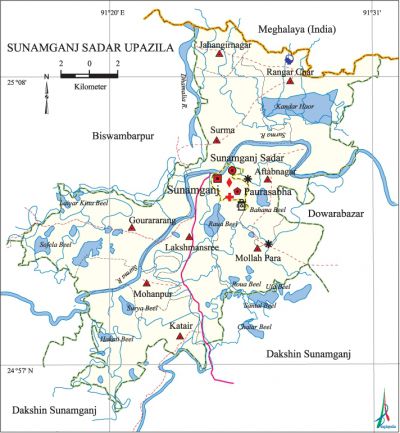 Archaeological heritage and relics Remnants of ancient mosque at Gutigaon (Mangalkata), Pagla Jami Mosque, Mazar of Syed Umed Harun Bagdadi at Mohammadpur, residence and tomb of hasan raja, old building of Jubilee School.
History of the War of Liberation In 1971 the Pak army conducted mass killing, violation of women and burning in different places including at Sunamganj town, Krishnanagar and Ahsanmara Ferry Ghat. The Pak army killed three freedom fighters during the peoples' resistance movement at Sunamganj Circuit House and Ahsanmara areas. During the war of liberation 48 freedom fighters were killed at Krishnanagar of Mongalkot. They were buried at Dalura.
Marks of the War of Liberation Mass grave 1; memorial monument 3.
Religious institutions Mosque 113, temple 78, church 2, tomb 2. Noted religious institutions: Court Jami Mosque, Pagla Jami Mosque, Patharia Baishnab Akhra, tomb of Mohammadpur Syed Umed Harun Bogdadi.
Literacy rate and educational institutions Average literacy 48.63%; male 53.09%, female 43.76%. Educational institutions: college 5, technical college 2, secondary school 32, primary school 195, kindergarten 8, community school 26, madrasa 7. Noted educational institutions: Sunamganj Government College (1944), Sunamganj Government Mohila College (1984), Sunamganj Paura College (1995), Mainul Haque College (2004), Government Jubilee High School (1887), Satish Chandra Government Girls' High School (1940), Rangar Char Harinapati High School (1942), Narayantala Mission High School (1972), Sunamganj Girls' High School (1980), Krishnanagar Government Primary School, Saidpur Government Primary School, Hossainpur Government Primary School, Niamatpur Government Primary School, Sunamganj Dini Madrasa (1974), Damadartapi Islamia Dakhil Madrasa (1965).
Newspapers and periodicals Daily: Haor Barta, Desh Prantho (2006); weekly: Shajan (1991), Sunam Kantha (2000), Sunam Express (2006), Sunamganj Report (2005), Sunamganjer Janapath (2006), Sunamganj Samgbad (1991), Sunamganj Barta (1985), Aunal (1991), Grambanglar Katha (2007); defunct weekly: Surma (1984), Din Jai (1992), Sunamganjer Kagoj (1991).
Cultural organisations Library 4, press club 1, theatre group 6, women organisation 5, shilpakala academy 1, rest house 3, auditorium 3, shishu academy 1, music school 4, theatre stage 2, stadium 2, playground 35, cultural organisation 8.
Main sources of income Agriculture 62.06%, non-agricultural labourer 6.45%, industry 0.85%, commerce 10.96%, transport and communication 1.65%, service 5.01%, construction 0.69%, religious service 0.42%, rent and remittance 2.08% and others 9.83%.
Ownership of agricultural land Landowner 47.60%, landless 52.40%; agricultural landowner: urban 42.66% and rural 48.45%.'
Main crops Rice, wheat, jute, mustard, sugarcane, ground nut, potato, onion, garlic, vegetables.
Extinct or nearly extinct crops Sesame, kaun, arahar, tobacco.
Main fruits Mango, jackfruit, litchi, banana, pineapple, guava.
Fisheries, dairies and poultries Fishery 170, dairy 110, poultry 210, hatchery 1.
Communication facilities Pucca road 89.55 km, semi-pucca road 12 km, mud road 405.59 km; waterway 20 nautical miles.
Extinct or nearly extinct traditional transport Palanquin, bullock cart.
Noted manufactories Rice mill, flour mill, ice factory, saw mill, cold storage, fish processing centre, welding factory.
Cottage industries Goldsmith, blacksmith, wood work, bamboo work, cane work.
Hats, bazars and fairs Hats and bazars are 30, fairs 2, most noted of which are Pagla Bazar, Tuker Bazar, Mangalkata Bazar, Munshiganj Bazar, Muradpur Bazar, Patharia Bazar, Joy Nagar Bazar, Harinapati Bazar, Rangar Char Bazar, Banagaon Bazar, Choumuhani Bazar, Hasaura Bazar, Baithakhali Bazar, Joy Kalash Bazar, Noakhali Bazar, Ganiganj Bazar and Bitganj Bazar.
Main exports Paddy, fish, vegetables.
Access to electricity All the wards and unions of the upazila are under rural electrification net-work. However 15.37% of the dwelling households have access to electricity.
Natural resources Natural gas.
Sources of drinking water Tube-well 76.44%, tap 2.14%, pond 9.82% and others 11.60%. As per the report of the District Public Health Office the presence of arsenic has been detected in the water of 926 tube-wells out of 5771 tube-wells. So far 95 arsenic affected patients have been detected in the upazila.
Sanitation 18.97% (rural 12.14% and urban 54.84%) of dwelling households of the upazila use sanitary latrines and 68.92% (rural 74.67% and urban 35.28%) of dwelling households use non-sanitary latrines; 12.11% of households do not have latrine facilities.
Health centres Hospital 2, satellite clinic 2, child and maternity welfare centre 2, family welfare centre 8, clinic 2, maternity 1.
Natural disasters Nearly 287 persons were victims of the earthquake of 1897; it also caused heavy damages to settlements of the upazila. Besides, the floods of 1974, 1988 and 2004 caused heavy damages to settlements, livestock and crops of the upazila.
NGO activities Operationally important NGOs are brac, asa, BARD. [Alok Ghosh Chowdhury]
References Bangladesh Population Census 2001, Bangladesh Bureau of Statistics; Cultural survey report of Sunamganj Sadar Upazila 2007.